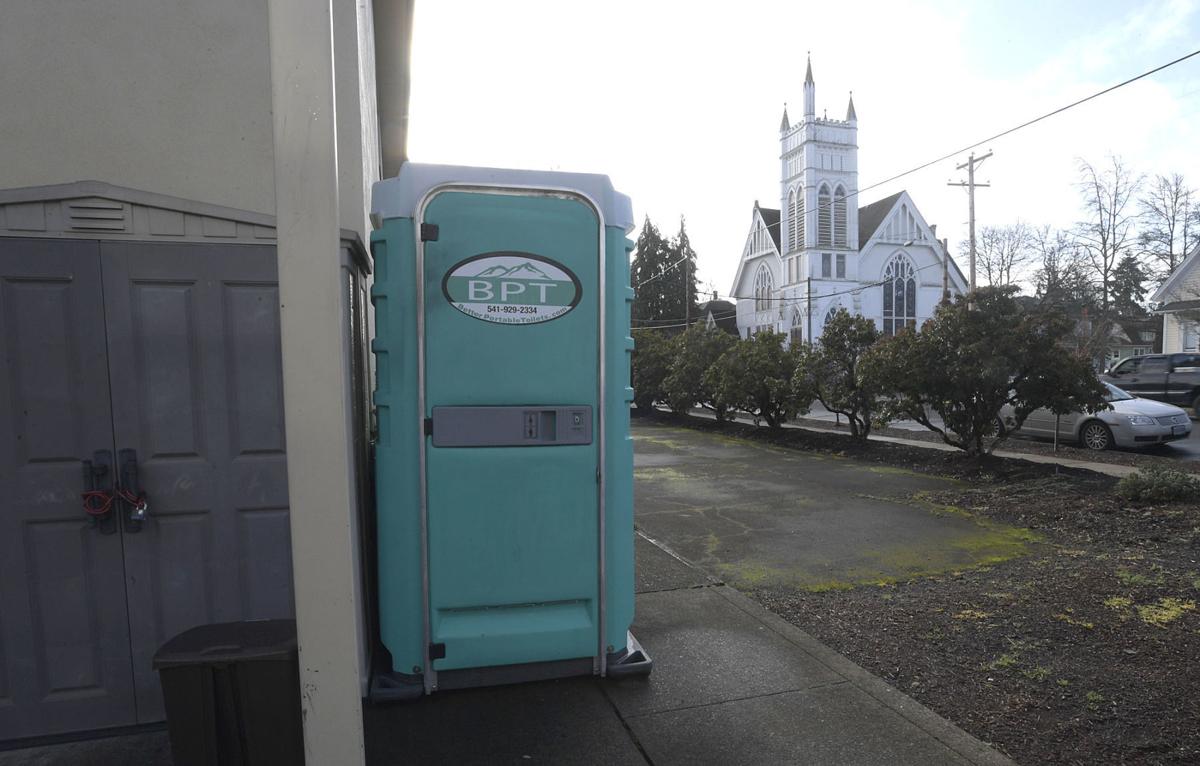 After seven months of deliberation about whether or not a local church can keep a portable restroom on its property, the Albany City Council opted Wednesday night to take no action.
Members of the First Christian Church initially placed a portable toilet on its property at 432 Ferry St. last November after regularly discovering human waste on its property. In February, the city issued a decision that the toilet was not permitted by city code, which only allowed for a permit that expired within 90 days and was only issued for construction sites.
On Wednesday, city staff informed council that another section of the city code would allow for the portable toilet as a waste non-connection — in other words, a toilet not connected to the sewer system. The code would allow the toilet for up to one year at the discretion of council and could be renewed year after year or revoked at any time if the council so chose.
The code, which is already on the city's books, did not provide an immediate solution on Wednesday. Mayor Sharon Konopa expressed concern that the council would see an influx in permit requests. Councilor Rich Kellum said it could open the door for residents who no longer wanted to pay their sewer bill, requesting instead a permit from the council to place a portable toilet on their property. The council also discussed the issue surrounding equity, arguing that if the board approved one permit but not another, it could open the door to a legal challenge.
"It's subjective," city attorney Sean Kidd said. "But if you have a similar use request and it was denied, there could be the potential of a selective enforcement lawsuit."
Whether or not the portable toilets would have to meet standards set by the Americans with Disabilities Act was also a point of contention. Currently, portable toilets in city parks — which are not permitted, according to the city — do not meet ADA requirements.
You have free articles remaining.
Kellum argued that if the city required individuals or organizations to have ADA-compliant toilets, the city would have to follow the requirement as well.
Councilor Dick Olsen moved that the city allow the current code, which would allow portable toilets for up to a year through a permit process, to stand. Konopa noted that the report compiled by city staff showed an increase in calls to the church's property since the installation of the toilet and that she had seen additional homeless individuals in the area.
"Sometimes, when you have a convenience, that will attract people to stay the night," she said. "It's going to enable folks to hang around."
Councilor Alex Johnson II, who umpires regularly during softball season, said he saw portable toilets on school district property as well as in city parks.
"It really disturbs me that we're having such a discussion about such a human function," he said. "I'd rather them have somewhere to go instead of a doorstep. Women have biological issues they need to deal with, children have to go to the restroom, males have to go to the restroom I'd rather them have access then doing it on the curbs, in the park. It's a sanitary issue."
Representatives from First Christian Church were present at Wednesday's meeting and addressed the council.
"As Christians, we are charged with the well-being of our neighbors," said church member Ethel Ellingson said, adding later, "We, First Christian Church, are not able to solve all problems in the world but we are required by our faith to address problems that are within our scope."
The council opted to take no action and allow the current code to stand. Staff is expected to create a permit form to bring back for council approval.