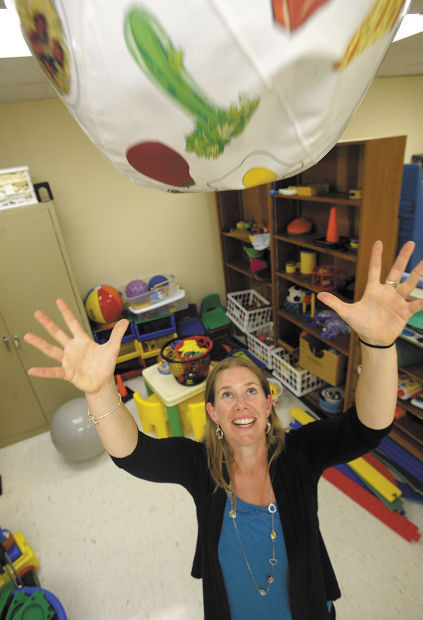 If you've allocated an hour on Monday night to listen to Megan MacDonald discuss her work on the connection between autism and exercise, here's a word to the wise: Set aside some extra time afterward for the audience questions.
MacDonald, an assistant professor in Oregon State University's College of Public Health and Human Science, is passionate on the topic – and she's planning to cover a lot of ground.
"I always tell my classes when I present this information that I get overly excited and we always go overtime a little bit, so they're used to me," MacDonald said in an interview with Mid-Valley Health to preview her Monday presentation. She's the featured speaker at the November edition of Science Pub Corvallis. The free event begins 6 p.m. Monday at the Old World Deli, 341 S.W. Second St. in downtown Corvallis.
She's whittled her presentation down to 60 fast-paced minutes for the mid-valley audience.
However, she's hoping that audience members linger afterward to pepper her with questions.
It's a good bet that will happen.
Autism continues to be a hot topic across the nation, in part because of its increasing prevalence. "It's one of the fastest-growing developmental disabilities that we know of," she said.
On Monday, she'll discuss a number of the theories behind what's behind that increased prevalence, but here's the bottom line: "The truth is that there is no definitive answer right now. … It's kind of the multibillion-dollar question, and there are a lot of people who are working really hard to try to figure that out."
She also plans to review a variety of other information about autism during her presentation, and that includes looking at current research – including work that MacDonald herself has done exploring how motor skills and physically active lifestyles can improve the lives of children, with or without disabilities.
The United States continues to grapple with childhood obesity, but it's an issue that takes on additional urgency for children with autism spectrum disorders: MacDonald said people with autism are 40 percent more likely to be overweight.
Overall, though, MacDonald said there will be plenty of positives to share during her presentation: "The main message with my talk is that there's a lot of good news and there's a lot of great stuff happening" in terms of research into autism, she said.
And, MacDonald said, she has a message for parents of children with autism: "It isn't something you have to do on your own. There are resources in place," and she plans to review some of those resources.
And she's clearly excited about the opportunity to talk about her work in front of a mid-valley audience.
"I think the opportunity to speak in front of the community where you live and talk a little bit about the work that you're doing … is a great opportunity for feedback," she said, "and also a great opportunity for me to really think of the work in a little bit of a different way than I typically do."
Mike McInally is editor of the Albany Democrat-Herald and the Corvallis Gazette-Times. He can be reached at 541-905-4282.