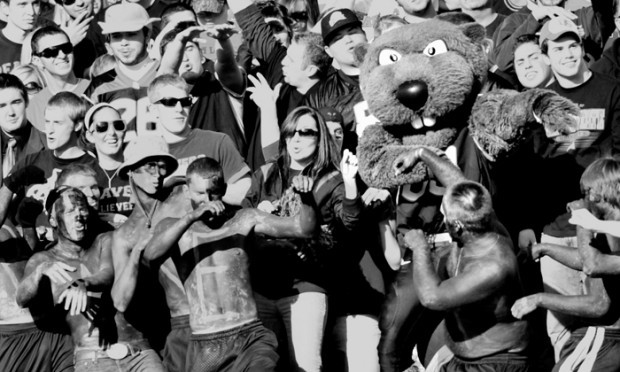 Winner: Target for Tomorrow
Finalists: Gumbo, Norman, Xenatra, John Frohnmayer, Bon Ton Roulet, Pseudoboss, Tirade, The Flow
Target for Tomorrow and the Horns of Destruction are a six-piece progressive, ska and experimental rock group from Corvallis and Portland.
Winner: Mike McLaren (Philomath)
Finalists: Jenna Summer-Smith, Billy Sunrise, Casey Hurt, Neil Gladstone
Bluesman Mike McLaren shares his talents with the mid-valley through music, writing, poetry and cartooning. He shares his music for free at www.acousticpassage.com, but notes "Live music is always better than Memorex."
Winner: Rita Brown (Corvallis)
Finalists: Noah Stroup, Jenna Summer-Smith, Warren Baldwin
This August, after a three-year run, married band members Rita Brown and Bill Smyth disbanded their rock band The Flow to head to Germany for a 10-month sabbatical. The sweet sounds of Brown's voice singing Smyth's lyrics will certainly be missed.
Winner: Corvallis-OSU Symphony
Finalist: Corvallis Community Band
In the midst of its  105th season, the Corvallis-OSU Symphony Orchestra, under the direction of Marlan Carlson, continues to push the envelope with challenging contemporary pieces and classical masterworks.
Finalists: Target for Tomorrow, The Angries
This "college band" brings together great musicianship, always wins over the crowd and – man – can they get loud. Led by Brad Townsend, director of athletic bands; assistant director Robyn Chapman; and percussion instructor Bob Brudvig, the Oregon State University pep band in all its forms (football, basket and gymnastics) is always a hit.
Finalists: Rick Scott, Tonya Chapin, Craig Robinson, Chris McGowan
Oregon State football head coach Mike Riley has guided the Beavers to six bowl games in the last seven years, winning five.
What can you say about Jacquizz Rodgers? The junior running back is one of the most decorated running backs in Oregon State University football history, and was a Heisman candidate going into this season.
Finalists: Mack the Knight,  West Albany High School Bulldog
Benny Beaver is the official mascot of Oregon State University. The exact date of when the name was first used as the university's mascot is not known, but photographs in the school's yearbook document its use as early as the 1940s. "O-S-U. Oregon State. Fight! Fight! Fight!"
Winner: Tie: Charlotte Headrick, Pat Kight, Christi Sears and Amaya Egusquiza
Charlotte Headrick is a veteran theater professor at Oregon State University. Pat Kight most recently directed "Educating Rita" for the Majestic and starred in Willamette Stage Company's "Talking Heads." Christi Sears can often be found at the helm of Albany Civic Theater musicals and plays. Amaya Egusquiza works in the Corvallis School District's educational theaters program.
Winner: Albany Civic Theater
Finalists: Willamette Stage Company, Corvallis Community Theatre, Adventures in Acting, Corvallis High School drama.
At 60 years, Albany Civic Theater is one of the oldest continually active theaters in Oregon. The downtown Albany playhouse owned by the company is always brimming with volunteers. (See a story on ACT on page 14.)
Finalists: Mo Ruzek, Peggy Thompson
Pamela Meehan is a first grade teacher at Hoover Elementary School in Corvallis.
Winner: Tie: Spike Gathercoal and Linda Baskerville
Finalist: More than 15 other professors received votes.
Forrest "Spike" Gathercoal is an emeritus professor in the School of Education at Oregon State University. Linda Baskerville is a physical education instructor for the Health and Human Performance department at both Linn-Benton Community College and OSU.
Winner: Kristine Janes (Corvallis)
Finalists: Dow Yeh, Carol Nelson, Bret Godfrey, Andy Nelson, Emily Thielen
Kristine Janes heads up the Crescent Valley concert band, symphonic band and wind ensemble. There is also a pep band, marching band and two jazz bands. CV placed second at the 2010 OSAA 5A State Band Competition and was part of a historic triple win for CV's band, choir and orchestra at the 2009 State Competition.
Finalists: Mark Allison (Benton Center, Corvallis Parks & Recreation), Keith Moses (Crescent Valley High School, The Arts Center)
Kriste York taught elementary school for 12 years before helping to open Muddy Creek Charter School in rural Benton County in 2008. This fall, she continued her recovery from a stroke she suffered while undergoing brain surgery.
Winner: Keith Scribner (Corvallis)
Finalists: Linda Crew, Rick Borstein, Alison Clement
Keith Scribner's third novel "The Oregon Experiment" is scheduled for release in Spring 2011. His two previous novels, published by Riverhead Books (Penguin), are "The GoodLife" and "Miracle Girl." "The GoodLife" appears in translation and was a New York Times Notable Book of the Year. Scribner is an English professor at Oregon State University and married to Top of the Valley Best Poet winner Jennifer Richter.
Winner: Jennifer Richter (Corvallis)
Finalists: Charles Goodrich, Greg Darling
Jennifer Richter's poetry collection "Threshold" was chosen by Pulitzer Prize-winning poet Natatsha Trethewey as winner of the 2009 Crab Orchard Series in Poetry Open Competition. Richter is married to Top of the Valley Best Writer winner Keith Scribner.
Winner: Prisha Brown (Corvallis)
Finalists: Kriste York, Bill Shumway, Yuji Hiratsuka, Jennifer Lommers
Corvallis artist Prisha Brown creates her jewelry line, Entwine, with techniques traditionally found in woven, knit, or crocheted textiles and basketry. See her work: prishabrown.com.
Winner: Cynthia Spencer (Corvallis)
Finalists: Dale Donovan, Keith Moses, Jeff Gunn, John Winter
Corvallis artist Cynthia Spencer creates clay pieces without using a potters wheel. Most pieces are constructed from thin slabs, pinched or coiled. This way of working emphasizes the "off-center" and yields happy accidents that turn into new pieces. Spencer is also the executive director of Fall Festival, which won "Best Festival."
Winner: Lainey Dyer (Corvallis)
Finalists: Marika Neumann, Jim Carroll, Holly Peterson, Mark Ylen (Albany Democrat-Herald), Karl Maasdam, Scobel Wiggins (Corvallis Gazette-Times), Danielle Anthony, Emy Lynn
Lainey Dyer is a freelance photographer who captures the color and spirit of the Willamette Valley and its residents in her photographs.
Winner: Matt Bennett (Sybaris)
Finalists: Mitch Rosenbaum (Del Alma), Ian Hutchings (Luc), Corey Taylor (Sunnyside Up Cafe), Iain Duncan (owner of Le Bistro, Aqua, Terzo and Flat Tail Brewing), Ko Attenbury (Cloud 9)
Albany chef and restaurant owner has been passionate about cooking since he was a young boy. (Read more about Bennett on page 3).
Winner: Jesse Brown (Sybaris)
Finalists: Chris Churilla (Del Alma), Katherine Otten (Luc), Erin Grimm (Aqua)
Sybaris server Jesse Brown earned his tips in this category.
Winner: Kinn Edwards (Del Alma)
Finalists:  Jesse Brown (Sybaris), Katy January (Aqua)
Kinn Edwards is co-owner of Del Alma restaurant in the Renaissance Building in downtown Corvallis.
Public official, Benton County
Finalists: Charlie Tomlinson, Linda Modrell, Jay Dixon, Mark O'Brien, John Haroldson
Sara Gelser, a Corvallis Democrat, has held the District 16 state representative seat since 2005. She is running for re-election in 2010 against Republican Rose Cook. District 16 comprises Corvallis, Philomath and much of Benton County.
Public official, Linn County
Sharon Konopa has been the mayor of Albany since 2009. She was an Albany city councilor from 1997-2008. This fall, she is running for re-election against challengers Jeremiah Allen, Jo Rae Perkins and Charley Smith.
Winner: Diana Simpson, Benton County sheriff
Finalists: Ben Atchley, Albany Police Department; Dave Henslee, Corvallis Police Department
Diana Simpson was elected to her first term as Benton County Sheriff  in 2006. She is the first elected female sheriff in Oregon history. Before her election, Simpson was the undersheriff for nearly five years and a sergeant the previous 10 years. She is running unopposed for another four-year term.
Finalists: Nancy Raskauskas (Gazette-Times), Graham Kislingbury (Democrat-Herald), Hasso Hering (Democrat-Herald),  Noah Stroup (The Alchemist)
Bennett Hall is the special projects editor at the Corvallis Gazette-Times. He's worked for the paper since 1996, first as a copy editor and later as a business reporter and editor. His favorite thing about his job? "Getting to stick my nose in other people's business. That, and the unqualified respect of everyone I meet."
Winner: Tie: Aleita Hass-Holcombe and Wilma Van Schelven
Aleita Hass-Holcombe is a homeless advocate in Corvallis. Wilma Van Schelven is the director of the nonprofit Love INC.