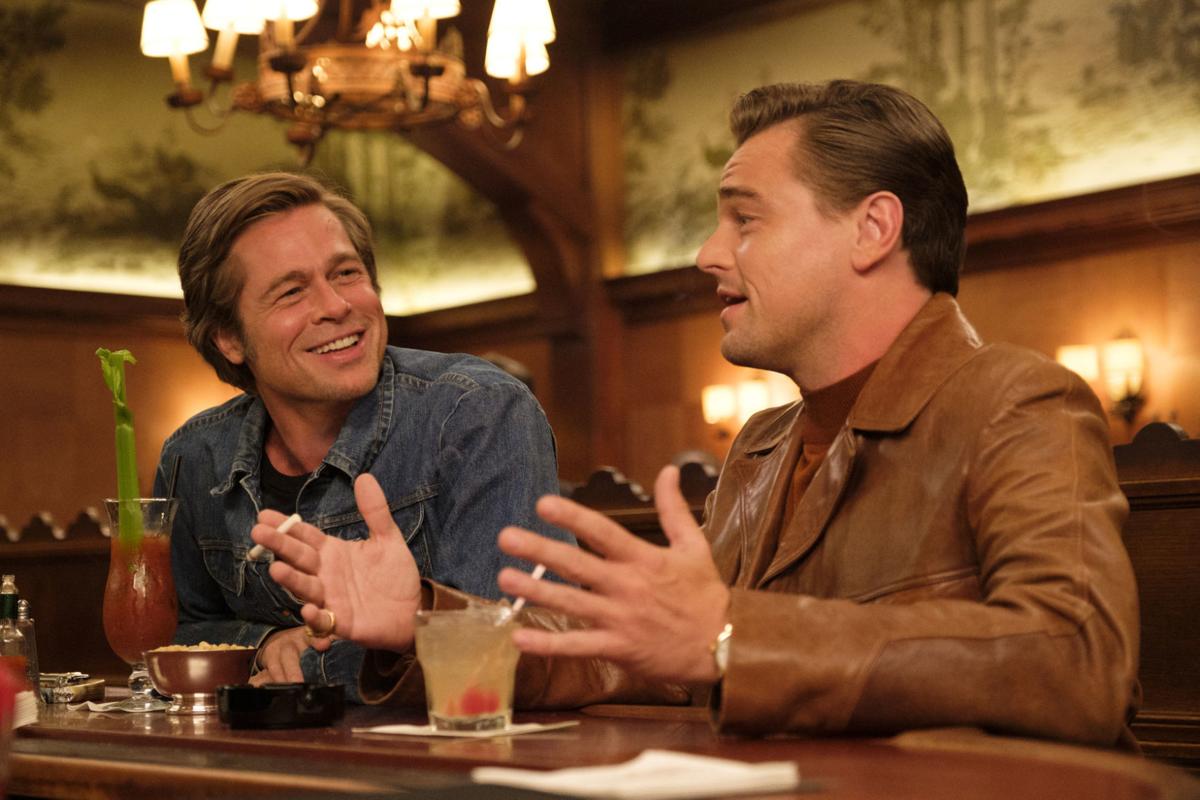 "Its official, old buddy," Rick Dalton (Leonardo DiCaprio) tells his old buddy, Cliff Booth (Brad Pitt), under the weathered Musso & Frank Grill sign, maybe feeling a bit weathered himself, "I'm a has-been."
Dalton's not quite a has-been yet. In 1969, the actor's stuck in that gulf between obscurity and being just famous enough. He still books regular television gigs, primarily as heavies, but his days as a lead are kaput. He'll last past the commercial breaks, only to lose in the end. As agent Marvin Schwarz (Al Pacino) explains, after the proper buttering-up, Rick Dalton's the medium's new whipped dog, an ex-immortal passing metaphorical torches to younger stars. And movies? Forget it.
To the new Hollywood, he's a figure of pure nostalgia, the hero of NBC's "Bounty Law," a once-popular Western that spluttered into oblivion earlier in the decade. But it's only a matter of time before even those long memories fade. The cocky Dalton of old has developed a paunch, a stammer, a drinking problem, and a dependence on Booth's companionship to even function. The laconic Booth, once his stunt double and now his right-hand man, is only too happy to oblige, piloting Dalton between jobs and his Benedict Canyon spread on sleepy Cielo Drive.
Neither man knows it yet, but at the beginning of Quentin Tarantino's "Once Upon a Time … in Hollywood," Dalton's neighborhood is less than six months from becoming Los Angeles' most inexplicably notorious stretch, where the 1960s, curb-stomped numb by pain and death, began devouring itself in a murderous rage. "I am the devil," Charles "Tex" Watson reportedly announced to his human prey that hot August night, "and I'm here to do the devil's business." Then, abetted by ostensible purveyors of peace and love, the devil's business was done, with even more horror in store.
Yet "Hollywood" isn't much interested in the buildup to Aug. 8, 1969, when four followers of two-bit guru Charles Manson murdered pregnant actress Sharon Tate, hairdresser Jay Sebring, coffee heiress Abigail Folger and Wojciech Frykowski, who was Folger's boyfriend as well as longtime confidante to Tate's husband, writer/director Roman Polanski. All are witnessed from a wistful distance, particularly the ethereal Tate (Margot Robbie), whose magnetism attracts the camera's lingering gaze and draws the era's icons — Michelle Phillips (Rebecca Rittenhouse), Mama Cass Elliott (Rachel Redleaf), and the smitten Steve McQueen (Damian Lewis), among them — into her fetching orbit. She's not given much dialogue, but "Hollywood" returns to her as often as possible, framing her in the city's exuberance. She IS the '60s, its energy, its future, while Dalton and Booth are leathered remnants of its macho past.
The Manson Family lives on the film's periphery; Manson himself (Damon Herriman) appears only once, visiting the Tate-Polanski residence and inquiring about its previous tenant, record producer Terry Melcher, before leaving, and Lynette "Squeaky" Fromme (Dakota Fanning), while memorably menacing, doesn't venture beyond George Spahn's (Bruce Dern) battered house. Besides history, their only links to "Hollywood" are the infamous creepy crawlers, beatific hippie sirens who hitchhike into town from the Spahn Movie Ranch in Chatsworth to plunder upscale rubbish for sustenance.
One of the girls, a gamine smile who calls herself Pussycat (Margaret Qualley, also a mystery girl in 2016's "The Nice Guys"), catches Cliff's appreciative eye. After a few chance encounters at intersections and bus stops, where he always seems to be headed in the opposite direction, the stars align and he offers her a lift to the ranch, a place he remembers from doubling for Dalton during his "Bounty Law" days. In fact, he might pop in to trade howdys with his old pal, George.
What he enters instead is "Hollywood's" first truly tense sequence, phantom territory for even the most obsessive historian. Anything can happen. Poor Cliff's a Tarantino concoction, a new blot on a long-finished canvas, an inspired composite of multiple figures. With each minute he insists on exploring the property (masking his aggression in mild amusement; these are hippie-punk lightweights, after all, baby earth mamas and their dirty bearded beaus), while the suspicious family multiplies behind him, we wonder at which point fiction and history will cruelly intersect. There's a nosy ex-stuntman in the real story, too, and, well, he ain't around to tell it.
Dalton's collisions are less harrowing. We see him in action on the set of TV Western "Lancer," playing the heavy once again opposite series lead James Stacy (Timothy Olyphant as both James Stacy and Stacy's "Lancer" character, Johnny Madrid Lancer). Despite fumbling his lines, an aggravation that culminates in a comical dressing trailer blowup and psych-out, Rick Dalton's not a bad actor, and his 8-year-old co-star (Julia Butters) tells him so, shortly after his character throws hers to a barroom floor. Touched, the on-camera villain fights tears of gratitude. "Lancer," of course, was a real series, and Stacy a real star. So, there's a certain poignancy to watching him leave the backlot on his motorcycle, considering his fate.
It's a delicate dance, this maneuvering between truth and fantasy. The film's very title, "Once Upon a Time," summons both the imagination and expansive sprawl of Italian filmmaker Sergio Leone ("Once Upon a Time in the West," "Once Upon a Time in America") and the standard fairy tale opening line. "Hollywood" occupies either plane, the Tinseltown of memory and dreams.
The film's mistakes feel more deliberate than careless, an attempt to marry the period's iconography into one evocative piece. It's no more a stickler for accuracy than Tarantino's "Inglourious Basterds" or, hell, Rick Dalton's similar "The 14 Fists of McCluskey," where a single flame-thrower turns the tide of World War II.
For instance, Cliff retrieves Pussycat from a bus stop outside Pandora's Box, the nightclub that served as the nucleus of the 1966 Sunset Strip riots and inspired Buffalo Springfield's "For What It's Worth." A wrecking ball ate it in 1967, and there hasn't been a building on that space since. When Margot Robbie's Sharon Tate ducks into the Westwood Bruin theater to see herself in Dean Martin's "The Wrecking Crew," she watches the real Sharon Tate onscreen. Finally, Rick Dalton couldn't have lived right next door to Tate and Polanski, as their home was more remote, planted far up a long driveway, their nearest neighbor a football field's length away.
But none of that matters in the end. I mean, really, it doesn't, at least not here. "Once Upon a Time" succeeds as a throwback to the countercultural '60s in both tone and execution, but with the unabashed sentiment of its Golden Age forefathers — a Capra-esque Raybert production ("Easy Rider," "Five Easy Pieces," et al), if you will — and a dash of spaghetti splatter.
The Hollywood spirit endures. Dalton sees a change in his fortunes. Radios continue blasting hits and surprises from a bottomless reservoir of generational markers. Robert Goulet becomes Entertainer 3,000 to sing of cakes left in the rain while Jose Feliciano scat-pines for California in the winter. Cars prowl streets of bright, perpetual life, where Franco Zeffirelli's "Romeo and Juliet" lasts eight months at a single theater and may just play forever. And Sharon Tate's out there, somewhere in the night, dining at El Coyote or dancing with Mama Cass, belle of an eternal ball.
Be the first to know
Get local news delivered to your inbox!