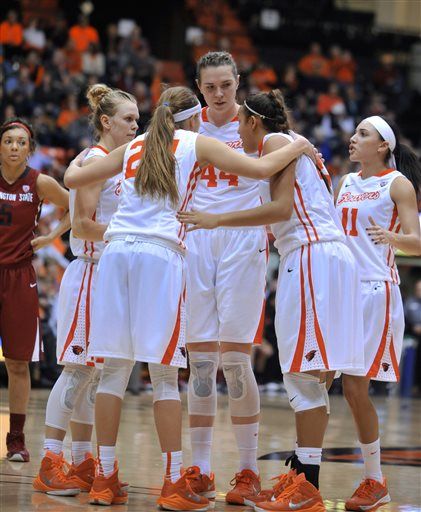 Oregon State women's basketball coach Scott Rueck has said it many times — there are no nights off in the Pac-12 Conference.
The No. 9 Beavers found that out on Friday night as they had to fight tooth and nail to remain undefeated in Pac-12 play.
That's because Washington State came to Gill Coliseum looking to make a statement five days after letting another statement game slip through their grasp.
The Cougars, who were up 11 on perennial Pac-12 champion Stanford by 11 in the second half on Sunday before losing by 10 in overtime, had the Beavers on the ropes for a good portion of Friday's game in Gill Coliseum.
They led by as many as 16 points early in the second half, but Ruth Hamblin (31 points, 16 rebounds, seven blocked shots) and Jamie Weisner (25 points, seven rebounds) willed the Beavers to the come-from-behind 73-70 win before another loud crowd that totaled 3,087.
"They're a really good team," Rueck said of the Cougars, who have now lost four straight. "That team beat Maryland (ranked eighth now, 70-64) earlier this year and then took Stanford to overtime. Had them beat, had them down 11 the other day in the second half. So they can play with anybody, they've proven that. We knew it was going to be a war and it was truly that. It took everything we had to get back in this game."
Oregon State, now 15-1 overall and 5-0 in the Pac-12, is tied with Arizona State and Stanford. The Sun Devils and Cardinal meet on Monday at 3 p.m.
California, USC, UCLA and Washington are all 3-2.
Oregon State gets Washington at 5 p.m. on Monday before heading to the Arizona schools next week.
The Beavers survived their first gut-check moment, which they are sure to have again this conference season.
"It was that gut-check (and) when it comes each year, you hope you survive it with a win and it's one of those games you can really learn from," Rueck said.
Be the first to know
Get local news delivered to your inbox!