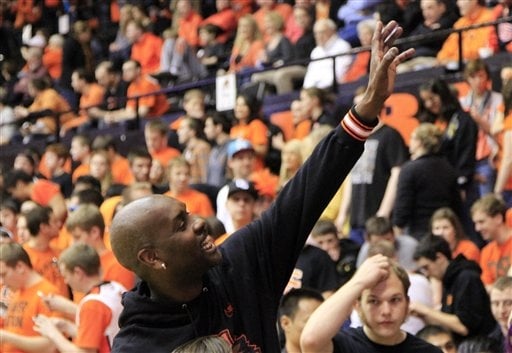 I remember the first time I saw Gary Payton play live.
It was in 1988 and I was visiting Corvallis because my stepbrother — also named Steve — was a freshman at Oregon State.
The Beavers were taking on the Huskies (yes I grew up a UW fan) and I sat up high in a jam-packed Gill Coliseum.
OSU won that night, 69-57.
I don't recall the specifics of the game but do remember it as the day I began to follow Payton.
I loved watching him play with the Seattle SuperSonics and even became a bit of a fan, in addition to the Boston Celtics, who I grew up following.
Payton played 17 seasons in the NBA and on Sunday will be enshrined in the Hall of Fame.
NBA TV had an 30-minute special on Payton that aired Tuesday. Here's some of what was talked about and what he said during an interview with Kevin Calabro, and what others said about Payton.
Payton, the only point guard to win the NBA's defensive player of the year, learned how to play defense under OSU coach Ralph Miller.
It's interesting because Payton originally planned to play at St. John's, but that fell threw and Miller offered Payton a spot at OSU.
It was the best thing that could have happened, Payton said.
"They taught me everything," he said. "That's when I became the defensive player that I was. Coach Miller taught me everything I know about defense. It was just great. I never regretted it."
It was an interesting first few weeks of practice, Payton said, as Miller didn't break out basketballs.
"We had imaginary balls, we had defensive slides," Payton recalled. "He would put one minute on the clock and we would have to get down in our position, crouch down and stay down."
That's when Miller saw the impact Payton could make as a defensive player.
"He came to me and pulled me in the office and said, 'I want to talk to you,' " Payton said. "He said, 'let me tell you something. You have the best hands and feet that I've ever seen of a basketball player.' He said, 'if you want to, you could be the greatest defensive player ever.' "
Payton admitted he thought his coach was crazy. But following a standout freshman campaign, Payton was named the Pac-10's defensive player of the year.
"What did I tell you?" Payton said.
Payton was drafted second overall by the Sonics in 1990.
He said he had a rough couple seasons and struggled with coach K.C. Jones. Then came George Karl, and while the two butted heads early, their relationship grew.
He ended up spending 12 seasons in Seattle, helping the Sonics to the 1996 NBA Finals where they took on a Chicago Bulls team that won a record 72 regular-season games.
The Sonics lost 4-2 and it was rough on Payton, who said he was dealing with a torn calf muscle in the series.
"That was a big disappointment," Payton said.
Payton, nicknamed "The Glove," was always known as a defensive player, but his peers also considered him the complete package.
"The guy was a tremendous player, tremendous competitor and also one of the great trash talkers of all time," Chris Mullen said.
It didn't matter who he faced, his mouth was always working.
Even against his Airness, Michael Jordan.
"That's how I had to get pumped up all the time," Payton said.
"The Glove would talk smack to anybody," Shaquille O'Neal said. "He would talk about your mother, he would talk about your father, he would talk about your kids. He was a great competitor. He's the type that he would talk so much smack that you could never take it personal, it just started being funny."
Mullen said the real frustration with the talk was Payton could back it up.
"Some people can't play the game and do the same thing and do all that talking. I can do that," Payton said. "It was just a gift that I had. And when I did that, I knew I could get a player, I could get him because he was going to focus more on me than he's going to focus on his team and then try to do things he ain't supposed to do."
There was, however, one player who never seemed fazed by Payton's motor mouth and that was Utah point guard John Stockton. Payton said Stockton was the toughest player he had to play against and was very smart to never engage in any back-and-forth banter.
After 12 seasons in Seattle, Payton was traded to Milwaukee. He didn't want to go but did since Karl was the coach.
He then began to chase the elusive championship ring.
He teamed with Karl Malone and went to the Lakers in 2003-04 after L.A. had won three straight titles.
But the Lakers fell short in the finals against Detroit.
In 2006, Payton followed Shaq to Miami and the Heat knocked off the Mavericks 4-2 for the title.
Payton admitted he chased the ring for all the wrong reasons, thinking at the time he needed one to solidify his legacy.
In 2007, Payton hung up the sneakers, realizing he was satisfied with his career.
When he got the call that he would be enshrined in the Hall of Fame, Payton said he sat by himself and watched cartoons — Yogi Bear, to be specific — letting it all soak in.
On Sunday, he officially enters the Hall of Fame.
Not bad for a kid from Oakland's Skyline High who used to sneak into Golden State Warriors games whenever he could.
Steve Gress is the sports editor of the Corvallis Gazette-Times. He can be reached at steve.gress@lee.net.