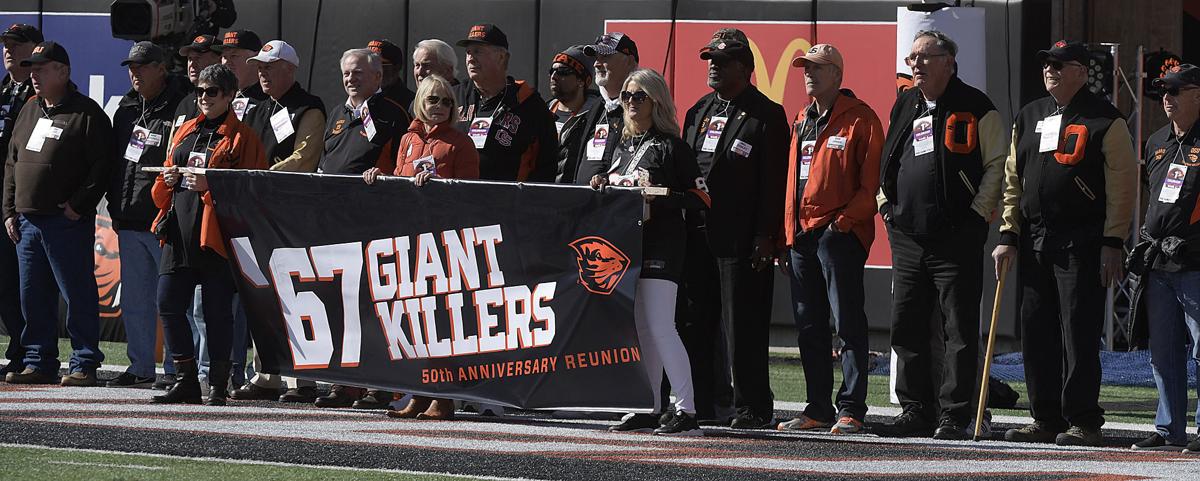 "I've never been around a bunch of kids greater than these Beavers."
— Dee Andros, Oct. 21, 1967
Fans and pundits alike predicted 1967 would be a "rebuilding" year for Oregon State's football program.
If what they'd meant by "rebuilding" was reinforcing an already near-impregnable stronghold, they were absolutely right.
Because as impressive as their 1966 season had been, with six straight wins from October to November, the new-model Beavers proved historic. They even earned a collective sobriquet that has followed them for a half-century now.
Which is a bit of a misnomer, really, as the team felled not one giant, but three of the most formidable leviathans to ever dominate college football: Big Ten Conference powerhouse Purdue, No. 2 UCLA, and top-ranked USC. Rosters bearing such names as Mike Phipps, Leroy Keyes, Heisman winner Gary Beban, Ron Yary, Earl McCullouch, and one Orenthal James Simpson (who, of course, became famous — not to mention notorious — far beyond sports).
Unfortunately for these legends, they tangled with Mike Haggard, Steve Preece, Bill "Earthquake" Enyart, Skip Vanderbundt, Mike Groff, Bill Main, Jon Sandstrom, Jess Lewis, and a tenacity calibrated by OSU head coach Dee Andros, who called the Beavers' stunning 22-14 victory over Purdue on Oct. 21 "the greatest win in my coaching career."
He may have spoken too soon. Little did Andros know that his boys were just getting started. Two weeks later, they tied UCLA 16-16 in a game even Bruin quarterback Gary Beban said belonged to the Beavs. Then finally, on Nov. 11, 1967 — Veterans Day — before a record crowd of 41,495 fans that included California and Oregon governors Ronald Reagan and Tom McCall, Oregon State silenced USC, the mightiest giant of all.
Follow the Beavers through a season to remember.
Be the first to know
Get local news delivered to your inbox!