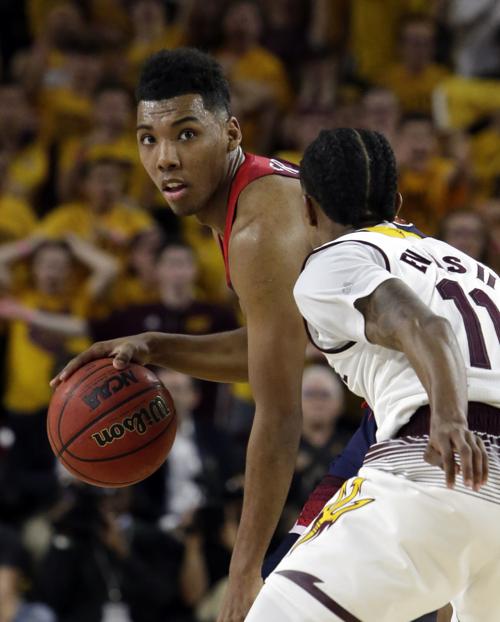 Oregon State opens its final Pac-12 home weekend of the season hosting No. 14 Arizona on Thursday night. Here's a look at the Wildcats.
Devastating news for Arizona (21-6, 11-3) was announced earlier in the day Thursday as Yahoo Sports reported junior guard Allonzo Trier was declared ineligible immediately by the NCAA for testing positive for performance-enhancing drugs for the second time in his college career. Arizona is reportedly appealing the ruling.
Trier previously missed 19 games last season after a positive test for a steroid.
Trier is averaging 19.6 points, 3.2 rebounds and 3.2 assists. He had 21 points on 6-of-12 shooting, including four 3-pointers, plus four rebounds in the Wildcats' 62-53 home win against Oregon State on Jan. 11.
After two straight losses, Arizona has won two straight games following a 77-70 win at Arizona State last Thursday. Deandre Ayton had 25 points, 16 rebounds, four assists and three blocks and Trier 19 points, five assists and three steals.
Entering Thursday, the Wildcats lead the Pac-12, two games in the loss column ahead of USC (11-5) and UCLA (10-5).
Ayton, a 7-foot-1 freshman post and a leading candidate for conference player of the year, averages 19.7 points and 10.9 rebounds. He has 17 double-doubles this season and could finish the season as Arizona's top all-time freshman leader in points, rebounds, blocks and field goal percentage.
Ayton and Oregon State freshman Alfred Hollins played together as high school seniors at Hillcrest Prep Academy in Arizona.
Sophomore guard Rawle Alkins averages 13.4 points and 4.3 rebounds; senior center Dusan Ristic 11.9 points and 7.1 rebounds; and senior guard Parker Jackson-Cartwright 7.2 points and 4.8 assists.
In conference games, Ayton is second in points (19.9) and rebounds (10.4), tied for second in blocks (2.3) and third in field goal percentage (59.7). Ristic is fourth in field goal percentage (59.3) and sixth in rebounds (7.9).
The Wildcats' big men have been tough to deal with in recent weeks. Ayton has double-doubles in four of his last five games and Ristic in three of the last four.
Arizona averages 81.7 points (third in the Pac-12) and gives up 71.9 (fifth) in all games this season. In the Pac-12, the Wildcats score 80.0 (second) and allow 72.7 (seventh).
For the season, they shoot 51.1 percent overall (first), 39.2 on 3-pointers (first) and 76.5 at the free-throw line (second). In conference, those numbers are 50.3 (first), 39.0 (second) and 78.2 (first).
In Pac-12 games, Arizona is first in rebounding margin (plus-7.3), blocks (4.8) and rebounds allowed (4.8) and second in assists (16.1).
The Wildcats have won four straight against the Beavers and 11 of 12 dating back to the 2010-11 season. Arizona leads the all-time series 62-21.