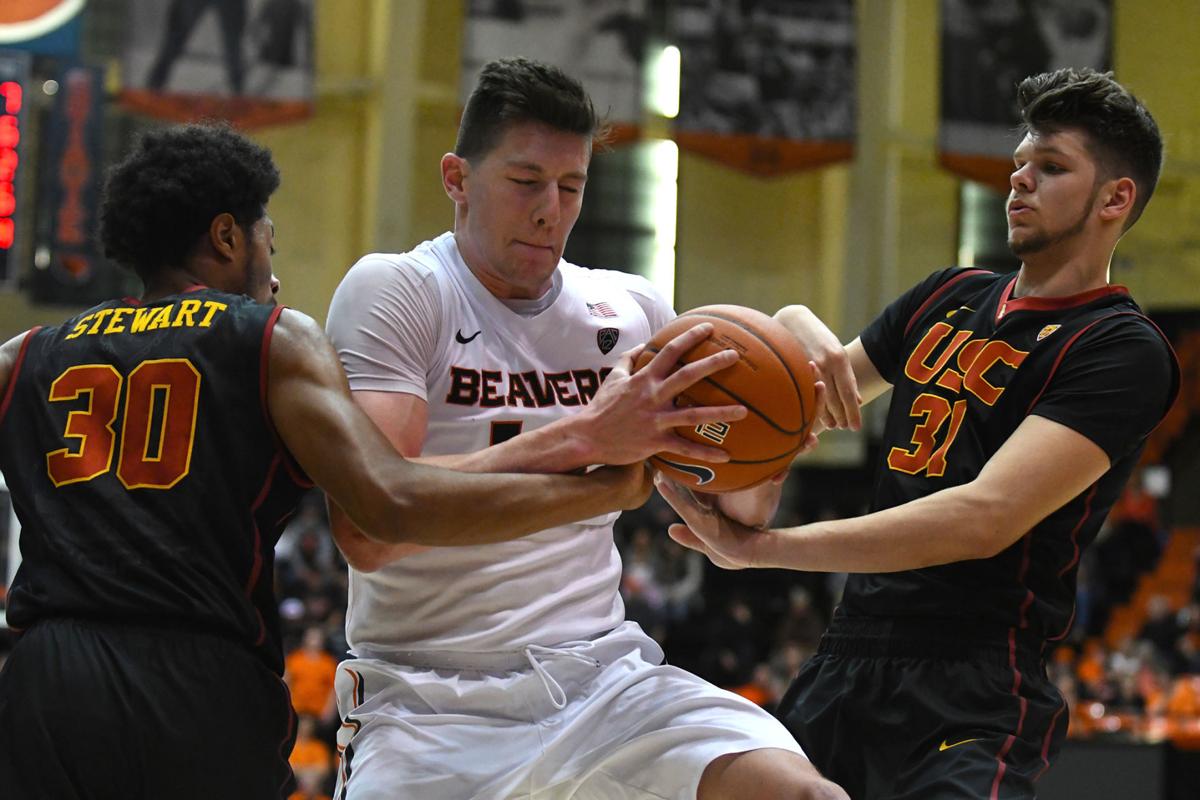 USC is next up on Oregon State's schedule for a 5 p.m. Saturday game at Gill Coliseum. Here's a look at the Trojans.
USC (14-6, 5-2 Pac-12) won its third straight game Thursday, defeating Oregon 75-70 in Eugene. Bennie Boatwright and Chimezie Metu had 18 points each. Jordan McLaughlin added 11 points, nine rebounds and seven assists.
The Trojans, alone in third place in the conference standings entering the day, average 80.8 points (tied for fourth in the Pac-12) and allow 72.1 (fifth). In conference games, they're scoring 79.3 (fourth) and allowing 70.4 (third).
Also in conference, they're shooting 46.7 percent (third) and opponents are also shooting 46.7 (10th). USC is first in assists (17.1) and turnover margin (plus-6.4), second in rebounds allowed (32.7) and third in steals (7.9).
Metu, a junior forward, leads the team in scoring (16.8 points) and rebounds (7.3) for the season. Boatwright, also a junior forward, averages 15.6 points and 6.9 rebounds, while McLaughlin, a senior point guard, averages 13.1 points, 4.1 rebounds and 7.6 assists.
In conference games, McLaughlin is first in assists (7.3), tied for second in steals (2.0) and second in assist/turnover ratio (plus-3.4). Sophomore Nick Rakocevic is second in field goal percentage (64.3).
McLaughlin has set career highs this season of 35 points and 19 assists. The assist total, set against UC Santa Barbara in December, is a school record and tied the Pac-12 record. He's the 10th player in conference history with more than 1,400 points and 600 assists.
You have free articles remaining.
Metu has six 20-point games, including two in conference play. He's shooting 53.6 percent from the floor for the season and 53.4 in Pac-12 games. McLaughlin and Metu are both above 45 percent on 3-pointers for the season.
The Trojans are shooting 46.8 percent from the floor, 39.0 on 3-pointers and 70.9 at the free-throw line for the season. Those numbers are 46.7, 35.1 and 70.1 in Pac-12 play.
USC has shot a lower overall percentage than its opponents in three of the last four games but is 3-1 in that stretch. The Trojans are 7-0 when holding opponents under 40 percent from the floor and 7-6 when opponents shoot above that mark.
Andy Enfield is in his fifth season as the Trojans' head coach, with an 84-70 record. The team went 26-10 last year, setting the school record for wins, while winning two NCAA tournament games.
Enfield was previously at Florida Gulf Coast for two seasons. He led his team to the 2013 NCAA tournament, winning two games as a 15 seed.
USC has won three straight games against Oregon State and snapped a seven-game losing streak in Corvallis last season with a 70-63 win. The Beavers won nine of the previous 13 matchups in the series before the Trojans' three-game win streak.
Last week, USC sophomore guard De'Anthony Melton was ruled out for the remainder of the season related to an FBI probe related to a pay-for-play scandal in college basketball. Melton has not played this season. 
Federal authorities allege a Melton family friend accepted $5,000 with the understanding that he would steer De'Anthony Melton toward a particular agent and financial adviser when Melton entered the NBA.