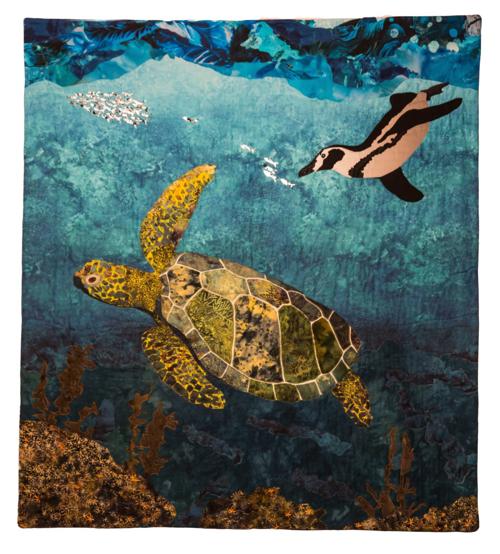 Well, this weekend may not be QUITE as busy as last weekend — but this second weekend in August still has plenty of activities throughout the mid-valley to keep you engaged and entertained. 
So let's get started planning your weekend, which starts at the Benton County Historical Society's Moreland Gallery in Philomath: That's the location for "Boundaries," a display of contemporary quilts. Diane English of Eugene talked to me about the show, which features pieces made by members of the Oregon Valley-South branch of Studio Art Quilt Associates, an organization dedicated to promoting the art quilt and the artists who make them.
It's a show that should put to rest any doubts about whether quilting is an art form. The show opens with a reception Friday night at the museum.
"Boundaries" also is the unofficial kickoff for "Quilt County," the every-other-year celebration of all things quilt. Various locations throughout Benton County will be displaying all sorts of quilts through the end of October. The event is put on by the members of the Marys River Quilt Guild, which celebrates its 30th anniversary this year. Want to know more about this quilting extravaganza? Click here to read my preview story. 
The only on-stage action in the mid-valley this weekend doesn't take place on a stage: Oregon State University's Bard in the Quad production of "Romeo and Juliet" takes to the Memorial Union Quad for its final performances on Thursday, Friday, Saturday and Sunday. Director Elizabeth Helman has set the Shakespeare tragedy amid the glamour of the Roaring 20s, and has spiced up the proceedings with jazz standards and dance numbers. Click here to read my preview story about the production.
People who have heard 4 on the Floor, a jazz-funk quartet comprised of Corvallis High School students, say the ensemble is terrific. We'll miss them when they're gone, they say — and, as it turns out, they'll be gone soon, since three of the members are about to leave for college. So a show Thursday night at Interzone in Corvallis might be the last chance to catch the group for some time. Click here to read more about the all-ages show. 
Jeweler Lori Garcy of Brownsville and fused-glass artist Cindy Conder of Corvallis are being featured this month at  Gallery Calapooia, the nonprofit gallery in downtown Albany, and the work looks like it's worth checking out. And, of course, the gallery always has a selection of work by its other members on view as well. Click here to read more about the gallery's August show.  
If you're in the mood for a movie, you have new choices this weekend in the mid-valley. The thriller "Them That Follow" takes a deep dive into the world of an evangelical religious sect (complete with snake handling) in an isolated community and has attracted some enthusiastic reviews, including this one from Richard Roeper. And any movie with a cast that includes Walton Goggins, Olivia Colman and Jim Gaffigan is bound to attract some curious moviegoers. 
Other new movies in the mid-valley this week include "The Kitchen," in which the wives of three incarcerated mobsters take on their husbands' rackets to support their families in 1970s New York City. The cast is enough to attact interest: Melissa McCarthy, Tiffany Haddish and Elisabeth Moss star. New releases include "Dora and the Lost City of Gold," the first live-action outing for the young explorer; "Brian Banks," a drama in which a promising high school football player is falsely convicted of rape; and "Scary Stories to Tell in the Dark," in which teens in a small town in the 1960s discover a book of terror tales that start to come true.
And if you're still searching for just that right event to add a little fun to your weekend, check out The E's guide to a week's worth of arts and entertainment happenings: Click here and start planning.
I'll see you back here next Thursday. 
Be the first to know
Get local news delivered to your inbox!