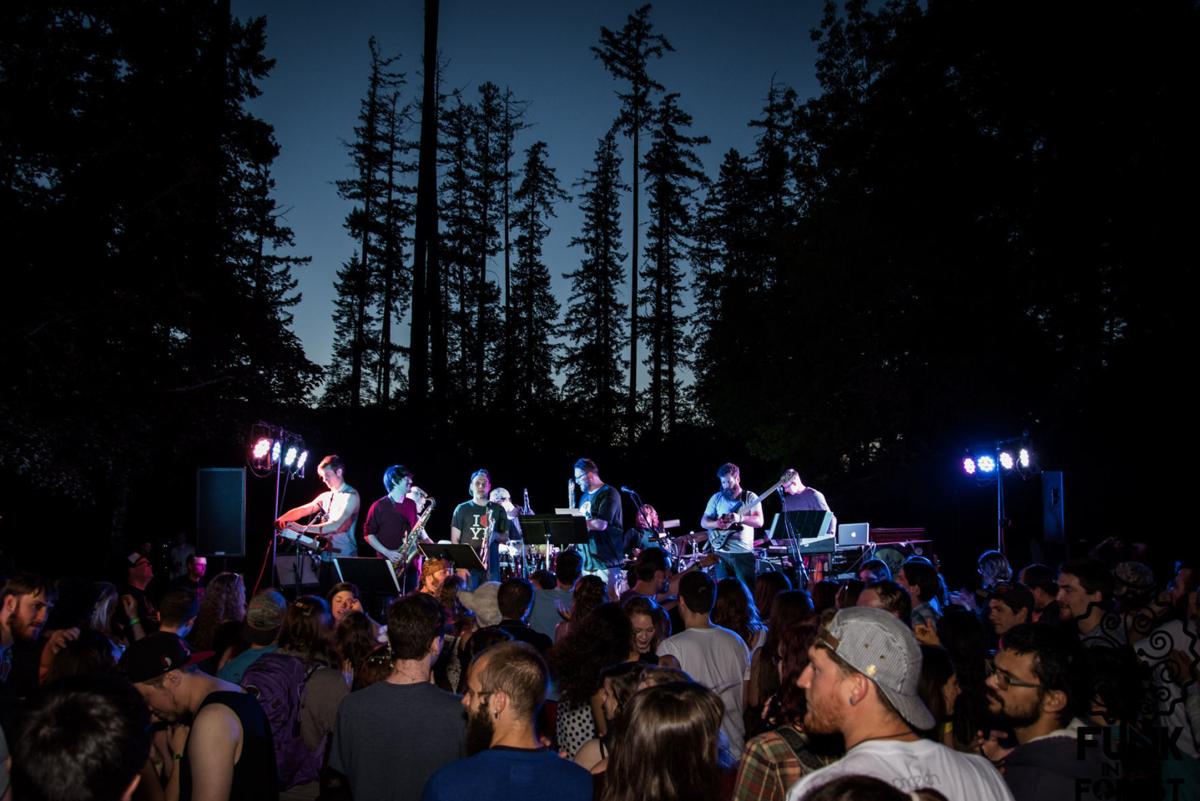 Labor Day is in the rear-view mirror, and we're heading into the fall — and, already, you can sense the pace of the mid-valley's arts-and-entertainment scene starting to pick up after a bit of a late-summer lull.
So let's take a look at what's cooking for the weekend:
The mid-valley funk band DTW has been the host for the Funk in the Forest festival since the event started in 2014. That year, the festival, which highlights funk, rhythm-and-blues, hip-hop and reggae acts, drew 50 to 70 people.
When the festival returns to Corvallis' Avery Park this Saturday, it could attract up to 1,500 people, says Justin "Shep" Schepige, DTW's bassist and leader. 
DTW isn't headlining this year — that honor goes to the bands Dirty Revival and Diggin' Dirt — but fans of DTW won't want to miss the band's set, scheduled for 6:15 p.m. at the event. Schepige said the show should feature as many as 18 musicians from the band's "rotating cast of characters" and could summarize its progress to date — as well as hint at new directions.
Let's say you're the type of person who stops to study all of those roadside historical signs scattered along the highways: Good for you. You might be interested to meet Darrell Jabin, "Oregon's Traveling Historian," on Wednesday at noon when he presents a talk about the state's historic theaters. It's the latest installment of the History Bites series at the Albany Regional Museum, 136 Lyon St. S.
You have free articles remaining.
Judging by a brief interview I had with Jabin this week, the presentation will be filled with interesting nuggets about these grand old theaters and opera houses, which used to be community centers but often fell on hard times. But communities have rallied around these theaters to preserve them, and that's part of the story Jabin will tell on Wednesday. (Be sure to bring your own story about a historic theater; Jabin loves to hear those.) Click here to read my preview story about the talk.
I wrote last week about "As the Bee Sees," the exhibit by Oregon artist Susan Curington showing how the world looks in the eyes of our vital pollinators. Don't forget that there's a reception for that show, along with a related exhibit, "Pre-Farm to Table: A Bee's Work," Friday at the Giustina Gallery in Oregon State University's LaSells Stewart Center. The reception begins at 5:30 p.m. Friday, but if you show up at 4:30 p.m., you can catch talks by Curington and OSU bee expert Priyadarshini Chakrabarti Basu. Click here for a refresher about the shows. 
Speaking of art: Don't forget the Friday night reception at Albany's Gallery Calapooia for its September show, which features two artists, ceramicist Dennis Johansen and Melissa Babcock Saylor, who works in cut paper. Click here to revisit our story about the show.  
Love to sing? Consider joining the Lebanon Community Chorus. Registration for the chorus begins Thursday, Sept. 12 and continues the following two Thursday nights at Lebanon High School. Rehearsals kick off on Sept. 12 for the chorus' holiday concert, scheduled for Dec. 15. Click here to learn more.
Music fans may want to check out "David Crosby: Remember My Name," the critically praised new documentary about the life and career of folk rocker Crosby. By all accounts, Crosby is remarkably frank about his career and the relationships he's trashed over the years, but doesn't seem particularly full of regrets. Click here to read the review by Richard Roeper.  
Finally, if you're looking for additional suggestions about what to do this weekend, the place to start is our E calendar, which lists dozens of events going on throughout the mid-valley. Click here to start planning your weekend. And I'll see you back here next Thursday.