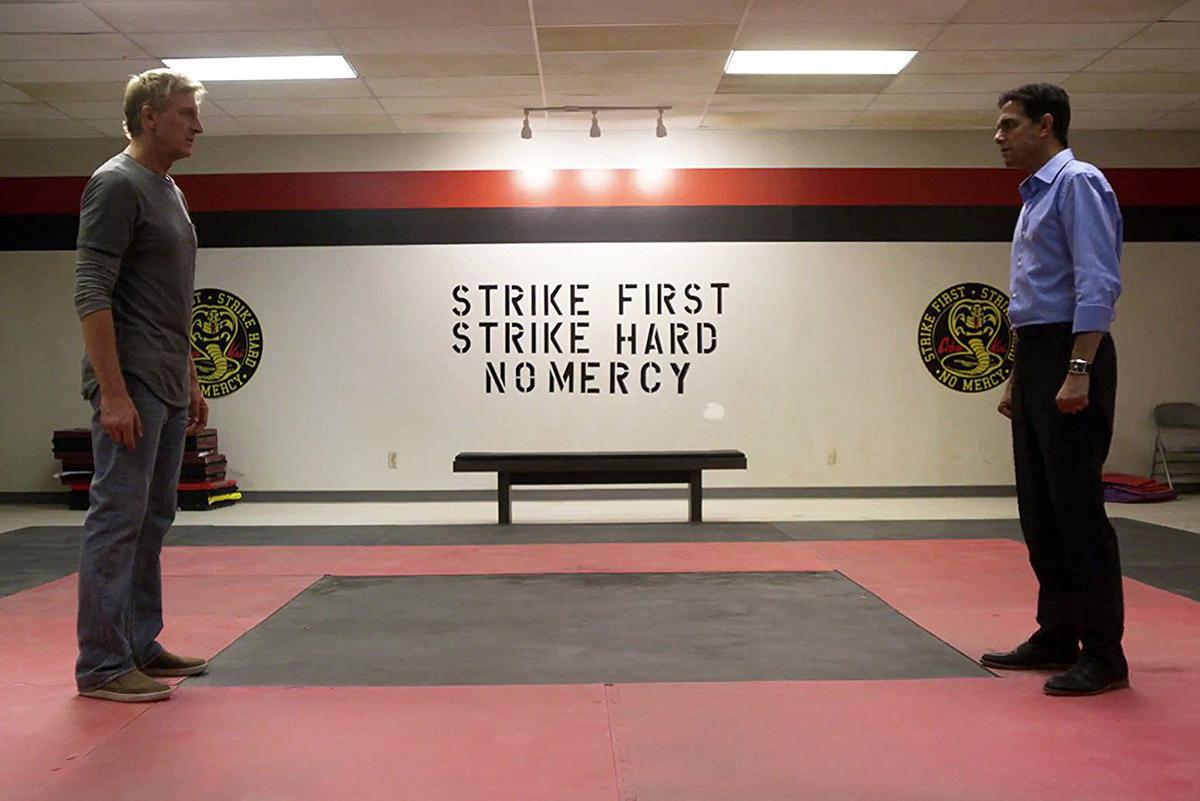 Have you seen the trailers for YouTube Red's "Cobra Kai," its wholly unnecessary "Karate Kid" revival? Perhaps you can explain something.
It seems to depict onetime antagonist Johnny Lawrence (William Zabka, returned, fit, trim, surfer-blonde as ever) as a haunted man plagued by flashbacks of a crane kick from Daniel Larusso (Ralph Macchio), the nervous twerp who ended Johnny's villainous zip-code strut. (Strangely, Larusso, ostensibly the series' hero, doesn't come off well in the teaser above.) A palpable tension simmers between the men as adults — one that, you'll recall from the original film, was quashed 35 years ago. 
Let's review the end of "The Karate Kid." Larusso's dropped a thug, delivering a cathartic blow for high school losers everywhere. He's destroyed the guy who spent most of the movie spraying the San Fernando Valley with Larusso's snowflake tears. He's landed Elisabeth Shue. He drives a righteous 1948 Ford Super DeLuxe Ford convertible. He's high on karate-king glory at the grandest tournament in the land. 
Humbled, Johnny Lawrence scoops his fractured mandible, snatches the trophy from a judge and delivers the hardware to his adversary himself. "You're all right, Larusso," he says, handing him the prize and vanishing into movie bully oblivion. His character arc is complete, evolving (perhaps not believably) from a vicious, entitled snoot to the apex of gallantry. Not only had he been bested, he'd realized his own sensei, John Kreese (Martin Kove), leader of the OG Cobra Kai, flaunted a sadism neither Lawrence nor his friends could abide. They were simple thugs, content with teenage terrorism; Kreese got his kicks from cruelty, torture and pain.
Thus begins the crumbling of the first Cobra Kai.
Released two years later, "The Karate Kid Part II" opens within minutes of the first film's climax. Kreese, livid that Lawrence would dare take second place to Larusso, common gutter trash trained by some koan-spitting janitor, begins dismantling his star pupil in the venue parking lot. He's interrupted by the aforementioned custodian — walking calm-bot Mr. Miyagi (Pat Morita) — who dodges Kreese's rage-fueled swipes, humiliating him without throwing a punch.
Rattled by this confrontation, Kreese becomes an angry, drunken recluse, his dojo shuttered after a mass student exodus (including Lawrence, one would think, who had every reason to bail). He becomes so obsessed with Daniel Larusso that he FAKES HIS OWN DEATH and joins an elaborate plot to cripple him permanently in "The Karate Kid Part III" (1990), where, let's face it, he's a straight-up psychopath. If he warrants mention in "Cobra Kai," he'd better have died either by his own hand or in a shootout with police.
Which brings us, finally, to "Cobra Kai," the dramedy. Thirty years later, Johnny Lawrence, now down on his luck — guess he doesn't attend blueblood country-club parties anymore — decides to reopen his dojo of yore to capture his lost whatevs.
I understand his motivations from a series-development perspective: the narco-nostalgic ka-ching. But from a character standpoint, it makes no sense. Why would he revisit one of his life's darkest chapters, when the spell of his teenage dominance was broken by a weak-sauce gomer — lingering virus Daniel Larusso, apparently eager to remind everyone of That One Time — and the brimstone wrath of an abusive adult? How could Cobra Kai be anything but a bad memory?
"Is there sense in this dojo?" "NO, SENSEI!"
We can trace this storyline's roots to an inspired video for an OK song.
In 2007, William Zabka recruited much of the original "Karate Kid" cast for the L.A.-based No More King's "Sweep the Leg," which Zabka also directed. In this alternate universe, Johnny Lawrence inexplicably lives with his Cobra Kai brethren in a downtrodden trailer, where they endlessly obsess over footage from the 1984 All-Valley Karate Tournament. They even recite their lines back to the television. Actor Rob Garrison relishes the opportunity to bark his iconic "GEDDIM A BODY BAG EEEYEAAAAGH!" although, due to his decrepit surroundings, his character may have been longing for his own. The concept wasn't kind to the Cobra Kai boys. 
Daniel Larusso, however, lives a charmed life, having traded his old convertible for a much newer model, which he inadvertently uses against his tormentor once more. The tables have turned: Larusso, cool, slick, prosperous; Johnny Lawrence, windshield splatter, ratty '80s relic, brain stamped with misery. That karate tournament, for them, was hardly an insignificant event. It drove their respective fates, linking them forever.
Older Johnny Lawrence does not think Daniel Larusso's all right.
Older Johnny Lawrence does not think his ex-sensai's a draconian maniac (the seething Kreese lives with him and rides a motorcycle, Randall-"Tex"-Cobb-in-"Raising-Arizona"-style).
Older Johnny Lawrence suffers from amnesia.
May God have mercy on Johnny Lawrence's soul.
Here we are now in a new world, indebted and clinging to the old, where our lives are defined by a long-gone moment. Where crane kicks are forever, and 1984 karate tournaments contain not brackets, but infinite alternate futures. Where the best around is the best at life. Where Johnny Lawrence, inextricable from his past, plots his strange revenge.
Attn: William Zabka: Cory Frye's gonna watch the stuffing out of "Cobra Kai," anyway. Don't hurt him.