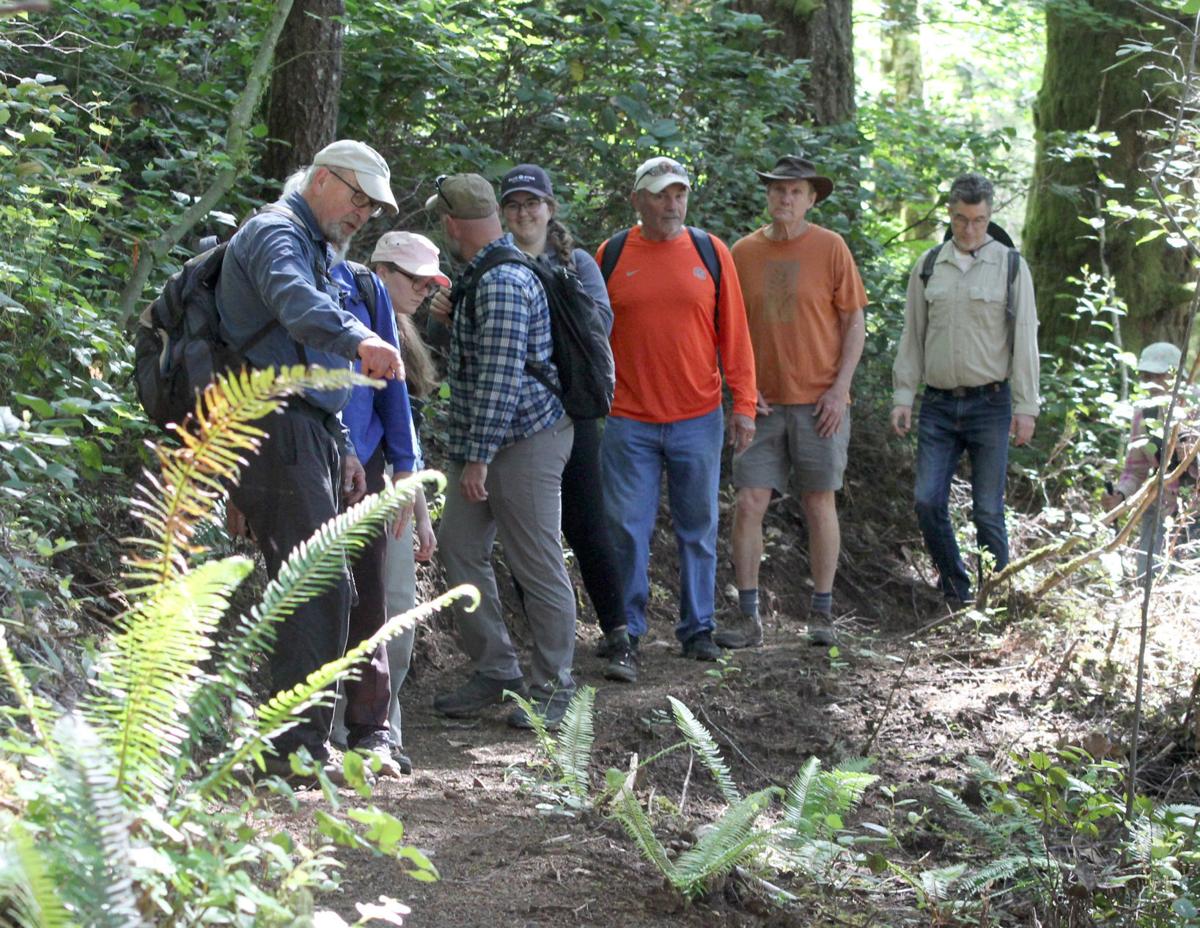 Tourism accounted for $12.3 billion in spending in Oregon in 2018, according to a state report, and outdoor recreation — including camping, people paddling the waterways, hunting, fishing, mountain biking, horseback riding and more — provides a big boost to the economy.
State figures indicate that nearly a quarter of overnight visitors in Oregon, including those from other regions of the Beaver State, traveled specifically for outdoor activities.
"It is quite clear visitors are coming to the state of Oregon for our green, get-back-to-nature appeal," said Tori Middlestadt, development and industry relations manager for the Willamette Valley Visitors Association.
That appeal in Benton County could grow immensely with a new pathway for hikers and backpackers, said outdoor writers and advocates.
The Corvallis to the Sea Trail could become a massive magnet pulling outdoor enthusiasts to the mid-Willamette Valley, said William Sullivan, author of a popular series of Oregon trail guides.
"In 50 years, this is going to be a worldwide draw," Sullivan said.
The C2C Trail has the potential to become one of the "signature trails" for the state of Oregon, said Al LePage, the executive director of the National Coast Trail Association, which was one of the founding coalition members for the route.
"You build it, and they will come," LePage said. "How many people can say that they walked from the valley over the Coast Range to the ocean? There's just something about it that feels good."
Gary Chapman, president of the board of directors for the Corvallis to the Sea Trail Partnership, acknowledged that there's plenty of interest, even though the trail isn't fully completed yet.
"We know there are a lot of people that would like to do it. We know there are a lot of people who have done it, and I'm a bit surprised by how much they like it at this stage," Chapman added.
The 62-mile C2C Trail runs from Corvallis through the lush forests of the Coast Range and to the Pacific Ocean at Ona Beach, near Newport. Chapman estimated that it will be finalized, with signs installed, by the end of the winter.
Sullivan said that hiking along the route will be ideal as there are few issues with nasty insects, poison oak, rattlesnakes or other problems, the elevation gains are minimal compared to mountain passes in the Cascades or the Sierras, and the Coast Range stays relatively cool but dry in the heart of the summer.
Much of the path follows old gravel logging roads, and right now, things look rough along the mostly completed trail, Sullivan said.
But the trail will appear vastly different as the wilderness takes back over. The roadways gradually will evolve into regular paths, and the canopy will grow to cover the route.
"A trail through a rainforest that will match the best trails in Olympic National Park in Washington? There's nothing like that in Oregon," Sullivan said.
"A big rainforest, that's what people want. It would attract people from all over the world. Currently, you have an awful lot of German tourists going up to Olympic National Park. They've come halfway around the world to see a trail through a rainforest," he added.
Sullivan noted that numerous trails through both Olympic National Park and Redwood National Park started as logging roads, as well.
On the wild side
There's no doubt that many people visiting the mid-valley are already looking to get a bit wild.
"One of the things that people come to do is enjoy all the trails we have," said Christina Rehklau, executive director of Visit Corvallis.
"We like to promote doing hikes at Bald Hill. Marys Peak is one that we promote a lot," she said.
"We are super-excited about seeing the Corvallis to the Sea Trail open, as that's gotten a lot of press," Rehklau added.
Jerry Davis, director of the Benton County Parks & Recreation Department from 1986 to 2006, said that the Corvallis to the Sea Trail will be just another added attraction for Corvallis.
"People that come to Corvallis and Benton County get treated with a good trail system, and it just keeps on getting better and better," Davis said.
"The reputation of the trail will spread. … People will come to Corvallis and visit their friends and hike the trail," he added.
Davis said that a critical component of the C2C Trail is how it can be tackled easily in small sections on day hikes. That will be attractive for both locals and visitors.
"The key is short loops, like Beazell Memorial Forest, so families can go," Davis added.
Rite of passage
Phil Hays, author of "A Guide to Trails in the Corvallis Area," said that people who follow the C2C Trail on short sections will be able to say that they pieced together the entire route.
"For the trail, or any one of the outdoor attractions around here, the prime users are going to be the residents. Having said that, I have met people out hiking, or people who have come to ride McDonald Forest, who have come down from Portland or Salem," Hays said.
He wasn't sure that the C2C Trail will be heavily used by through-hikers, however.
"I don't know how many people will be doing that, but there won't be traffic jams on the trail," Hays said.
"Equestrians might pick this up, because there are a couple of places where they can camp. They might look at this as a long-distance ride," he added.
Mountain bikers also might be more smitten with the uninterrupted route, and organized bike or horse rides could be a large draw some day, Hays said.
However, the trail is being built primarily with hikers in mind, and horseback riders and mountain bikers might need to take alternative routes for certain portions, Chapman said.
LePage agreed that locals will be the main users of the C2C Trail. "A visitor may walk a trail once in their life, but a local resident may walk that trail many times over the course of their lifetime," he said.
He added that the route could become a rite of passage, a requirement for mid-valley residents similar to Japanese people climbing Mount Fuji.
"In the future, Oregon State students, if they're really going to be OSU students, they're going to have to say that they hiked from Corvallis to the sea, or biked from Corvallis to the sea," LePage said.
"I think it has that local flavor that will make it popular," he added.
Sullivan and LePage both noted that the C2C Trail connects to the Oregon Coast Trail, which also isn't completed yet, and there will be interplay between the two.
Someone hiking the Pacific Crest Trail and facing too much snow or heavy smoke from wildfires also could also bail from the Cascades and head to the Oregon Coast Trail using the C2C Trail, LePage said.
He added that people could make a circuit by connecting the Oregon Coast Trail from Astoria to Newport and the C2C, paddling on the Willamette River Water Trail from Corvallis to Portland and then using the Lower Columbia River Water Trail to get to Astoria.
"There are all these connections that can be made and are growing," LePage said. "We could make this the Great Oregon Adventure Loop, the GOAL. What an adventure that would be."
Economic boost
Hays noted that the future use of the C2C Trail, whatever it will be, will only grow with each passing decade.
"The population of western Oregon, unfortunately, is growing," he said.
Rehklau said that outdoor tourism has heavy overlaps with other segments of the tourism industry, such as craft brewing, wineries and the farm-to-table dining scene.
Day-hikers strolling through Finley Wildlife Refuge, for example, might want to cap their adventure with a trip to the nearby Long Timber Brewery in Monroe for barbecue and microbrews. Or outdoors enthusiasts who have trekked up the hills at Beazell Memorial Forest in Kings Valley could stop by a local winery for a sip.
"Nothing makes the day better after a long day of hiking than kicking your heels up and having a couple of glasses with friends," Rehklau said.
Adventure travelers on the C2C Trail might start, or end, in Corvallis with a hearty meal, a restful day in town and a great night's sleep in a hotel, LePage said.
"People like to celebrate. They're going to a restaurant. They're going to enjoy themselves wherever they are. They're going to spend money. They're good for the economy," LePage said.