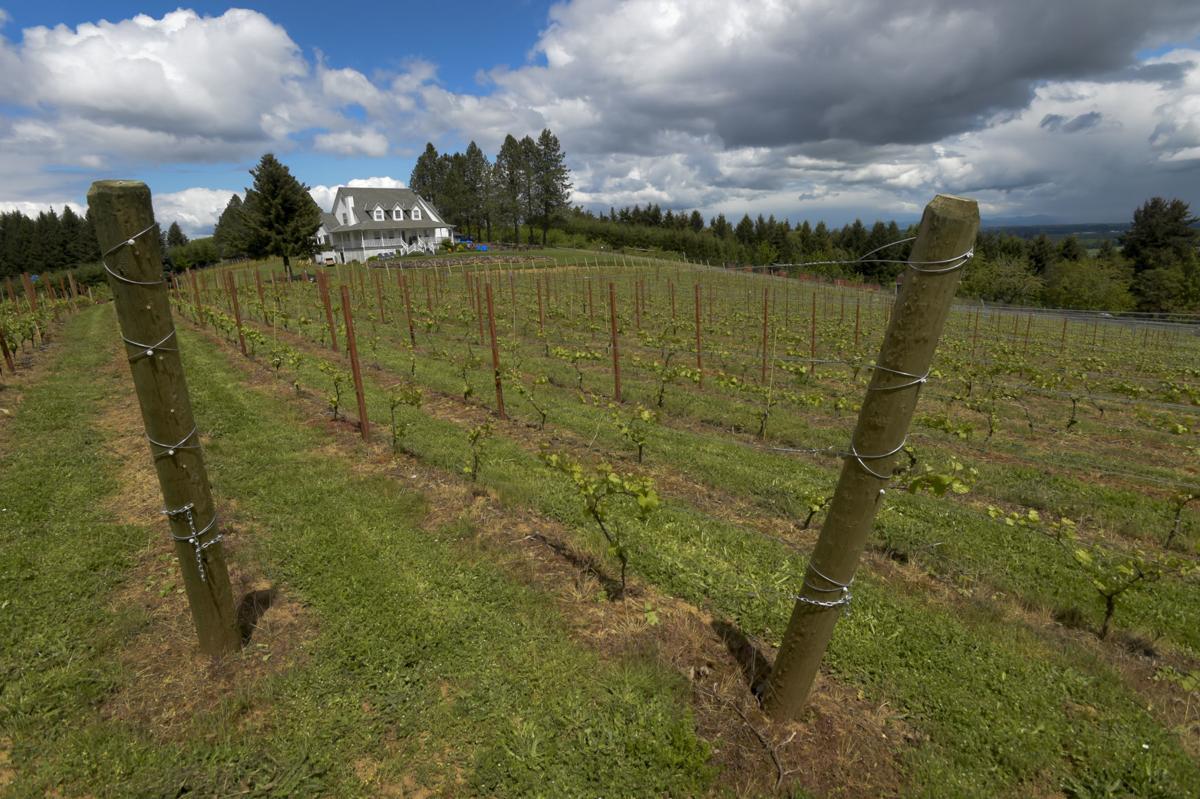 Winery recognized for Pinot noir
Bluebird Hill Cellars in Monroe recently was recognized for its wines in two different venues.
In the Oregon Wine Press, Bluebird Hill's 2017 Pinot noir was chosen as a November 2019 Cellar Select. This set of wines consists of 11 Pinot noirs from 11 Oregon wineries. The wines were selected after tasting a set of several hundred wines submitted to the Wine Press.
In a second event, Wine Press Northwest has awarded the 2016 Bluebird Hill Pinot noir and the 2016 Estate Reserve Pinot noir double platinum medals. There were only 48 double-platinum awards out of 759 wines reviewed by three judging panels. The 759 wines were selected for judging as wines that had previously received a gold medal in a judging event in the Pacific Northwest during the past 12 months.
The double-platinum award is given to wines that were judged to receive a platinum award unanimously by each of the three panels of judges.
Local police officers graduate from academy
The Oregon Department of Public Safety Standards and Training has announced the graduation of its 393rd Basic Police Class.
Basic Police Class 393 will graduate at 11 a.m. Dec. 6 at the Oregon Public Safety Academy in Salem.
Graduating members of BP393 include Police Officer Jade Caudle, Police Officer Eva Dod and Police Officer David Vidal, all of Corvallis Police Department.
The class is 16 weeks long and includes dozens of training areas, including survival skills, firearms, emergency vehicle operations, ethics, cultural diversity, problem solving, community policing, elder abuse, drug recognition and more.
WAHS educator named teacher of the year
The Oregon Business Education Association named Joey A. Running of West Albany High School as its Secondary Teacher of the Year at its fall conference.
Running is a teacher of accounting and finance classes and is a College Now Liaison at the high school. In addition to campus duties, she is a Federal Reserve Ambassador, a Next Gen Personal Finance Fellow, a Certified Personal and Family Finance Educator, and a Jump Start Innovative and Dedicated Teacher.
In a career that spans two decades, Running is noted for bringing personal finance content to students in new, engaging ways. She meets with the business community to enhance these efforts, is working on a district-wide plan for all students to receive personal finance education as a graduation requirement, and has an active federal/state Carl Perkins grant for her Career Technical Education finance program.
Bank announces cash dividend
On November 19, the Board of Directors of Citizens Bancorp declared a cash dividend to be paid to all shareholders of record on Dec. 6, 2019.
The company declared a cash dividend equal to 60 cents per share of common stock, and 64 cents per share to holders of preferred stock. This dividend will be paid on or before Jan. 8, 2020.
You have free articles remaining.
To purchase stock or receive additional dividend information, call Mayme O'Neill, stock transfer agent, at 541-766-2261.
Citizens Bank, the operating subsidiary of Citizens Bancorp, provides banking services throughout the Willamette Valley in Oregon. Its employees provide personalized banking services to businesses and individuals at each of its 15 branch offices (located in Corvallis, Albany, Philomath, Junction City, Springfield, Harrisburg, McMinnville, Dallas, Lebanon, Salem, Silverton, Tualatin and Oregon City).
Running shares her leadership experience as a 10-year volunteer and board member of the Brownsville Community Library and is current president of OBEA, which shares current industry and classroom practices with Oregon's secondary and post-secondary business educators.
Company announces new president
Coastal Farm and Ranch has announced that its chief operating officer, Lori McKinnon, has been named president of the company.
McKinnon has worked for Coastal for 25 years, and was promoted to COO in February 2018. Buzz Wheeler will remain CEO of the company.
Coastal is a farm and ranch retailer with 17 locations throughout Oregon and Washington. The company is headquartered in Albany.
Samaritan named one of healthiest workplaces
Healthiest Employers Inc. has named Samaritan Health Services to its list of the 2019 Healthiest 100 Workplaces in America.
Earlier this year, the organization and the Portland Business Journal named Samaritan the healthiest employer statewide for organizations with more than 5,000 employees.
The final list of the top 100 nationwide has Samaritan as the 25th healthiest across the United States.
Springbuk, a health intelligence firm that works with employers on employee health initiatives, administers the national competition. While the application process is more extensive for the Healthiest 100 Workplaces in America than the statewide competition, both focus on these six categories:
•             Culture and leadership commitment.
•             Foundational components.
•             Strategic planning.
•             Communications and marketing.
•             Programming and interventions.
•             Reporting and analysis.
The 2019 Healthiest 100 Workplaces in America award winners include organizations as small as 32 full-time employees and as large as 200,000 employees. The winning organizations span nearly every industry, size and geography, and include both private and publicly funded organizations.