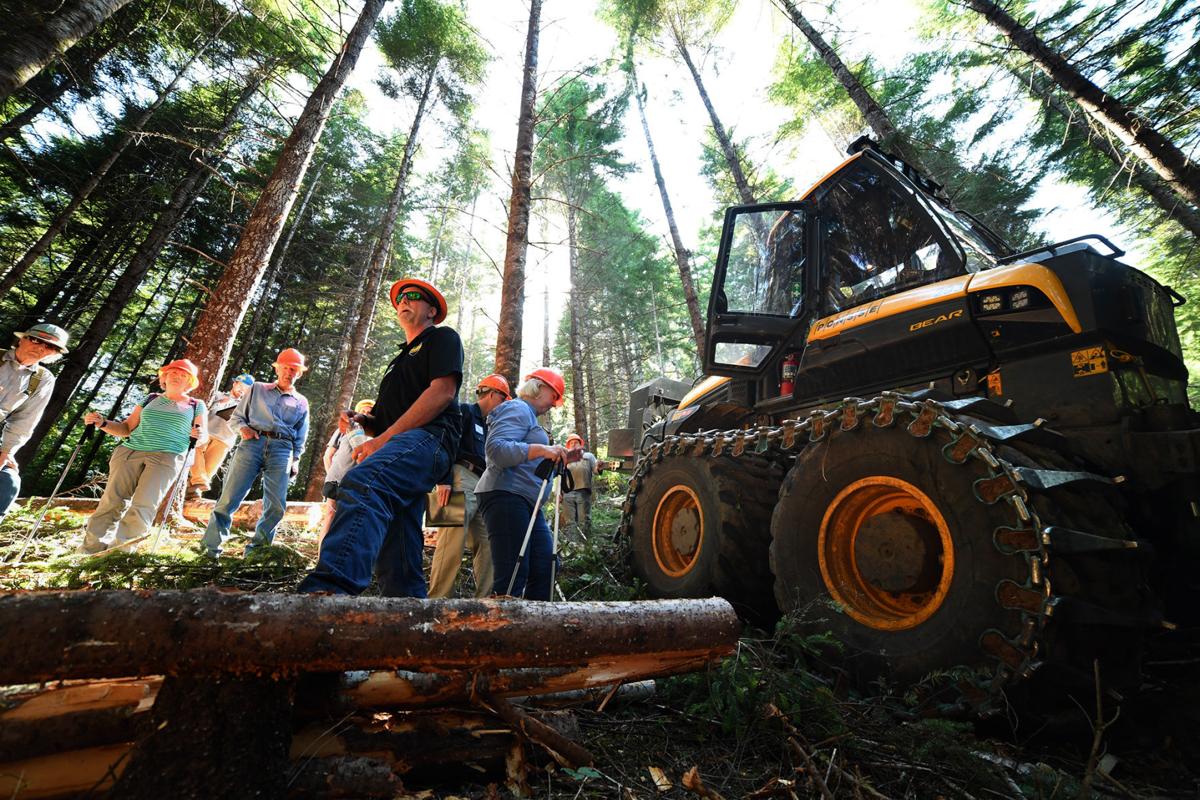 Challenges in the woods are nothing new to Lee Miller.
Back in the early 1980s after Miller received his degree in forestry from Oregon State University, the timber industry was beginning to feel serious impacts from a recession. In the coming years, the northern spotted owl controversy surfaced and led to limits on access.
Miller survived those types of challenges and built a company that has received several prestigious honors. The most recent came Saturday in Perdido Beach, Alabama, when Miller Timber was honored as the Timber Harvesting Logging Business of the Year.
The timber industry magazine established the national award in 1998.
Such awards are nothing new for Philomath-based operation.
"I think it's really good for our people because they work really hard," Miller said in a recent interview. "It's something they can hang their hat on … it's not about me, it's about them."
Miller Timber and others in the industry will continue to fight through various challenges, including the effort to find a more economical way to extract timber from the woods, run it through a sawmill and put 2-by-4s or 2-by-6s on the market at a price that won't wipe out the bottom line.
"I think it's pretty clear — the world is a huge wood basket. One thing the world has proven is it can grow timber," Miller said. "Everywhere in the world, there's timber. It's not a commodity that's shrinking. … The wood basket in the world is growing and it's growing at a high rate of speed."
Despite this, market demands are lagging behind, Miller said. The price of wood hasn't increased at the same rate as other products over the past 20 or so years.
"The big challenge that we have right now is the price of extracting the timber and getting it through the sawmill has increased at a much higher rate than the price of wood — actually, what you can sell the end product for," Miller said. "If you graph it out … the end product of wood with inflation is pretty much flat."
Miller said more-expensive harvesting systems have led to higher production costs.
"You can't afford to go out and produce a 2-by-4 for more than you can sell it for; it's just not going to happen," Miller said. "Since the wood basket is so large in the world, if they don't want to buy your 2-by-4 for a certain price, they're going to go somewhere else — they're going to get it out of Chile, they're going to get it out of New Zealand, it's a worldwide market."
As a result, land owners are faced with the option of not harvesting timber or trying to find a less expensive means to harvest it. So the challenge moving forward, Miller said, is to find a more economical way to extract timber from the woods.
"That's where we come in," he said, "and that's where we're finding our market niche."
Ties to the land
Miller could talk all day on facets of the timber industry. His family history features a strong connection to the woods with a father, for example, who worked as a timber cruiser before operating a ranch and tree farm in the Siletz vicinity. Miller grew up in that environment and by the time he earned that OSU forestry degree in 1980, he was ready to pursue his dream of becoming a successful logger.
But, the timing could've been better.
"For one thing, a lot of the wood basket had severely shrunk due to the spotted owl and the economy was in very bad shape … we were just coming out of a severe recession," Miller said. "So there really were no timber jobs to be had. There wasn't a lot going on."
Miller entertained a job offer to work for a timber company up in Washington state as a forester. But he preferred to go back to the Oregon Coast region and start a business in his hometown.
"I decided to do that but the reality facing me — lack of funds, lack of this, lack of that," Miller said. "I wasn't going to be able to achieve that goal real quick so I took a job as a reforestation forester, basically, doing ground-pound work for Publisher's Paper, which was an international company that bought a lot of ground locally."
The job didn't last long with the recession worsening and his employer unable to keep him on. However, an opportunity surfaced when Publisher's Paper asked Miller if he'd be willing to work as a contractor. Miller hired an old friend from Siletz and the operation took off.
It was 1981 when Miller Timber was established and three years later, he moved it to Philomath.
"For the first eight years, all we did was reforestation, plant trees, precommercial thin," Miller said.
In the early years, Miller Timber started doing work for Starker Forests "doing forestry work, tree-planting, precommercial thinning, herbicide spraying for them," he said. It's a relationship that continues to this day.
"It's been a great relationship," Miller said. "A lot of their foresters came in at about the same time I started working for them, so we've had a great relationship through all the years."
Four divisions
Miller Timber operates four divisions — reforestation, cut-to-length, wildland firefighting and trucking. Miller said his full-time workforce runs at about 180 and swells to 300 or so with seasonal opportunities.
Wildland fires that rip through forests have become more and more common in recent years. Miller said it comes down to forest management.
"If you don't manage the timber, it's going to happen," Miller said. "Everywhere they do not manage the forest, it does burn. It will die — we will have bug infestations and we'll have some kind of a fire. The reason we don't see it here is because we have longer fire cycles here."
Miller can give examples of areas in the local vicinity that aren't moving timber.
"We've seen it so many times," he said. "I've lived this thing now since the '80s, the shutdown of the national forests and how we're seeing all of the national forests burn. Why are we seeing the national forests burn? Because there's no management. The bugs are getting in and killing it and it burns, it's just what happens."
Miller said a big market right now for his company is removing timber killed by bugs.
"That's why we do wildfire fighting," he said. "You can pay us to manage it or you can pay us to put the fire out — you have an option."
The business news you need
With a weekly newsletter looking back at local history.