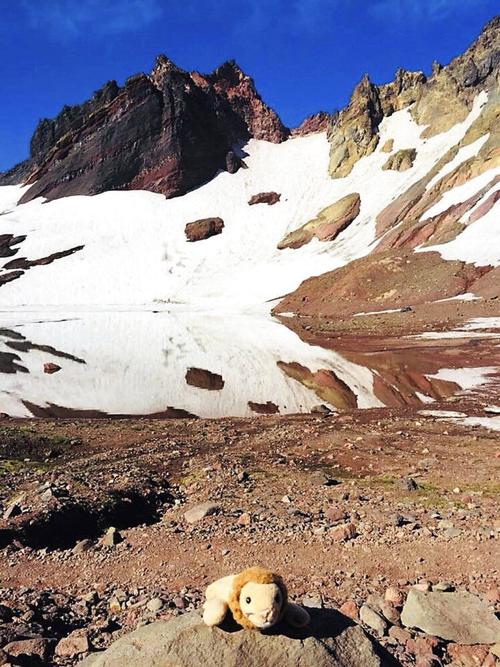 Editor's Note: As a convenience to Philomath Express readers, here's a sampling of other news going on around Oregon as reported by The Associated Press.
Oregon woman reunites girl with toy lion lost on remote hike
BEND — A little girl who lost her beloved stuffed lion on a hike in the Oregon backcountry was reunited with her favorite toy over the weekend after a community effort to identify her.
Hiker Holly Spaman, who recently moved to Bend from Yakima, Washington, ran into Audrianna Flores and her family as they descended Broken Top Trail on July 16 on their way back from a hike to the remote No Name Lake.
The distraught 7-year-old told Spaman about her lost stuffed lion, Kitty, which had fallen out of her mother's backpack unnoticed during the trek, the mother, Erin Allen, told The Associated Press on Monday.
Spaman didn't think she'd find the toy in such a vast wilderness, but she kept her eyes peeled and spotted Kitty a few miles later.
She didn't have the family's name or number. So she put Kitty on a rock and snapped a photo of the well-loved beige-and-yellow lion in front of jagged peaks of Broken Top Mountain — snow in the background — and posted it online when she got home.
"Yesterday late afternoon I met a sweet child on Broken Top Trail to No Name Lake who asked me to keep an eye out for her stuffed animal," Spaman wrote. "Guess what? I found it! If anyone knows this kiddo, please help us connect."
Spaman's friends forwarded her note, which was then passed on to complete strangers as everyone tried to reconnect the girl with her lost lion.
The Bulletin, the local newspaper, joined the search and after almost a week of community effort, a very happy Audrianna was reunited with Kitty on Saturday.
On Monday, Allen told the AP that her daughter was sleeping — undoubtedly with Kitty — and wasn't available for an interview.
You have free articles remaining.
"This has been truly amazing — all of the kind people out there in this world," Allen said.
Earthquakes strike off Oregon Coast; no damage
PORTLAND — The U.S. Geological Survey recorded a series of earthquakes in the Pacific Ocean off the coast of Oregon.
The Tuesday morning quakes were about 125 miles west of Gold Beach, and occurred at a depth of 6.2 miles. They ranged in magnitude from 3.2 to 5.6.
There have been no reports of injuries or damage.
Experts have said for years that Oregon and the Pacific Northwest are due for a major earthquake with a magnitude of 8.0 or higher. Smaller quakes, like those on Tuesday, are fairly common.
Oregon food cart owner who used racial slur will pay $1,000
PORTLAND — The owner of a Portland food cart has agreed to pay $1,000 to a customer he physically and verbally attacked last month.
In exchange, charges of fourth-degree assault and harassment have been dismissed.
The owner, Islam El Masry, apparently became upset when the customer wanted to pay her $7 tab with coins. The owner eventually shoved the money back at her and called her a racial slur. He also sprayed hot sauce and threw a bottle of Gatorade at the woman, who is black.
Court records show El Masry and the customer signed a civil compromise to have charges dismissed.
El Masry declined comment to The Oregonian/OregonLive on Monday.
In YouTube videos published after the incident, El Masry said he had been in a bad mood at the time of the confrontation because of business pressures and because he was cooking food while fasting for Ramadan.