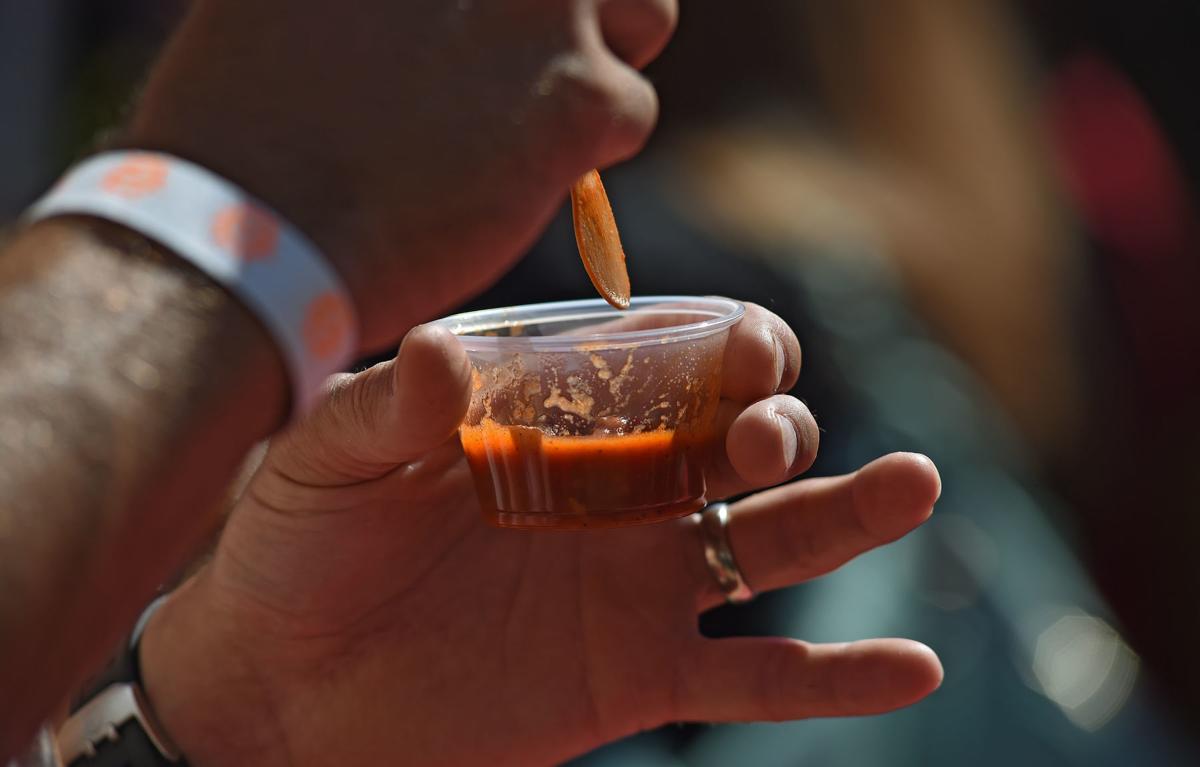 Eat a light lunch, cleanse the palette and get ready to challenge those taste buds with a visit to the Public Safety Chili Cook-Off, scheduled to run from 3-7 p.m. Sunday at the Philomath Frolic & Rodeo Grounds.
After taking a year off to reorganize, the chili cook-off features a larger venue, new team divisions and an expanded lineup of activities, entertainment, food and beverage options. It's all to raise money for the hosting foundations, an associated organization and a selected charity.
Formerly held at the Benton County Fairgrounds, Philomath Chief of Police Ken Rueben said the biggest challenge this year will be to simply get the word out about where it's going to be staged. So let's repeat — Philomath's rodeo grounds on South 13th Street.
The chili cook-off reorganized under the leadership of the Philomath Police Foundation, Benton County Sheriff's Foundation and Benton County Sheriff's Mounted Posse. Proceeds go to help support those organizations along with a nonprofit recipient that is chosen, which this year is the ABC House Child Abuse Intervention Center in Albany.
"Every year, it's a different charity and we try to pick not just local charities, but charities that have some kind of connection to law enforcement," Rueben said. "ABC House is just an amazing group that helps us on all of our serious child abuse investigation cases."
The chili cook-off has traditionally attracted roughly 500 to 700 people.
"I'm really thrilled that we're doing it again this year," said Lacey Duncan, Benton County Sheriff's Office emergency services program specialist. "I've heard through word of mouth that people have missed it."
The chili cook-off's organizers are hoping folks will appreciate the 3 p.m. start, which is later than previous versions over at the fairgrounds. For one thing, competing teams won't need to be on site before the crack of dawn to begin cooking. But another line of thinking on the later start is to create a more comfortable environment where folks can enjoy themselves with the weekend winding down — even have a sit-down meal while taking in some tunes.
Scruggs and Steel Benders, which seems to be one of the hottest bands from the region, will be on stage to provide entertainment.
"We decided to have a live band instead of a pick-up band that would come and do three sets," Rueben said. "And not only can you come and get chili, but we're going to have two food trucks."
Memphis Beats and Kell's Kitchen will be on hand for those that need to fill their bellies with more than chili. In addition, Block 15 out of Corvallis and Nectar Creek out of Philomath will be serving beer and mead, respectively.
A parallel activity going on at the chili contest will be the Emergency Preparedness Fair, which will have various demonstrations and activities involving several public safety-related agencies. There will also be a few raffles that some groups are staging to raise money.
Plenty of changes will be noticed among those who had gone to the cook-off when staged at the fairgrounds. For one thing, there's simply more space.
"I think with this venue, we can have more teams," Duncan said. "The booths (at the fairgrounds) were small and the flow coming through just got congested. I think this new venue will be awesome with more space to move around and mingle better."
The chili cook-off's divisions have changed to try to provide a more fun and competitive experience for those chasing trophies. The former format, which had been in place for a decade, featured divisions based on the type of chili, such as chili with beans, no-bean chili and vegetarian chili.
Organizers wanted to change it up.
You have free articles remaining.
"We started this oversight group and we met with all the teams that had participated in the last three years and we had a big round-table (discussion) about what can we change, how do we make this better?" Rueben said. "In many ways, it's not just a fun experience for the people that come, but we wanted to make it more fun for the people making chili and make the competition more fun."
The discussion led to the establishment of divisions based on the type of teams. There will be four divisions — Law Enforcement, Restaurants, Public Safety and Local Businesses. Rueben said that it can become quite competitive when various public safety agencies get together.
"I think law enforcement people are just in general very competitive," Rueben said. "You have a lot of people that were involved in sports and stuff and all the teams are very competitive and they want to win in their groups.
"These teams are spending $300, $400 with their personnel and equipment and they're invested in this thing," he added. "They want to raise money but they're spending some money and people take it seriously."
Organizers decided to change how the chili teams are judged.
"We're actually assigning two judges to each one of those groups," Rueben said. "So instead of having the judges taste all of the chili, we'll assign judges to the smaller groups so they can pinpoint in on the chili a little bit better."
Trophies will be given to the judged winners in each of the four divisions, along with a people's choice award and recognition for the group that raises the most money.
An admission fee of $5 provides entry and access to chili-tasting at all team booths. Upon entry, people will receive five voting beans, which can be placed in the jars of their favorites. Those are counted up to determine the people's choice winner.
"We want the customers to come in and actually judge the chili," Rueben said. "The teams really want to win the people's choice award — that's the one that teams take most seriously. Judges are judges but if you have 500 to 700 people tasting chili, then that gives you a pretty good idea of who has the best chili of the day."
In the past, tasters could buy additional beans but that option has been eliminated to avoid any "stuffing of the ballot box."
Philomath Police's crew has done well over the years with a consistent Texas-style chili recipe and longtime team members Mark Koeppe and Grant Moser. Rueben's been involved since his arrival in Philomath five years ago.
"The event itself is just a fun day," Rueben said. "I love chili — I love to eat it, I like to make it and we have a really good crew of guys that participate every year."
Rueben said he'd never be able to effectively judge the chilies.
"The chili is great," he said. "I mean, this is not one of those rookie cook-offs. A lot of these teams have been involved in this for a lot of years. The chili, I can't judge, all of the chilies are so fantastic."
A glance at the teams that signed up to participate brings a heavy Philomath flavor to the cook-off. Roughly half of the chili contingents have local ties and a Philomath High student created the event's poster.
Organizers have done well so far with fundraising through sponsorships.
"A lot of companies that are unable to actually cook chili have donated between $300 and $500 each," Rueben said. "I think we have 19 different companies that have donated money to us, so that's been great."