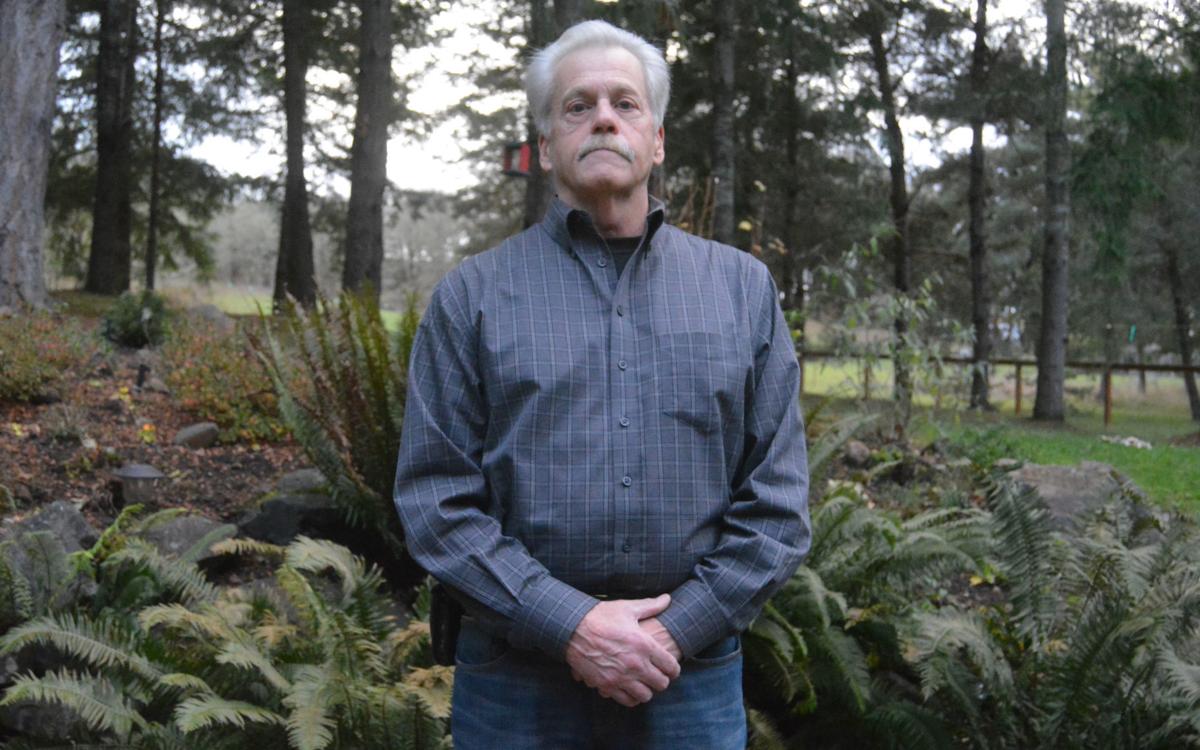 Only a few years after joining the Philomath Lions Club, Bruce Spediacci earned the organization's nomination to receive a 2019 Samaritan Award.
When asked why he thought the club wanted to give him the honor, he chuckled and said, "Frankly, I think they were running out of people to give it to. ... I wish I had some great story, but everybody had their turn. It just happened to be my turn."
Spediacci's wife, Wanda, then added, "That's not exactly true, Bruce. You do a lot."
Like many volunteers that do plenty for the local community, Spediacci is probably being a bit modest about his contributions. He's been involved in a lot of Lions Club activities since joining three years ago and is now in the process of taking over one of the organization's biggest fundraisers — the annual book sale that takes over the Frolic grounds each September.
"We're looking forward to it," said Spediacci, who is sharing those duties with his wife, also a club member. "It's fun now because it's all new. I might want to strangle Tom (Wright) after a while, but for now, it's OK."
Spediacci, 67, retired from his United Airlines management position in California about five years ago, continued living there while working on their 100-year-old house for a year and then headed north to Oregon to be closer to family — a daughter, son-in-law and teenage grandson.
"Basically, we've been fortunate and when we moved up here, we had a lot of spare time," Spediacci said. "There were some things to do around the house and after a year of establishing ourselves up here, we decided to get active. To just sit around and watch TV all day long is not a good thing, so we wanted to get back in the community and stay busy. It all worked out."
Before becoming a member of the Lions Club, Spediacci first volunteered to help with the Philomath Community Gleaners, a program that distributes food and firewood to members. Spediacci, who said he's also been a member of the Elks Lodge, helped out with cutting donated wood.
As Spediacci said, the effort to become active in the community took on importance about a year after moving here.
"We got serious about finding another organization that does a lot of good for the community and that was the Lions," Spediacci said. "They're keeping us busy."
He's not kidding now that he and his wife have taken on those responsibilities for the Lions Club's book sale program.
"They do a lot with the book sale, organizing it year round," Spediacci said. "The gentleman that started the book sale like 14 years ago with the Lions, Tom Wright, he's the one that has organized it and put it together and has been holding it together for all these years. So my wife and I are starting to take that over from him — give him some free time of his own."
Wright is still involved as he basically trains the couple on everything that has to do with books.
"It was not a hostile takeover," Spediacci said. "Tom's getting up there in years and he's looking for somebody to take over."
You have free articles remaining.
Each week, he visits four or five spots in Philomath and Corvallis to pick up books and the next day, delivers certain ones to where they need to go.
"Some go to Goodwill if we have duplicates and if we don't want to have them for our sale," he said. "Some go to recycling and the rest go into our trailer at the Frolic park to wait for the sale next year."
Asked what Lions Club program he enjoys the most, Spediacci said it's currently his involvement with the books.
"It's kind of exciting because it takes a couple full days for what has to be done for the sale next year," said Spediacci, who estimates that the commitment takes 12 to 16 hours per week. "We're learning it, so it's kind of exciting now."
Ranking up near the top, however, is the work that the Lions Club does in the community with administering hearing tests and providing eyeglasses. Spediacci said his wife is more involved with that endeavor.
"We test to every child in Philomath (through the school district)," Wanda Spediacci, 68, said. "Through the community center (PCS) and social services, sometimes they send somebody to us that needs glasses or hearing aids. They take their income and see if they qualify and we take care of them."
The Lions Club meets weekly on Wednesdays at the fire station. Spediacci estimates current membership in the club at more than 20.
"There are about a dozen people or so that make that meeting regularly and probably eight to 10 more members of the club. It's a good group of people and we exchange ideas and whatnot when we get together. It's a fun group."
The organization is involved in a lot of activities despite a limited number of active members. Besides the work with eyeglasses and hearing aids, the book sale and the screenings that are done each year in the Philomath schools and Kings Valley Charter School, the Lions are quite visible in the community through various other efforts.
One of those is coming this Sunday when Santa meets with children from 1-3 p.m. at Philomath Community Library. In February, the club will distribute American flags to local second graders. The Community Easter Egg Hunt is staged each spring and the Lions Club Garage Sale is scheduled each May.
The club operates the food booth at the Music in the Park series at Philomath City Park during the summer and also mans a fireworks stand in the Marys Peak True Value parking lot leading up to the Fourth of July. At the Philomath Frolic & Rodeo, the Lions Club has traditionally served breakfast.
"If there's a job to be done, somebody steps up and does it whether it's cooking or the eyeglasses thing or whatever," Spediacci said.
The Lions Club keeps the money local with contributions to organizations such as Philomath Community Services, Philomath Youth Activities Club, Philomath Elementary music program, Philomath High forestry program, Philomath High cross-country team, Philomath High scholarships, Philomath High robotics and the Philomath flower basket program.
The couple lives west of Philomath in the Wren Hill Estates development. Coincidentally, their daughter and son-in-law had looked at the same house where the Spediaccis now live. At the time, they couldn't work out a deal and ended up on the north end of Corvallis.
"Several months later, we ended up looking at this place," Spediacci said. "I think it's been a great move. We enjoy the community up here. The Bay Area is just a rat race compared to up here."
Small-town living seems to suit the couple. Spediacci laughs about the second time he went into his local bank, saying, "They knew us by name — same thing at the post office."