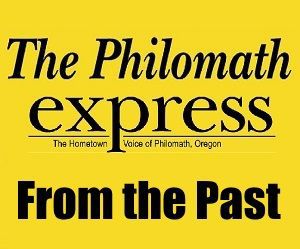 125 Years Ago
1894
FOOTBALL: There was a red-hot game of football at Philomath Saturday between the Marys River and Philomath teams, in which the latter were victorious by a score of 6 to 4. Ex-school superintendent Ed L. Bryan was referee, umpire and linesman. (Published Dec. 3, 1894, in the Corvallis Times).
PENSION: Boyd Kennedy, of Philomath precinct, has his eye on the government pension sack. Boyd served in the war in the Pennsylvania infantry and got close enough to the enemy to catch a bullet in his temple where there is now a piece of silver instead of the original skull, and close enough to get another bullet in his hip, where it now remains close to his spine. He draws a pension already of $12 per quarter as a slight token of his country's appreciation of his patriotism, and the other day, he received a letter from the commissioner of pensions, saying that the testimony of one officer and two privates in his regiment would secure for him pension money dating as far back as 1864. Col. Kelsay has the matter in hand and if Boyd can only find his witnesses, there will be a high old time out in Philomath precinct some of these days. (Published Dec. 6, 1894, in the Corvallis Times).
100 Years Ago
1919
DEATH: Mrs. Ida M. Linsey, prominent in local church and social circles, died suddenly Sunday evening. She attended church in the morning and several neighbors visited her during the afternoon when she seemed in normal health. At 7 o'clock she went to her room to get ready to attend the evening service and when she did not return her aged mother, who lives with her, found her lying on the floor. She evidently dropped dead. Her husband, who is a minister in the United Brethren Church, is in Oklahoma, their former home, on business. Mrs. Linsey was 57 years old. Her daughter, Mrs. W.W. Wright, lives here. (Published Dec. 2, 1919, in the Oregon Daily Journal, Portland).
You have free articles remaining.
75 Years Ago
1944
BANQUET: About 60 men and boys attended the Father-Son banquet held in the ladies' parlors recently and served by the Ladies Aid. E.E. Patterson was master of ceremonies, Harold Coney spoke for the fathers, and his son, Marion, responded for the sons. Rev. Mr. Brickwedell gave a short talk on the Boy Scout work. Jerry Shroyer gave a piano solo. The main address was given by Mr. Templin, from the Baptist church in Corvallis. H.C. Arbuckle, who is home on leave from the Navy, and Frank Cooper, who is in the Army, told of their work in the service, and Rev. Eugene Hibbs gave the invocation. (Published Dec. 4, 1944, in the Eugene Register-Guard).
50 Years Ago
1969
FIRES: A family of six was left homeless Wednesday after fire swept through their two-story home on Evergreen Road south of Philomath. Totally gutted by the fire was the home of John Jackson. It was the second home in the area to be destroyed by fire in as many days. The house of Mr. and Mrs. Roy Smith, Wren Hill, was leveled Tuesday night, leaving the couple and their five children homeless. The fire at the Jackson home was discovered shortly before noon. Philomath firemen, who salvaged some living room furniture, said the blaze appeared to have started in the kitchen and utility area. Jackson is the plant superintendent for the Oregon State University housing department. There was insurance on the Jackson home and friends reported that the family will be housed temporarily in a trailer home in Philomath. (Published Dec. 4, 1969, in the Corvallis Gazette-Times).
25 Years Ago
1994
PERS: School board members and teachers still don't see eye-to-eye on pay raises, but they've found one thing to agree on. Both sides, except for one board member, don't think employees should have to pay 6 percent of their salaries into the Oregon Public Employees Retirement System as Measure 8 would require. Because the measure failed in the six Philomath School District precincts by a vote of 1,513 to 1,036, most board members feel comfortable having the district continue to pay the 6 percent contribution. Board member John Ayre disagrees. He said he won't go against what the majority of the state's voters want. The initiative passed by 825 votes. Both sides are trying to quickly reach agreement on a new contract because the measure takes effect Thursday. After eight months of negotiations, the district and the 90-member teachers' union remain stuck on issues such as pay raises and early retirement. (Published Dec. 3, 1994, in the Corvallis Gazette-Times).
Compiled by Brad Fuqua, Philomath Express