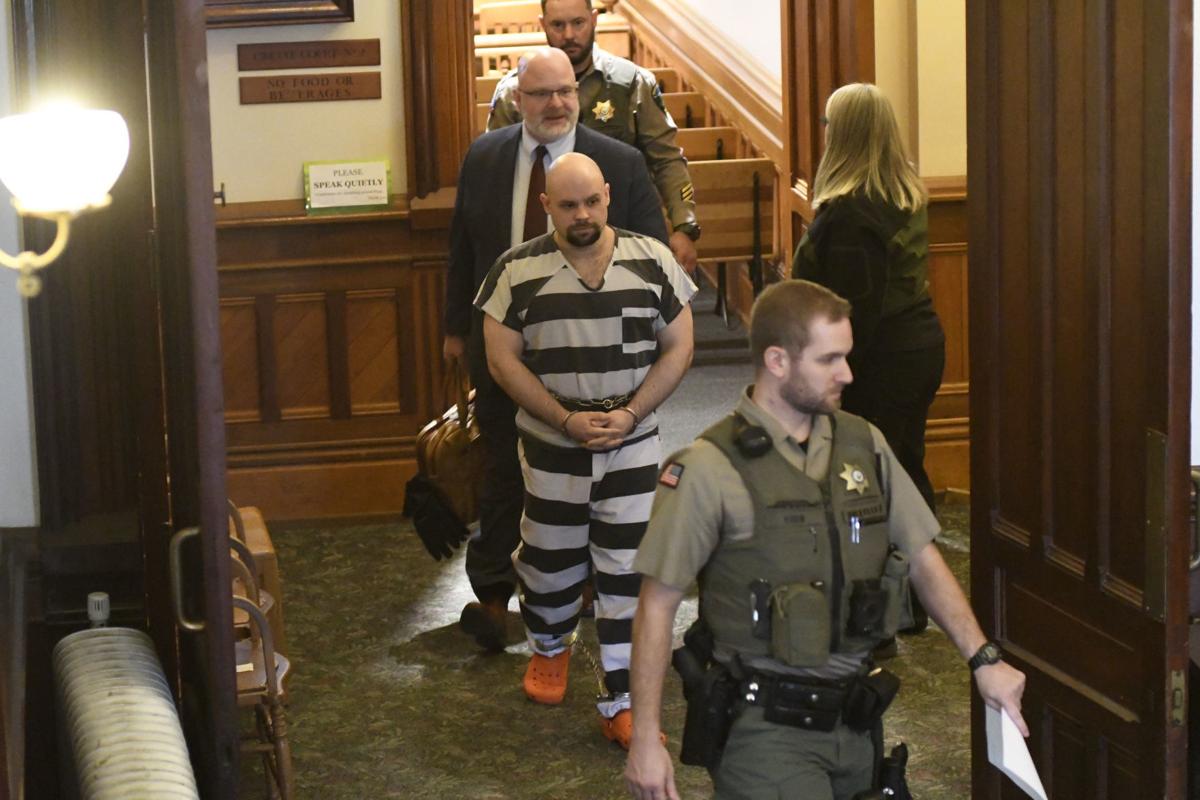 CORVALLIS — William Chase Hargrove was given a life sentence for murder during a hearing in Benton County Circuit Court Thursday morning.
A jury found Hargrove, 30, guilty of murdering his Russian fiancée Anna Repkina in November. Hargrove was arrested in April 2017, just days after the 27-year-old Repkina was found dead of a shotgun wound to the back of her head along a logging road near Alsea.
Judge Matthew Donohue, who presided over Hargrove's trial and Thursday's sentencing, said the life sentence means Hargrove must serve 25 years in prison before he becomes eligible for parole, but Hargrove can get credit for the time already he's already served. Donohue said Hargrove will also be subject to post-prison supervision for life if he is paroled, but the parole board could elect to reduce that amount of supervision to just three years.
Since Oregon murder convictions come with mandatory minimum sentences, much of Thursday's hearing was focused on what sentence Hargrove should receive for three charges related to the murder conviction. The jury also found Hargrove guilty of one count of identity theft and two counts of theft for using Repkina's bank card to take money from her accounts just hours after her death.
Hargrove's attorney, Mike Flinn, said his client still maintains his innocence, but if the state's theory of the case were correct, those charges should have been part of the same criminal act. He asked that Donohue order the sentences for those charges be merged together and the sentence for them be served concurrently with the murder charge.
Amie Matusko, senior deputy district attorney for Benton County, said the crimes were all separate acts because Hargrove had enough time between them that he had to decide to keep committing offenses.
"He formed a separate intent. He had an opportunity to pause and reflect.
Matusko also argued the court should try to maximize the sentence against Hargrove because he had killed a good person after luring her to the United States with lies that they would start a life together.
"He deserves the maximum sentence the law allows," she said. "Anna (Repkina) was a sweet, caring, innocent person."
You have free articles remaining.
She added that in luring Repkina to the United States, Hargrove had isolated her and made her vulnerable so he could take advantage of her. She also said that after taking Repkina's money Hargrove used it to pay for his car insurance and buy video games and Legos.
"He profited from the murder," she said, and asked Donohue to send Hargrove a message that he can't use people through the sentence.
Donohue agreed that the time between the murder and other criminal acts made them separate incidents. In total, he sentenced Hargrove to an additional 454 days in prison for those charges and ordered they be served consecutively with the sentence for murder.
Flinn said because Hargrove will be appealing his conviction, he had asked his client not to speak in the hearing.
Matusko read some statements on the sentencing into the court record, including one from Michelle Chavez, Hargrove's married former lover. Prosecutors argued Hargrove killed Repkina in an attempt to please Chavez, who had asked Hargrove to choose between Repkina and herself.
Chavez, formerly of Albany, said in trial she never wanted Repkina dead. In her statement, Chavez said she mourns Repkina's death and all the experiences Repkina will miss out on because of her death.
"No one deserves what he did to her," Chavez wrote.
Chavez, who moved to Watertown, New York, after Hargrove's arrest, also talked about the impact the incident had on her: she can no longer walk down the street in Corvallis, where she used to work and socialize, without people seeing her as a monster.
"Because of him I will never get my life back," she said.
Matusko also read a brief statement from Anton Repkina, Anna Repkina's brother. He said for him and his parents his sister's death was a tremendous loss, and they are all at a loss for anything to say about it.
"The murderer doesn't deserve any words from us," he said.