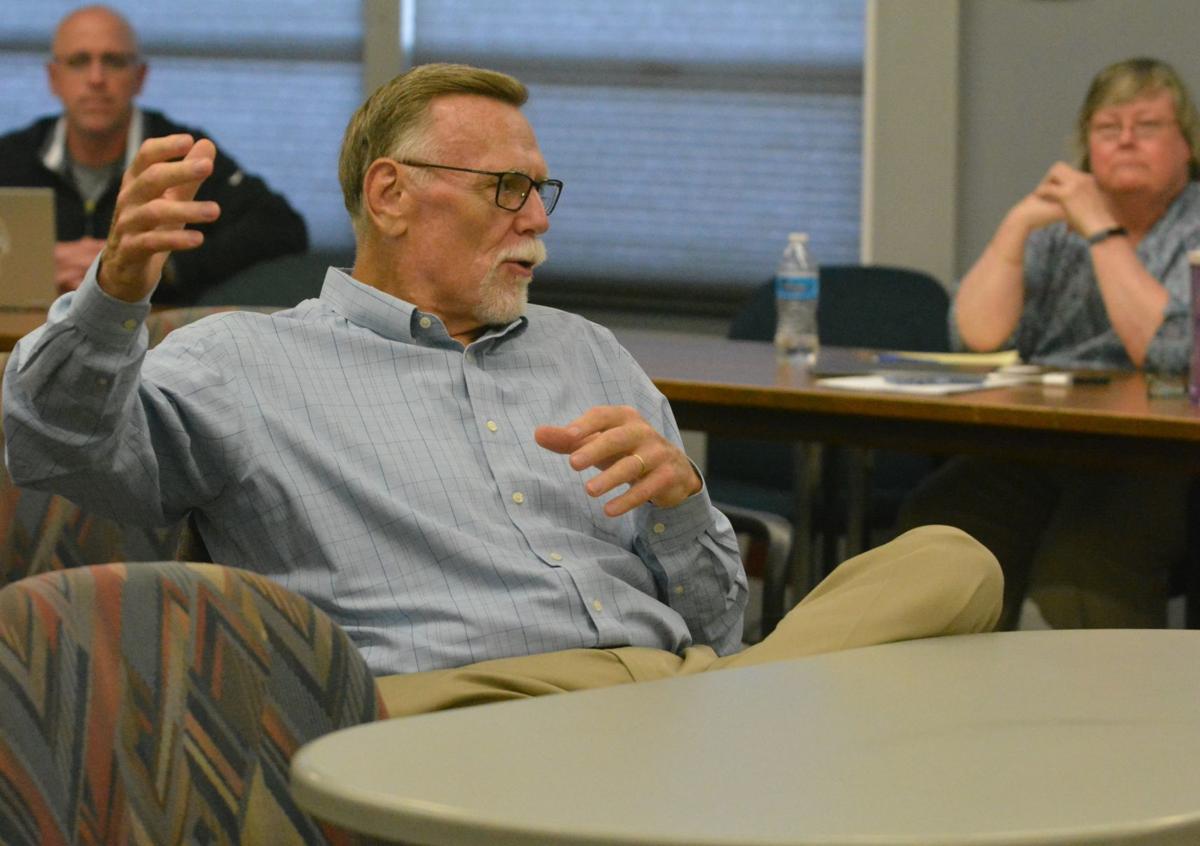 Buzz Brazeau's stay in the leadership position with the Philomath School District is nearing its end.
The 70-year-old interim superintendent had agreed to extend his stay in Philomath for a second year while the Philomath School Board considered its options for a permanent solution to fill the position. Plus, he could also continue to lead the district through the coronavirus pandemic by taking on the barrage of decisions that need to be made with fall classes on the horizon.
But then an annual checkup with his cardiologist led to a diagnosis that required immediate action. Brazeau needs a new heart valve.
"I just didn't feel like I could honestly be beneficial to the district and keep my mind on my health — I just had to make a decision," Brazeau said Friday afternoon. "After I got my diagnosis and found out that I was going to have a procedure done, I spent one weekend where I couldn't focus. As soon as I started to experience that, I recognized that the time had come.
"If I can't focus, I need to be out."
Doctors may be able to replace the valve though a less-invasive procedure or the situation could lead to open heart surgery. Either way, his focus needed to redirect on his health. Meanwhile, the district would need someone to lead the way into the coming academic year as students return to campus amid the challenges that come with the coronavirus-related restrictions.
"Thank you so much for all of the hard work you've done and all of the great challenges you've seen with us through this year," Philomath School Board Chair Jim Kildea told Brazeau during an emergency meeting that had been called for Wednesday evening. "Hopefully, everything goes as well as can be expected for you."
The school board needs to react quickly to figure out what route to take for bringing in a replacement. The first move as part of the official process that needs to take place occurred with the board officially declaring a vacancy effective July 1.
Greg McKenzie, an Oregon School Boards Association consultant hired by the district to lead the superintendent search, provided his insight at the June 24 meeting. Then, a working group met on Friday to further discuss options. Another meeting had been scheduled to occur Monday after the newspaper's deadline.
The school district's original decision to bring Brazeau back for a second year included the possibility of promoting internally for his permanent successor. According to McKenzie, the board has three options — bring in another external interim superintendent, hire an internal candidate who can fill in for a year or launch an all-out external search for a long-term superintendent.
Of those three options, McKenzie said the third was the least viable simply because most administrators have already made their commitments for the coming school year. That leaves another external interim or finding someone already in the district — or, even some sort of combination of those options.
"It's a little late in this search season to start an interim search," McKenzie said, but then added, "Last year, I had six or eight during the summer, which is unusual, and I've already had two or three this summer. This not not out of the ordinary in current times."
The biggest challenge working against the school board is timing. McKenzie estimated that the process to hire an external candidate would take at a minimum six weeks.
Brazeau suggested that the board "find leadership as quickly as humanly possible."
"This is is unique time and I assure you, if my procedure wasn't going to be right in the middle of this time frame, I wouldn't desert you," he said. "There's a ton of decisions that have to be made in the next three to four weeks that relate to finances, that relate to what school's going to look like when we come back."
Brazeau believes that best candidate for Philomath would be someone who has a connection to the community and would remain beyond the two or three years of the average superintendency stay.
"I think we'd best be served by having someone who understands the community, understands the nuances ... and wants to be in Philomath and not someone working their way up or working their way down," he said. "Hopefully, the board's able to identify some candidates who want to be in Philomath for the next 10 years. That would be a great thing for the district and for the community."
While the school board works on a solution, Brazeau is finishing up his final days of a very eventful academic year.
"I think you can look at it in many different ways," he said. "I certainly look at it as being very positive. I know it was a great experience for me and I'm tremendously appreciative of the opportunity that I had to serve the community."
Brazeau said he hopes that he did a good enough job as superintendent so that no one even knows that he left.
"I'm hoping that I've left a positive impact on the city of Philomath as well as the Philomath School Distrtict and hope that when they think of the experience of having me as a superintendent, that it's very positive," he said. "I don't measure it in my terms, I measure it in terms of what the people think because that's who I'm supposed to be serving."
Brazeau will soon be able to take a deep breath and look back on a long career in education. He said no matter what the outcome of his medical procedure, Philomath will be his last job with permanent retirement.
"I'm going to miss the heck out of the kids," Brazeau said about his career. "My favorite job in the whole world was being a high school principal and although I've enjoyed my opportunities to serve communities as a superintendent, I've always done my best to stay as close as I could with the kids. I'm going to miss the kids."
Be the first to know
Get local news delivered to your inbox!