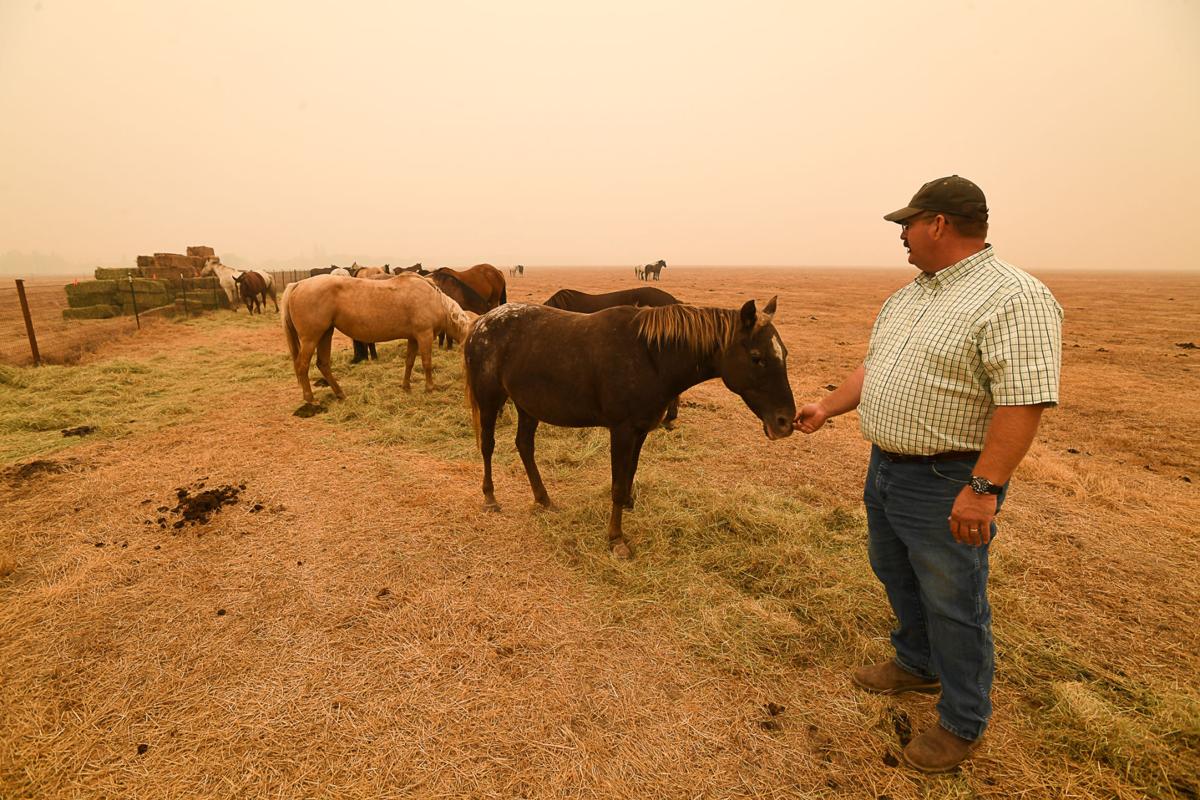 TANGENT — A herd of horses from a Boy Scouts camp near Scotts Mills is safe and sound because of volunteer efforts led by Linn-Benton Community College and Cascade Equine Veterinary Clinic.
The 32 horses, mainly mares and geldings, are lodged on a 55-acre grass field in Tangent that the college plans to turn into an equine center. The plot adjoins Cascade Equine, whose owner, Chris Wickliffe, helped out with hay and galvanized tubs of water.
Jenny Strooband, an instructor in LBCC's agricultural sciences department, knew there would be issues with horses and other livestock needing evacuation as soon as news surfaced of the severity of the Santiam Canyon fires.
Strooband kept monitoring social media for reports of horses needing evacuation, and she and a crew of volunteers were out for 20 consecutive hours hauling horses from the 600-acre Butte Creek Scout Ranch to the Tangent property after an evacuation order was served on the Scotts Mills area of Marion County.
"The Beachie Creek Fire exploded so fast," Strooband said. "It caught people by surprise, and LBCC was happy to offer up this area."
Strooband was speaking Thursday near the Cascade Equine fence, where the majority of horses were clustered near piles of hay and water tubs provided by Wickliffe's operation. Smoke from the fires all but obscured the outlines of the property, but you could see silhouettes of some horses that were scoping out the far reaches of the fenced parcel.
"This is a pretty amazing group of horses," Wickliffe said. "I've been around them since I was 13. It was fun to watch them when they came in. When horses get to new ground, they immediately go to the fenceline to get a sense of how much land there is. It was really important to get these guys where they were safe."
The horses are used for camps and other activities associated with the Cascade Pacific Council of the Boy Scouts of America. Included are twice-annual Scout trips from the Butte Creek facility to Camp Baldwin near The Dalles. Wickliffe has been participating in the rides for decades. On the outings the Scouts cover the 185 miles or so in six days. This year's rides, however, were canceled because of the coronavirus.
Strooband said the volunteer effort is just part of LBCC's mission.
"We have a truck and trailer and we have access to feed and bedding," Strooband said. "This is what we do. We serve our community. And we serve our community in more than just the classroom. We try to serve them in every aspect in which they need us to. Sometimes people just need a horse trailer."
Eight other evacuated horses are being lodged at the college's horse barn near the campus, and Strooband noted that the Oregon State Fairgrounds and the Linn County Fair & Expo Center also have been accepting horses and other evacuated livestock. The Benton County Fairgrounds is also available for livestock.
Strooband said the Tangent property has the capacity to hold 100 horses, but she also said she hoped the Scout herd could be ready to return to Butte Creek in a week or so.
With college classes starting Sept. 28, Strooband added that there could be some challenges managing the needs of the college along with housing evacuated horses.
"These horses are welcome here as long as they need to be here," she said. "We'll make do."