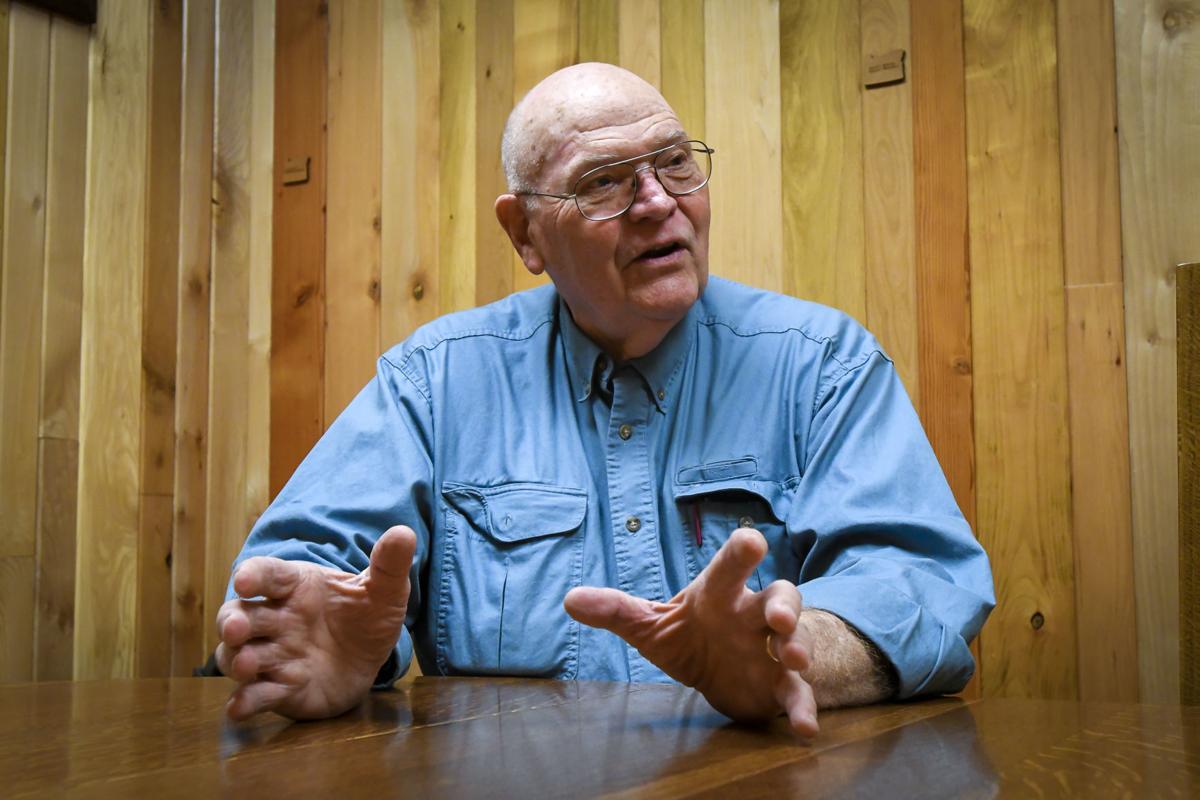 Gary Blanchard could have retired a long time ago. But he's still on the job at Starker Forests, providing a living link between the company's past and its future.
Blanchard went to work part-time for Starker as a 19-year-old in 1958. Three years later, after earning his degree in forest management at Oregon State University, he became the Philomath timber company's first full-time employee — and he's been working there ever since.
Now 80, he still goes into the office pretty much every day, although he hasn't been a full-time employee since 2007.
"I really didn't want to retire, and they didn't want me to retire, so we came up with a half-time arrangement," Blanchard said.
Founded by OSU forestry professor T. J. Starker in 1936, Starker Forests now holds more than 87,000 acres of timberland in five Western Oregon counties, and Blanchard has lived through much of the company's history. He's worked for three generations of the Starker family — patriarch T.J., his son Bruce and Bruce's sons Barte and Bond — and now for Jake Gibbs, who stepped in as president and CEO in 2017.
"I started out as a tree planter — any aspiring forester wants to plant trees," Blanchard recalled. "We've actually harvested some of the trees I planted."
Eventually he rose to the position of chief forester, a job he held for many years. In that role, he was responsible for laying out timber sales, designing roads and dealing with loggers and log buyers.
Another part of the job involved maintaining good relations with neighboring landowners — not always an easy thing to do when you're running an industrial forestry operation next door.
But Blanchard always seemed to have a knack for talking with people, even when tempers were running high.
"He has a charming, disarming personality," said Marc Vomocil, who worked under Blanchard for many years before becoming the company's vice president for acquisitions and real assets.
"He could turn an angry conversation around and make our neighbors like us — or at least not dislike us so much."
When it came time for Blanchard to hand over the chief forester title and scale back his hours, the company decided to make use of his people skills in a new role: that of oral historian.
He was put in charge of the Starker Community History Project, an effort to document the lives of a wide range of people who had helped make the company successful, either as employees, business partners or neighbors in the woods.
His new assignment was to interview people who had a connection with the company — old-timers, mainly — and make video recordings of the interviews.
You have free articles remaining.
"I went to Portland and spent $2,500 on camera equipment," Blanchard said. "I walked out of there thinking, 'Boy, I hope this stuff works.'"
A little over a decade later, Blanchard has produced about 30 fully edited DVDs, ranging from around 30 minutes to two hours in length. The disks are available for checkout from the local library and the company gives copies to the interview subjects and their families.
"They're not question-and-answer sessions. I say, 'Tell me about …,' and they tell me stories," Blanchard said. "I've always enjoyed people and enjoyed the stories people tell."
The Starker Community History Project has tapered off somewhat, but Blanchard has launched several other history-related undertakings for the company. One of them involves compiling a booklet explaining the history of the company's numerous tree farms, which are scattered all over the Coast Range.
Over the years, the stories behind many of those land acquisitions have begun to fade. But now Blanchard, working closely with fellow history buff Bond Starker, is capturing those tales before they're lost forever.
One example is the Dan Farmer Tree Farm off Decker Road in western Benton County. The parcel was the first piece of timberland T.J. Starker purchased when he began building the company, Blanchard said, and all these years later it's still referred to by his name.
"T.J. and Bruce both liked to keep the association," Blanchard explained, "partly because the old-timers out there, if you said 'Dan Farmer Tree Farm,' they knew Dan Farmer."
But even in a deep-rooted family firm like Starker Forests, where employee tenure is often measured in decades, there's bound to be some turnover, and some of those old associations can be lost. After Gibbs started with the company, he felt the need to get that history down in writing — not only for his benefit, but also for the next generation of the family waiting in the wings to take a more active role in the company that bears their name.
"There are a number of young Starkers who don't know any of this stuff because they're too young," Blanchard said. "(Gibbs') idea was that this could be used by family members so they would have that connection to the land."
Looking back on his long career, Blanchard said he feels privileged to have spent his entire working life with Starker Forests.
"I'm very fortunate," he said. "The Starker family … I can't say enough good things about them. They've been awful good to me and, I think, awful good to the community."
So how much longer does he plan to keep on working for the company?
"As long as they're willing to have me sit at a desk here, and as long as my health holds up," Blanchard said.
"And I have to feel that I'm contributing," he added.
"And I still am, I think."