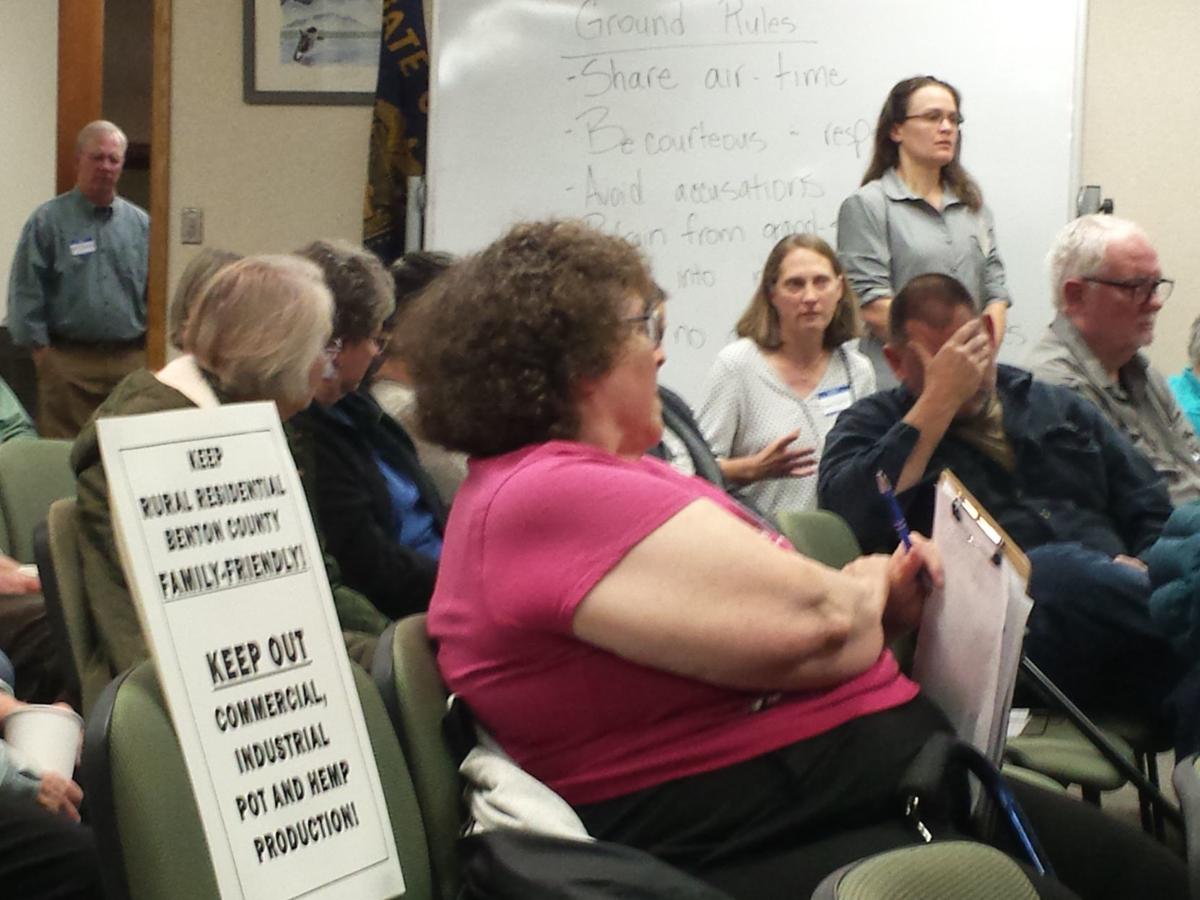 CORVALLIS — Changes in state and federal laws have paved the way for commercial-scale production of hemp and marijuana in Oregon, but the issue remains a hot-button topic in many places as conflicts emerge between producers and their neighbors.
Some of those conflicts were on display Wednesday night in Corvallis, where Benton County planners held a workshop on proposed code changes aimed at allowing those newly legalized industries to operate while limiting their impacts on surrounding residents.
More than 60 people turned out for the meeting at the Sunset Building, which began with a recap of the current state of play. Under existing rules, production of hemp and marijuana is allowed on land zoned for exclusive farm use or forest conservation, which covers about 80% of unincorporated Benton County. Those uses are protected under state law and will not change.
The changes under consideration would largely affect the rural and urban residential zones, where hemp production is currently allowed, medical marijuana is unregulated and production of recreational marijuana is prohibited.
Under the county proposal, all of those uses would be banned in the urban residential zone but could be permitted as a conditional use in rural residential areas. That prospect has a lot of rural residents hopping mad.
Almost all of the 16 people who signed up to speak during the comment period clearly opposed large-scale hemp and marijuana growing and processing in their neighborhoods. They cited concerns ranging from water shortages to offensive odors, falling property values, noise, pesticide pollution, greenhouse lights, truck traffic and shady characters. A number of speakers questioned why these activities should be allowed on the small percentage of county land zoned rural residential when they're already legal on farm and forest lands.
While generally civil, the comments grew heated at times. Tony Kapaten, who said he had invested a lot of money in a retirement property and wanted to protect its value, demanded a show of hands on the question of whether to allow hemp and cannabis grows on rural residential land. There was one "yes" vote and more than a dozen "no" votes.
You have free articles remaining.
"I think that pretty much speaks for itself," Kapaten said. "People obviously do not want it in their backyards."
Annette Sievert is one of a group of rural residents trying to organize opposition to the proposal.
"It's a residential area," she said during a break in the action. "We do not understand why, in residential areas, this needs to be grown to begin with."
But not everyone feels the same way. Shawn Faust, who farms land on the fringes of Alsea and Philomath, sees hemp as a high-value crop. His biggest concern is a recommendation that would require unanimous approval from anyone living nearby before the county would grant a conditional use permit for commercial production in a residential zone.
"I just don't see why I can't do that on my farm," he said after the meeting. "Now I'm at risk of not being able to farm, and I don't think that's fair."
County officials were careful to point out that the proposed code changes are a work in progress and there will be additional opportunities to comment, including two public hearings that will likely take place early next year.
"No decisions have been made as to whether the county will adopt these proposals or not," Community Development Director Greg Verret said at the meeting. "We're in the early stages."
The Benton County Board of Commissioners will have the final say on any code amendments.