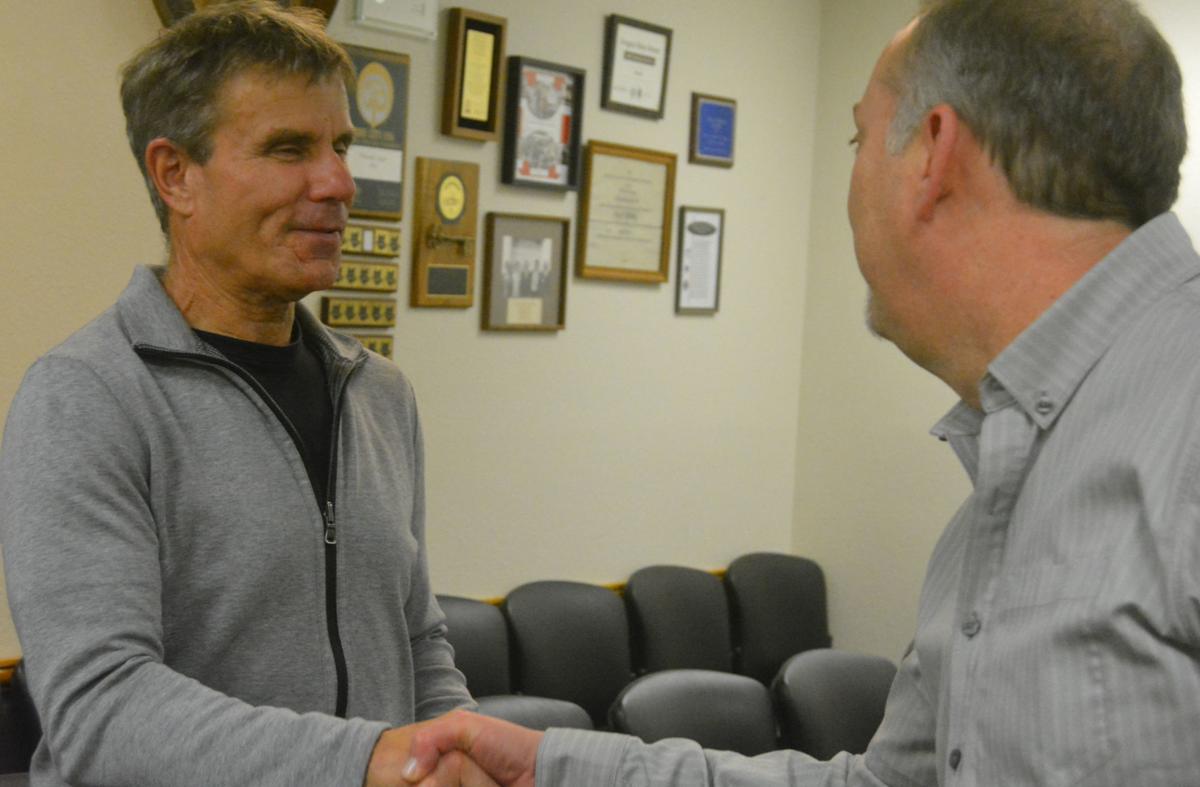 Following a discussion that started Tuesday evening and continued past midnight into Wednesday, the Philomath City Council approved a developer's proposal to bring a multi-use complex to town that will feature a 175-space recreational vehicle park, industrial flex space and storage facilities to property located east of North 19th Street.
The decision reversed a denial that had been handed down to developer Scott Lepman in late August by the Planning Commission.
The Lepman project likely ranks as one of the largest and most dissected projects that has ever gone through Philomath City Hall.
"I think of the old mill sites that got started and they didn't have the scrutiny that we have in land-use development code that we have today," City Manager Chris Workman said after the meeting. "I don't think it's a misstatement to say it's probably the largest industrial development the city has ever approved."
The decision to approve was not unanimous among councilors — three votes encompassing six applications occurred — with the master plan overlay and site design reviews on the RV park, industrial flex-space building and self-storage facility passing on 4-1 votes. On those, councilors Ruth Causey, Doug Edmonds, Chas Jones and David Low voted yes with Matthew Thomas voting no and Mayor Eric Niemann abstaining.
Niemann explained his reason for abstaining from the votes.
"I think in order to really protect the council's decision tonight, and obviously a number of people have shown that they wish to appeal or may consider appealing this decision, the one rebuttal towards any disclosures that occurred was mine based upon my relationship with my wife (Shelley Niemann, Philomath Area Chamber of Commerce director), so for that reason I'll abstain," Niemann told the council and audience.
On an application for a variance to allow for an overall average lot coverage of 60.3% — which was 0.3% over the development code's maximum — councilors approved on a 3-2 vote (Causey, Edmonds and Low in favor; Jones and Thomas against; and Niemann abstaining).
The city's timeframe to make a decision was up against a Nov. 14 deadline. State law requires municipalities to rule on land-use applications within 120 days. In this case, the city and Lepman had agreed to an extension because of delays early on. The city could've asked the developer for an extension if it appeared a decision could be difficult to reach Tuesday night.
"I think he was ready for a decision and after going through several hours tonight, I think the City Council felt like they had the information they needed to make a decision," Workman said.
"I'm sympathetic to the concerns that some people in the community have but I believe we addressed all the issues that the city's code requires and I'm excited and happy that the council voted to approve our project," Lepman said.
The development is the latest of several project approvals over the past few years, a list that includes the Oak Springs Apartments, The Boulevard Apartments, Millpond Crossing subdivision, Newton Creek subdivision and the Beelart annexation and housing development.
Lepman believes the timing of his project created more of a reaction among community members.
"We got teed up," Lepman said. "All of these other projects came before us, so I think if I was here before (those other developers), they would be getting the pain."
The City Council's discussion did not take the commission's findings under consideration, but instead started "the process over with a fresh set of eyes," as City Attorney Jim Brewer explained, a reference to municipal code that Type III applications on appeal "shall be the same as for the initial hearing."
You have free articles remaining.
The decision included 25 conditions of approval that had been attached to the development that covered several topics, including a bike-pedestrian path, wetlands requirements, signage, a bus stop, tree maintenance, water conservation and various regulations — just to list a few.
Conditions of approval are those deemed necessary for the project to meet the criteria.
"There was really nothing that's changed as far as a review of the proposal. It still meets and exceeds all of the criteria and it's strengthened by the findings of fact," City Planner Pat Depa said while recommending a motion for approval.
Councilors methodically combed through the findings of fact for more than three hours on every facet of the development. The city was expected to issue a final decision on Wednesday and once the applicant is notified, the clock begins ticking on a 21-day period for those who would like to appeal to the state's Land Use Board of Appeals.
Asked about a possible appeal, Lepman said "to be successful, they have to show some criteria why and we met all of the requirements."
Applicants typically wait for any appeals but if all ends up moving forward, a pre-engineering meeting would be scheduled to take a look at public infrastructure. The process then goes to site plan reviews and a pre-construction meeting. Lepman said the hope is "we would start within months."
Lepman would also need to go through the wetlands permit process with the state and submit that to the city before proceeding.
"So there's still quite a few balls up in the air that they need to take care of," Workman said.
Prior to the public comment period, Niemann told citizens that since the public hearing had closed, no further testimony on the Lepman development would be heard.
Resident Jeff Lamb took a seat at the mic with the apparent intention of speaking about the Philomath Housing Stability Fund, which was on the regular meeting's agenda. Instead, he started to read a letter that made a reference to "unfunded, uncontrollable growth."
Said Lamb, "Please don't vote to approve this major master planned development including the RV park, forcing the people to live with the consequences of this major development application."
Niemann interrupted Lamb with a declaration that he was out of order, saying that he was "talking about an active application right now and trying to influence the city council at a closed public hearing." The mayor then called for a 5-minute recess.
Lamb responded that he was submitting petition signatures as a statement of opposition to the Lepman application. Another resident, Kay Sams, shared contamination concerns about a different development but did squeeze in her involvement with gathering petition signatures against Lepman.
"I wasn't just gathering signatures, I was gathering an overwhelming sense of helplessness and rebellion against our city government because we don't have a say in what's going on," Sams said. "Philomath is collapsing in on itself."
During the public hearing in October, 17 people testified in opposition to the project and 10 people spoke as proponents — five of those being on the management team at the Lepman-owned Blue Ox RV Park in Albany.
Tuesday's meeting drew a large audience that had mostly thinned out as it entered the fourth hour. After the Lepman development vote, the meeting ended at 12:40 a.m. with several items remaining on the agenda, including an anticipated discussion about the formation of a 2040 Comprehensive Plan advisory group. Councilors plan to meet for a second time this month on Nov. 25.