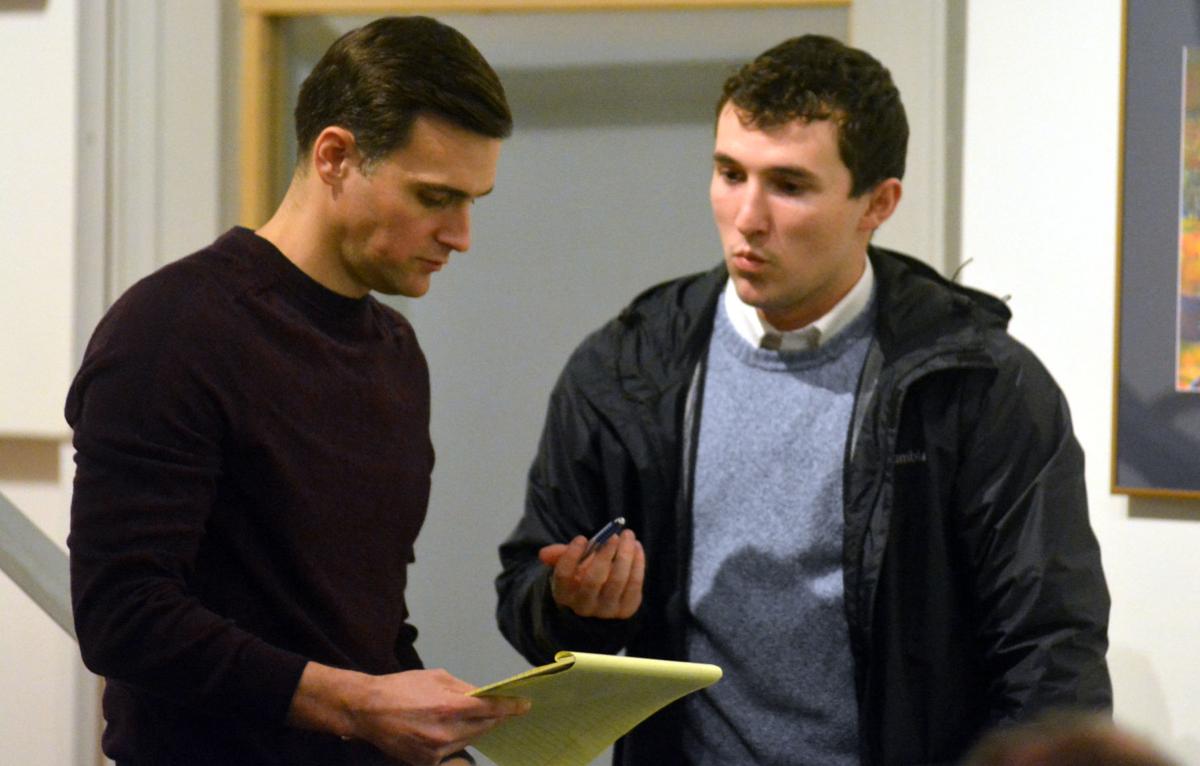 Sitting in the front row of the Benton County Historical Museum's Moreland Auditorium on the evening of Jan. 29, Jack Lehman listened intently to Rep. Dan Rayfield's comments during a question-and-answer session.
The state representative was in town to meet with citizens at a town hall meeting. Lehman's parents were among those in the audience that night, but it wasn't just a family outing to catch their district representative's thoughts on various issues.
Lehman was there in a professional capacity as Rayfield's new communications director. He started the position in late December after graduating in the spring with a bachelor's degree from Oregon State University.
"It was pretty exciting because I enjoy the Willamette Valley and I graduated with a political science degree and there are not exactly a plethora of options to use that degree here," Lehman said.
Lehman got to know Rayfield's staffers during the fellowship and internship and when the former communications director moved on to focus on law school, he applied for the position. The interviewing process even involved writing a practice press release.
Lehman said about 80% of his job involves legislative and communications duties in Salem with the other 20% falling into campaigning.
The current Legislative short session opened Feb. 3.
"Pretty much every day, I'll be in Salem," Lehman said. "When we're in session, it's full-time in the office doing a lot. ... I'll be taking meetings on the policy side of stuff when they're occupied in Ways and Means. And I'll be doing, basically, the scheduling and being in the office with greeting people."
Lehman's official title is communications director but his job description does venture beyond press releases.
"A lot of times, I'm referred to as a legislative aide, so it technically could be that as well," he said. "Rep. Rayfield really gives us a lot of freedom to self-identify where we want to be more involved."
Lehman, who graduated with Philomath High's Class of 2015, first became acquainted with Rayfield and his aides through his experiences in the representative's Willamette Valley Legislative Fellowship, which ran from August to November in 2018. He was part of a contingent of students who crafted policy concepts and traveled the state to campaign for Democratic House candidates.
Held in even-numbered years, another fellowship opportunity for college and high school students will be coming up this year.
"He gets students, mine (group) was around 25 and this year, we're shooting for 35, that are both college and high school age — kids from Crescent Valley, Corvallis, Philomath, Oregon State, Western (Oregon), Willamette."
PHS student Rafael Grossman-Naples was also part of the 2018 fellowship.
"We have meetings during the week and he has a guest speaker series that provide us with different campaign skills," Lehman said. "We craft policy one week and then we go into canvassing, the best strategy for that, and learn how to use different programs."
You have free articles remaining.
The students also traveled to various districts, mostly in those with contested races, and knocked on doors for different candidates.
"It was a really fun experience," Lehman said. "I got to canvas a couple of times; it's something I hadn't done before."
A third component of the fellowship involved policy development with each coming up with two or three ideas that they would like to see happen at the state level. Students were able to engage with various stakeholders, learned who they should be talking to on particular issues and so on.
"His personality is great so you want to be around people that have a great personality and a good sense of humor and they can communicate and get along with people," Rayfield said. "You want somebody who is competent and he demonstrated that in the fellowship program."
The final meeting of the program culminated with a policy competition in Salem. Students presented their policy concepts in a committee hearing room with Speaker of the House Tina Kotek, Rep. John Lively and Rayfield serving as judges.
"I ended up winning — me and a guy from Crescent Valley, Aravind (Sriram) — and it was to institute the plastic bag ban statewide," Lehman said. "It was a similar statute to Corvallis to what we already have."
Rayfield took the two winning policy concepts — the other about increasing the eligibility of students to utilize the Oregon Opportunity Grant — and drafted bills for the following session. Although a statewide plastic bag ban is now in effect, a different version of the bill actually made its way through the Legislature and to the governor's desk.
"The two of them had just the most moving, wonderful presentation and that ability to put in that hard work and have it be conveyed in a way that I would argue his presentation is better than some legislators I've seen," Rayfield said. "It was really neat to see and so you take note of that in the moment."
Lehman then interned in Rayfield's office during the 2019 long session, which corresponded with his final six months of college.
"He came into our office in the long session and he was very diligent," Rayfield said. "He was one of the most reliable people in our offices from an intern standpoint. So when we had an opening, I like to have people that I know and I trust, and I like having people from the district."
At age 22, Lehman's future career path could go in a variety of directions but he could see himself staying involved in the same line of work. He likely would not be a candidate himself.
"Maybe not as much on the candidate side, but I'm definitely really interested in the running of a campaign but (working) in the legislation office behind the scenes," he said. "As of right now, I've really been enjoying it a lot. I can see myself doing this for a while."
A little more than one month into the job, Lehman has already learned plenty.
"I guess I knew that the people in the Legislature did a lot but I didn't really understand the scope of their day-to-day business — it's pretty intense," Lehman said. "For Dan, he's a co-chair of Ways and Means and so he deals with the budget stuff. Anybody with a bill coming up wants to have a conversation with Rep. Rayfield and the other two co-chairs."
With that type of schedule, maintaining an accurate accounting of the day takes on great importance.
Rayfield said he knew Lehman was the right fit for the job.
"He has the capability of exceeding once he gets his feet under him — exceeding anyone else who's been in that building for any amount of years," he said. "So we're very excited to have him. Plus, I like him a lot."