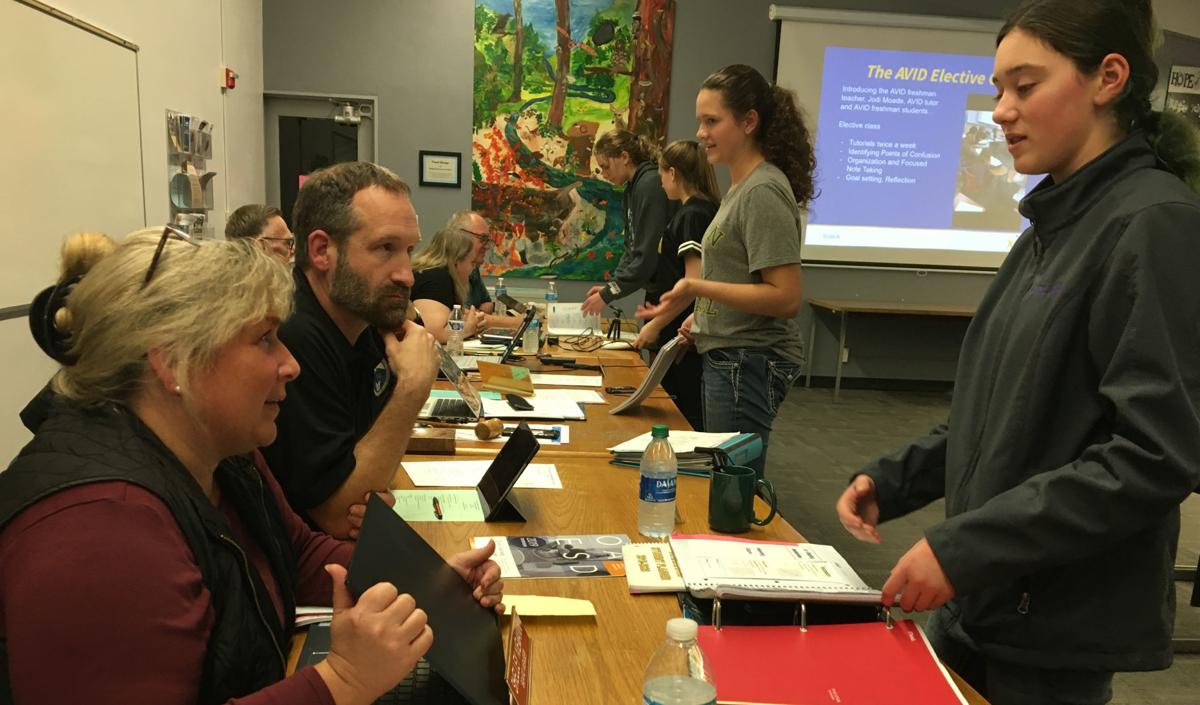 The Philomath School Board will pursue discussions with Buzz Brazeau to serve as the district's superintendent for a second year while exploring the possibility of promoting internally for his permanent successor.
It's a new direction for the board when it comes to its earlier thinking on the hiring process. The board hired Brazeau this past spring to serve in the position on a one-year interim basis following the resignation of Melissa Goff with intentions of going out to an external search this winter through Oregon School Boards Association consultants.
Board chair Jim Kildea said during the Nov. 18 school board meeting that he'd like to explore the possibility of promoting an internal candidate.
"This situation is not uncommon. ... We're seeing more and more internal candidates being hired around the state and that's been going on for two or three years," said Greg McKenzie, one of two OSBA consultants that have been working for Philomath to find a superintendent. "If you land on keeping Buzz for an extra year, my recommendation would be we hit the pause button ... and maybe next October or November-ish, get back together and decide what to do."
The Philomath School District's longest-ever run with the same superintendent went from 1965-81 when Al Neet held the position. Since then, eight others have served in that role as permanent hires (two were interims) with an average stay of 6.2 years.
In recent years, school districts have seen more turnover, especially those like Philomath that could be a stepping stone to a larger and higher-paying position or as a less-intense, final job while transitioning into retirement. The last three superintendents — Pete Tuana, Dan Forbess and Melissa Goff — averaged five years of service between the three of them.
The board narrowed down their options to either trying to bring Brazeau back for another year or open up the search externally. Kildea met with Brazeau to gauge his interest in returning, including what he would seek from a contract perspective, while board members Anton Grube and Shelley Niemann gathered input from 16 school district staff and association representatives.
"They were positive in general but neutral in that they hadn't had enough time to actually meet with Buzz or have enough (interaction) to make a comment either way," Niemann said. "But definitely, the vast majority was positive."
Kildea stressed the desire to find a superintendent candidate that would be more likely to stick around beyond the three, four or five years that has become the norm. Brazeau's experience could contribute to promoting an internal candidate who might fit better into a long-term role.
"Is that something that we might be able to improve on ... people in the district can grow into superintendent and be able to mature and get the experience — develop an internal candidate to take on that role when he leaves?" Kildea asked.
If the board and superintendent agree, his contract would extend to June 2021 with no changes in job duties, Kildea said, while also adding that Brazeau showed a willingness to return at the same salary.
A transition and succession plan would then be developed in January.
Said Kildea, we would "identify and develop an internal candidate, start that early on next year and about a year from now, get a sense on whether or not it's going to be successful and if so, continue with the transition and if not, continue with the external search."
You have free articles remaining.
Brazeau said he would certainly consider that plan, although he suggested that some of those proposed timelines be moved up a little with other factors coming into play.
The "hiring season" — so to speak — for a school superintendent runs each year in the January through March time frame, McKenzie said. Therefore, if promoting an internal candidate indeed does not materialize, plenty of time remains to go in the other direction.
Grube said he honored the positive and neutral feedback received through the staff and that he had no problems with Brazeau's performance, but he did question where the process appeared to be headed.
The board last spring had told the community that it was hiring an interim candidate for one year while beginning the process to hire a permanent superintendent. Community members took part in the interviewing process with questioning during an open house night.
"We never really talked about an interim for two years," Grube said. "For me, I struggle a little bit with that because I don't know the voice of our community. Certainly, we're their representatives that speak for our community or we try to, but I'm just a little uncomfortable with the approach and the process at this point and what was communicated."
Board member Greg Gerding said that although he wants to hear what the public has to say, they elected board members to make decisions.
"I don't have a big reservation because we stated that earlier and that's what was communicated," Gerding said. "If we make the decision to forego hiring a permanent superintendent and extend our interim superintendent for another year, that's a decision they elected us to make."
Niemann said she felt the board's coming from the standpoint of just trying to set up the district for success. Kildea said he had no reservations with extending the interim contract for a year.
A motion was made to pursue discussions with Brazeau on the contract extension and it passed on a 4-1 vote (Grube against). An update is expected at the board's December meeting.
In other news from the Nov. 18 meeting:
• Philomath High's recent successes in athletics were celebrated before the board with coaches and athletes. The state champion boys cross-country team along with the third-place finishes at state by the girls cross-country and volleyball teams were recognized.
• The board listened to a very detailed presentation on the AVID (Advancement Via Individual Determination) program with director Denee Newton, teachers Jodi Moade and Anne Blythe, and parent Chris Jensen. Freshmen Emma Hood, Abby Loyd, Ashley Kohler and Abigail Brown individually shared materials at the board table for a more intimate experience and senior Luke Haslam told them about his involvement through tutoring.
• Brazeau reported on the continuing efforts involving boundary realignment with the Corvallis School District. The scope of the effort involves three counties and Brazeau expects a long process. Four parcels are impacted, including the area where The Boulevard Apartments are being constructed.