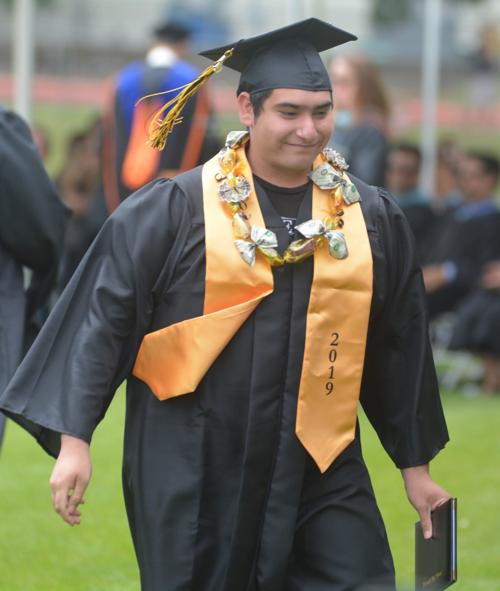 Philomath High School's Class of 2020 will wear stoles as part of its graduation attire following a dispute that erupted after seniors challenged an administrative decision to eliminate them as part of what had been intended to be a cost-saving measure for parents on tight budgets.
The confrontation developed out of a directive that the high school principal had received about reducing costs and a group of students wanting to continue what has been a tradition for more than three decades while being able to have a personalized keepsake. Petitions circulated among the seniors and social media comments sparked a more widespread discussion in the community.
Seniors Lauren Barlow, Emma Pankalla, Cassidy Freeman, Joelle Berger and Logan Hannigan-Downs spoke before the Philomath School Board at its Nov. 18 meeting to ask for the stoles to be reinstated as part of graduation attire.
"While this issue may seem frivolous, the reason we want the stoles are so much more than aesthetics," Hannigan-Downs said. "The stoles and tradition associated with them are very important to our class and our community as a whole."
Pankalla, who is the senior class president, said the stoles have been worn by graduates every year since 1987 except for 2002 when that class voted to instead wear medallions.
"I was given a directive by my boss saying 'find a way to reduce the cost,'" Bussard said in an interview, adding that the request originated with former superintendent Melissa Goff and was reaffirmed by Brazeau. "We were trying to find a way to reduce costs for parents. We've done that around the school. We don't have parking fees anymore, we don't have PE locker fees, we don't have science fees anymore, we even reduced fees for summer school."
Through the years, school fees passed along to families have increased in the face of reduced school funding. The basic cost of a graduation attire package through the designated vendor, Jostens, came with a $60 price tag.
Bussard mentioned that in student meetings on the second day of classes, the proposal for making cuts to bring down the cost of graduation to $29 had been met with no opposition. The district negotiated a $15 fee reduction from Jostens and the other $16 cut came through the elimination of the stoles.
Part of the overall approach was to start a "gown closet" that students could borrow from to wear at graduation and then turn back in afterward, Bussard said. The school would purchase the first 10 and it would grow over time with the end result being an even lower cost for PHS graduates.
Barlow later organized a petition drive and collected signatures to present to Bussard, who said he responded to the students with comments about the directive to cut costs.
"We, the Class of 2020, would never want to make someone stand out due to their financial situation," Barlow said. "However, multiple generous donors have approached the administration to help pay for these students and their offers have been declined."
Barlow said the senior class also had explored ideas for fundraising and shared those with Bussard but were turned down.
"The problem Mr. Bussard presented has multiple possible solutions," Barlow said. "It is frustrating for the senior class that after our work and commitment for resolution, we were repeatedly rejected."
You have free articles remaining.
Following the rejection of the first petition, Freeman said students learned about the school board meeting and quickly distributed a second petition that drew 73 signatures. Based on the district's Nov. 8 enrollment figures, that comes out to 65 percent of the class.
"First, a major issue such as this one should not be immediately dismissed at the school level but presented to the school board for further review and consideration," Freeman said. "Second, it is our recommendation that we should have a choice in what we wear on one of the most monumental days of our lives."
Forrest Chambers, a 1990 PHS graduate and parent of a senior, provided background on how the stoles started to be worn each year.
"Their class decided, 'we want something to show our school colors' and so that's when we started wearing the stoles," said Chambers, mentioning that before 1987, graduates had worn red, white and blue.
School district policy allows the senior class an opportunity to provide input for the ceremony.
At the meeting, board chair Jim Kildea said he would classify the student petition as a complaint against the principal and suggested that the board go into executive session to review the matter. Executive sessions are allowed to handle complaints against a public officer.
Brazeau soon voiced his wish to have the opportunity to handle the situation.
"I've had exactly since 2 o'clock ... to look at this issue and I've been given no opportunity to resolve the issue," Brazeau said. "And I would be disappointed to the board to take action without having my opportunity to resolve the issue."
Kildea ultimately agreed with Brazeau that it should go through the chain of command and board member Greg Gerding said it should be an operational issue that goes before the superintendent.
As such, Brazeau worked on the matter last Tuesday and later in the day at a work session, the stoles were approved following a brief discussion. Letters went out to parents to explain the latest, and the senior class intends to find a financial solution and work with high school administration to provide the stoles free of charge, so the graduation package cost does not rise to the previous level.
Playing a part in the overlying discussion is the Student Success Act, which was signed into law during the 2019 legislative session with the aim of improving access and opportunities for students who have been historically underserved in the education system.
"With the Student Success Act coming up, it's all about equity and here was a chance for us to be equitable," Bussard said in reference to helping underserved students.
"We're even looking at next year potentially eliminating athletic fees," Bussard added, a move that could be possible if SSA funds could be used. "We've been investigating that and the idea for that is we hope it increases (participation)."
The school district or high school is not involved with the financial transaction between students and Jostens, which takes in the money and fills the orders.
Berger said the Class of 2020 is also exploring the possibility of providing a set of gold graduation stoles that don't specify a year as its senior gift. The idea behind the gift would be that the stoles would be available in future years for students that do not want to order a personalized one and then they're returned for continued use.