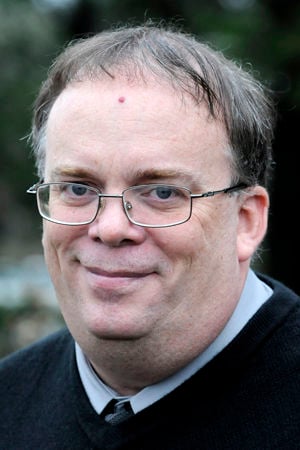 You could hear it in his voice.
A few weeks ago while interviewing Kings Valley Charter School Director Jamon Ellingson about a story on the "Kindness Challenge," the conversation evolved into some of the exciting things happening on the rural campus.
Ellingson, who succeeded Mark Hazelton as the charter school's director in the fall of 2015, has always talked with great pride when it comes to staff, students and facilities. Among the changes that appeared to have been a great need to benefit students is the relocation of a counselor's office. And when it comes to facilities, the newest campus addition is a new modular building that provides more class space.
Lisa Burner, KVCS counselor and credit recovery coordinator, along with Nina Petrovich, Eagles Nest preschool director, now sit at desks in a building located near the playground. A few weeks ago, tape could be seen on the floor where walls would be going up — although they may now be in place with that work scheduled for the following weekend.
"We had a smaller office in the main building and we were seeing that lots of kids were wanting to access her," Ellingson said, referring to student needs such as mental health support, emotional regulation, and social and emotional learning. "We opened us this space and so we're going to be doing some construction."
Burner said one of the goals of the room — besides serving as a counselor's office — is to provide a "sensory corner" for students that just need to regroup before blending back in with their classmates. For example, a student will come in for 10 minutes, pick an activity and then do a reset before going back to the classroom.
"You'll have a full-time staff who can monitor those things, allowing me to still meet with kids for one-on-one or in social groups," Burner said.
The centralized location also includes space for agencies to meet with the kids, such as the school psychologist who comes in and does testing. Jackson Street Youth Services will also use the space for their outreach programs, such as Girls Circle and Boys Council.
Petrovich has been involved with the preschool on the KVCS campus for several years and recently was officially given the preschool director title. As a result, she's moving into supporting kids with their social and emotional learning by helping them confront various challenges.
"I'll be able to bring kids who are temporarily experiencing trouble regulating in the classroom to coach them and build skills and maybe use some curriculum to help build up their ability to self-regulate in the classroom," Petrovich said.
In December, a new modular arrived on campus and was ready to be used in January.
"We needed more space to help with high school and middle school programming," Ellingson said. "We had a couple of smaller classes that were overlapping in the schedule and some teachers were bouncing around from room to room. These are nicely-sized rooms, too, so that's been good."
The storage building that had been there was moved over to the KVCS garden program area, which by the way is a pretty impressive setup.
"Having these modulars come in was a pretty big event for us," Ellingson said, that sense of pride surfacing in his voice again. "This modular — it's a really nice building actually."
You have free articles remaining.
Those are just a couple of things going on out at Kings Valley. Various other maintenance projects have been completed in past months, such as some new windows in a few spots, fencing, water system, kitchen lighting and more.
Car counts: One of the topics that would always come up during public hearings for the various development projects that have gone through City Hall over the past few years has been traffic. Or to be more specific, accurate counts to try to get an idea of how additional residences may impact Philomath's traffic flow.
On a few occasions, folks even shared numbers that they had collected themselves — just sitting in one place and counting cars.
The Philomath Police Department is on the verge of purchasing a second electronic speed sign to be placed on local streets. It's an upgrade from the other mobile sign that the department uses with the capability of uploading various types of data. It has a much better battery for longer stretches of use and even has solar power options.
"This would allow us to set up estimating based on past ODOT data," Police Chief Ken Rueben said. "It's actually real-time data and you could put it up for several weeks and get a real accurate count of what you're looking for."
Of course that might've been a welcomed piece of equipment during those discussions on a large housing development's impact on Chapel Drive or an RV park's impact on North 19th Street.
"It does hour-by-hour speed and it actually counts every car that goes through and it gives you the speed of the car," Rueben said. "So at the end of the day, you can know exactly how many cars are going through and at what time of the day."
The department just received a Siletz tribe grant (see related story) that will pay for half of the $6,000 piece of equipment, the rest coming in a match from the city.
Regalia: While interviewing Delores Pigsley, tribal board chair for the Confederated Tribes of Siletz Indians, prior to an event Friday night, we talked briefly about the goal of teaching youngsters about their culture (see related story).
Pigsley said sharing details about their customs and traditions are very important to natives. As an example, she mentioned the distinctive clothing and items that tribal members can be seen wearing at various events, such as powwows.
"We can explain about the dress and the hows and whys about how they're made," Pigsley said. "That everything's made from the deer and elk antlers and stuff we find on the beach. That all of our regalia are made from the things that are here."
And when the youngsters hear those details?
"It's always a surprise when they ask, 'where did that come from?'" Pigsley said. "It comes from everywhere around you."
It's exciting to see Native American education making its way into Oregon schools, including Philomath. The Siletz and other tribes have such a fascinating and important history in this region. Knowledge can lead to understanding and perhaps that will lead to children and adults who will be "culturally sensitive and racially tolerant" — a phrase I'm borrowing from Mayor Eric Niemann.
$2 million: The estimated amount of grant money that Chris Workman has assisted in securing since taking over the position of city manager from Randy Kugler on March 17, 2014.
That's all for this week. The keyboard needs a rest.