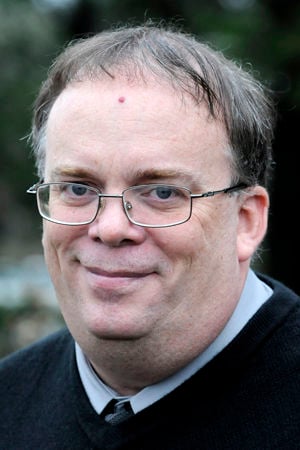 After working in newsrooms for most of my 31 years in professional journalism, it seems like there was always that one reporter who really pounded the keys on their computer (or in the early days, what we called VDTs — video display terminals) to create these raucous sounds that bounced off the walls.
Over time, it's something you would get used to while focusing on your own work. My earliest years in journalism included the college football beat and one of my first assignments just five months into my first job out of college, I was sent to the Orange Bowl to cover Nebraska against Miami. I was only 23 years old at the time but it was a taste of big-time journalism with reporters from Sports Illustrated, the New York Times, the Miami Herald and other large dailies sitting nearby in the press box.
After the game had ended and we completed interviews, it was a race back up to the press box to get those stories filed to our editors. With the Orange Bowl played in the Eastern Time Zone, I had an especially tight deadline because my newspaper was in the Central Time Zone and you can't hold up the press. It was an intense environment and I was one of those guys clanking on a keyboard to quickly get the words out of my head and into a format that passes as a readable story.
Through the years, the newsroom clanking has grown quieter through staff reductions. There just aren't as many of us out there reporting and editing because of industry challenges that revolve around the inability to effectively monetize newspapers following the dawn of the internet. The clanking used to bother me; now I miss it.
The past life of my column printed here was called, "Let's Take a Drive." I used that approach to the writing only since August but already felt the need to mix it up. In other words, I don't want to take any more drives for now (can you blame me with the way traffic is these days?) but hit a variety of different subjects and topics that work better in a more flexible format.
Each week, I'll throw out various categories and add my own commentary. The hope is you'll find some value in what I'm writing — perhaps you'll learn something you didn't know, maybe you can identify with my points of view, my dry sense of humor might force you to smile or I might even write something that irritates you (yeah, it's been known to happen).
Enough clanking, for now, let's get on with it.
Question: I've driven past a certain billboard along the Corvallis to I-5 stretch and tried to figure out what the kid put in the toilet that forced it to back up (you can see it on the left side heading west). The child has his/her hands up in the air as if to say, "I didn't do it," with what appears to be something that had been extracted from the toilet. Does anybody know what the object is? It bothers me that I can't look at it for more than a few seconds to try to figure it out. Maybe I'll pull over one day and take a good long look.
Traffic: I saw something earlier today that I bet a lot of us in Philomath have witnessed. A vehicle took a left off 14th onto Main only to see a car coming their way in the wrong direction. A few seconds earlier, I had watched the car do a U-turn in the middle of the street, perhaps realizing they wanted to go to McDonald's or gas up at the service station. I'm not so sure they didn't realize they were on a one-way, maybe they thought they could make it a fourth of a block in the wrong direction. To avoid a collision, the wrong-way vehicle went onto the Nusbaum property and made their way over to 14th.
Thank you 1: It's Thanksgiving week and it's time to give thanks to some folks in the community. I'm going to express my thanks to three individuals — Jill Williams, Percy and Mayor Eric Niemann. Jill is a counselor at Philomath Elementary and she heads up the school district's Weekend Food Pack Program. I know a lot of families are a little embarrassed to ask for help and it can be even more strenuous on youngsters who are in difficult circumstances. The work that this program does to battle that issue is impressive and Jill's one of the big reasons why it's working.
Thank you 2: Percy (I haven't caught his last name) never seems to mind when I stop by the police station to ask the chief about something or chat with a new officer. The station's comfort dog will often be reprimanded by his humans for bugging me so much while I'm trying to do an interview. But after losing my own dog a little over a year ago now, I look forward to seeing the pooch. Thanks, Percy, for providing me with occasional comfort.
Thank you 3: And last but not least, Philomath's mayor has become known for his comments and actions on greatness he sees in the community. For those of you that go to City Council meetings, we've seen time set aside for topics or people he wants to recognize or has impacted him in some way. During the councilor comments, he'll often bring up good deeds he's seen around Philomath. This time, the thanks should go to him. Thank you, Mr. Mayor.
Numbers: Sixteen. That's the number of years that Turkey Bingo has now been around with this past Friday night's edition. Middle school Principal Steve Bell mentioned that he's always amazed at how many folks show up. School officials (students also pitched in to help) set up additional tables to accommodate the overflow. Turkey Bingo has become an annual tradition for a good number of people.
That's all for this week. The keyboard needs a rest.