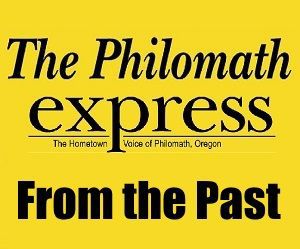 150 Years Ago
1869
CHURCH: The 16th session of the Oregon Annual Conference of the United Brethren in Christ was held at Hopewell Church in Yamhill County Sept. 29-Oct. 3, Bishop Weaver from Indiana presiding. Seventeen members were present — two were received on transfer and three were licensed to preach. The statistics show 1,050 members — a net increase of 69. The allotment of labor included J.J. Gallagher to the Philomath Station and T.J. Connor, president and agent of Philomath College. (Written from item published Oct. 8, 1869, in the Daily Statesman and Unionist, Salem).
MARRIED: By Rev. T.J. Connor, at his residence in Philomath, Sept. 29, 1869, D.C. Baughman and Miss Kate Bowman, all of Benton County, Oregon. (Published Oct. 9, 1869, in the Corvallis Gazette).
125 Years Ago
1894
CIDER: Mr. G.JH. Horsfall of Philomath precinct has recently received from the East and now has in operation on his farm, three miles southwest of Philomath, a new cider mill of the very latest pattern, that promises to turn to account many of the apples that now rot under the trees in Benton County orchards. The mill costs $600, weights 2 tons and has a capacity of 100 barrels of cider per day. Mr. Horsfall has already ground up several hundred bushels of apples farmers from far and near having gathered small bad-colored apples, unfit for market and turned them into cider, which is finding a ready sale so far at 20 cents per gallon. (Published Oct. 11, 1894, in the Corvallis Times).
100 Years Ago
1919
You have free articles remaining.
APPLES: U.J. Lehman was yesterday in receipt of a box of apples from a former resident of this city, Charles Lindley, who at one time conducted the Cherry City Restaurant and who at present is a farmer at Philomath, Benton County. Many of the apples weighed 2 pounds each. (Published Oct. 8, 1919, in the Oregon Statesman, Salem).
75 Years Ago
1944
ACCIDENT: There was an unusual accident on Philomath road last night near the Dan Chamberlain home involving a wagon and two automobiles. One horse was killed, the other injured, and a car was upset, but the occupants escaped serious injury. The accident occurred around 9 o'clock when three young men in the wagon, with Leonard Odell driving, were traveling the highway toward Corvallis en route toward Dayton, their home. An automobile traveling in the same direction struck the rear of the wagon which fell to pieces, throwing out the occupants and frightening the team. In the melee, the horses tore on down the highway a quarter of a mile to collide with a car driven by Amy Hines of Philomath. One horse was killed by the collision, the other was injured and Miss Hines' car was overturned. Miss Hines was badly shaken and frightened, but is believed to have scraped serious injury. The three occupants of the wagon had jumped to the running board of the car which struck it, and attempted to catch up with the horses. Arriving at the scene of the second accident, the driver drove on, without leaving his name or address, and no one thought to obtain the license number on his car. (Published Oct. 11, 1944, in the Corvallis Gazette-Times)./
50 Years Ago
1969
BUSINESS: Five local persons decided that a men's and boy's clothing store was needed in Philomath. Now open for business is The Work Horse, located on Main Street in the former theater building. The owners are Mr. and Mrs. Manley Howe of Valley Linen Supply, Mr. and Mrs. Jack Hagerman and Ola Sayles. Managing the new facility is Mrs. Hal Green. Besides a complete selection of boy's clothing, The Work Horse stocks men's work clothes, rainwear and casual wear. (Published Oct. 6, 1969, in the Corvallis Gazette-Times).
15 Years Ago
2004
MAYOR: Three candidates with broad government experience are running for Philomath mayor — incumbent Chris Nusbaum, City Councilor Richard Matson and Jay Sexton, a member of city and county committees. (Published Oct. 7, 2004, in the Corvallis Gazette-Times).
Compiled by Brad Fuqua, Philomath Express