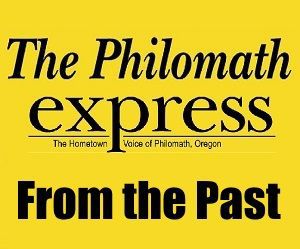 125 Years Ago
1894
HORSE: Will and Biddle Kiser drove over from Philomath yesterday. They brought over a horse for John Akin to use on the Siletz mail route. (Published Oct. 4, 1894, in the Lincoln County Leader, Toledo).
WEDDING: Alex Taylor of Whiteson, Yamhill County, was married Wednesday afternoon to Miss Belle Garrison, of Philomath, the Rev. W.H. Dorward officiating. The groom is an experienced businessman and intends opening up a general merchandise establishment within a few days at Monroe in this county. (Published Oct. 5, 1894, in the Corvallis Gazette).
100 Years Ago
1919
BUSINESS: The Graves Cannery Co., of Sheridan has installed a complete canning plant in Philomath and has already taken care of many tons of berries, prunes and other fruit. Much of the plant has been running day and night. Indications are that a much larger acreage of vegetables and fruit will be planted the coming year. (Published Oct. 4, 1919, in the Oregon Daily Journal, Portland).
DEATH: Robert J. Arpke, an old resident of Benton County, died at 7 o'clock Thursday night at the family home at Philomath. Death resulted from cancer from which he had suffered during the past two years. During the past week, he had gradually failed, taking little nourishment and suffering intensely. Mr. Arpke was born in Wisconsin April 28, 1860, spent his boyhood years and young manhood in Nebraska and about 20 years ago came to Oregon, locating near Albany. After a couple of years in that community, the Arpkes moved to Philomath and for 17 years have made their home in Philomath. (Published Oct. 3, 1919, in the Corvallis Gazette-Times).
You have free articles remaining.
75 Years Ago
1944
WWII: Staff Sgt. George F. Stovall, 20, Philomath, ball turret gunner on a B-17 Flying Fortress operating from a 15th AAF base in Italy, is a member of a group recently awarded the distinguished unit citation for its gallant stand against more than 200 enemy fighter planes which attacked while on a mission to Germany. Although the Fortresses were overwhelmingly outnumbered, their gun crews succeeded in the bitter air battle, in shooting down or damaging 65 plans in the air, and the group accounted for 35 more destroyed or damaged on the ground by their bombs. Entering the armed forces shortly after his graduation from Philomath High School in 1943, Sgt. Stovall attended technical schools at Lowry Field and Buckley Field, Colorado, and was awarded his gunner's wings at Las Vegas, Nevada, in November 1943. He is the son of Frank R. Stovall, Philomath, and his mother, Mrs. Edith May Smith, resides at Florence. Two brothers are also in the armed forces — Edward D. Stovall with the Navy in the Pacific and Frank Stovall, a skitrooper. (Published Sept. 29, 1944, in the Corvallis Gazette-Times).
50 Years Ago
1969
LOGGING: Rex Clemens, Philomath lumberman, was successful for some 7.2 million board feet of Siuslaw National Forest timber on the Alsea district, it was reported today. Clemens won the 91-acre Grant Ridge No. 2 sale on an offer of $91.25 a thousand board feet for 7 million board feet of Douglas fir. The minimum price was $61.30 a thousand. Other bidders were Pedee Lumber, North Side Lumber, Cascadia Lumber, J.R. Gates, Hobin Lumber and Moser Lumber. (Published Oct. 4, 1969, in the Corvallis Gazette-Times).
LIONS: Philomath Lions met in the Fireside Room of the United Methodist Church for their meeting Tuesday and heard Jon Moberg, head football coach at Philomath High School, talk about the football program for the year, commenting on individual players and showing some films of games. (Published Oct. 4, 1969, in the Corvallis Gazette-Times).
25 Years Ago
1994
ELECTION: When Philomath voters go to the polls Nov. 8, they will decided which of seven candidates should not be a city councilor. There are six seats on the City Council, so the candidate who wins the fewest votes will be the only person turned away. City Councilor Cheryl McMorris is running unopposed for the mayor's past. The candidates for the unpaid City Council positions — Melina Bieigen, Charles L. Crawford, Mike Crocker, Marvin Durham, David Jensen, Ron Staehlin and Mike Zojonc. (Published Oct. 2, 1994, in the Corvallis Gazette-Times).
Compiled by Brad Fuqua, Philomath Express