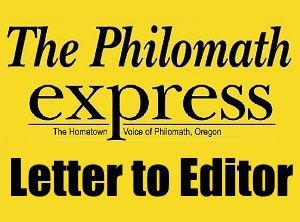 I am writing in response to Catherine Biscoe's "Guest Viewpoint" in the May 20 edition. Catherine's piece overlooks a fundamental principle of the Philomath city budget: Just because an expenditure is included in the budget does not mean it will occur, however, if an expenditure is not included in the budget it cannot occur.
These extraordinary times certainly call for a conservative approach, but from my perspective, the city is in a strong financial position for two reasons: because growth has brought in additional revenues and because expenses are consistently well managed. Expenses are not incurred unless needed and funded, large projects are budgeted years ahead so reserves can accumulate and grants are sought whenever possible.
If 2020-21 revenues approach projected levels, it would be unfair to our citizens not to use funds because projects had been cut back or removed from the budget. However, if revenues decrease necessary cutbacks will be made, including project deferrals and, if necessary, staff reductions.
It is correct that Philomath is the highest-taxed city in Benton County, but it is important to note that tax rates are unrelated to the budgeting process and include voter-approved revenues for our schools and fire protection district, which are not part of the city budget.
The table shown with this letter compares the city tax rates for the five largest cities in Benton County. These rates have not changed since they were set by the state in 1997. This is why the city was forced to implement the General Fund fee in order to ensure ongoing operations. Implemented in 2017, the General Fund fee has been reduced from $10 to $5 this year and will sunset in 2022.
It is also important to recognize steps that have been taken by the city to ease the impact of the economic downturn: All department heads have postponed salary increases until the economy improves (increases will not be retroactive); bus fares and liquor license renewals have been waived; water service is not discontinued for those who are unable to pay their water bills; and the City Council recently approved $11,000 in funding for social service organizations and the chamber of commerce. Philomath has also waived water and sewer rate increases and the General Fund fee for very low-income residents.
These are extraordinarily difficult times for many of our citizens, but making cuts that may be unnecessary would be poor planning.
Catch the latest in Opinion
Get opinion pieces, letters and editorials sent directly to your inbox weekly!