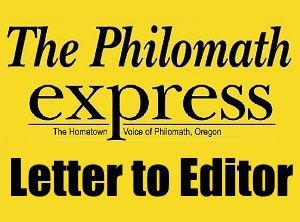 Gasps escaped the crowd at Philomath's June 10 city meeting when Councilor Terry Weiss told us that City Manager Chris Workman had loudly called a woman on the budget committee names in front of her teenage daughter. She also said that Workman criticized Weiss herself in an email he had cc'd to everyone on the council, including the city attorney.
Sadly at the end of her speech, Weiss declared she was moving and resigning because, to summarize: It was obvious from six months of voting that the majority of the council and mayor intended to govern the city in the same way it had always been governed and that nothing she could say or do would change that.
All Mayor Eric Niemann said to her basically was: "Thank you for your service." Where was his indignation at the city manager for bullying a councilor and budget committee member?
For months, instead of reprimanding his subordinate, our new mayor emboldened Workman by telling folks that show up at meetings to "treat the staff better." What did we have to do with it? Why is his loyalty to staff rather than his own constituents?
You have free articles remaining.
Mayor Niemann isn't the only one encouraging Workman. On June 24, Councilor Marion Dark said she wanted staff to leave the audios of meetings online for three months for transparency and convenience. All the councilors liked the idea until Workman spoke. He fought against it for five whole minutes until all but Chas Jones and Dark changed their mind. After his no vote, Councilor Matthew Thomas praised the staff.
I was surprised because I didn't know generously paid appointed officials could use their positions to so blatantly impose their will over the will of elected officials and citizens. We all thought we were voting for change when we elected four new councilors and a new mayor, but is there a need to change staff, too?
Furthermore, last March, Mayor Niemann pushed a questionable water plan that could almost double our water rates in a couple years. But only Weiss and Dark voted against that hurried plan. It's disappointing that the rest, including Jones and Thomas, voted for it. I'm with Weiss — where's that change we voted for?
I encourage you all to come to the next meeting on July 8 at 7 p.m. Show them you voted for change and want a replacement who will vote like Weiss.