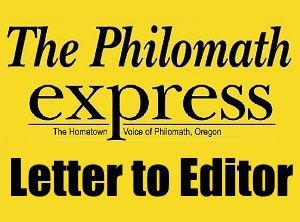 Everyone else had spoken, but when Jeff Lamb spoke up to talk about Millpond Crossing and DEQ, the mayor wouldn't let him. The more he tried the more he was shut down. I couldn't believe it, so I blurted out, "Let him talk!" But they still wouldn't.
That's what happened last Monday night at the Philomath city meeting. Back in my May 30 letter to the editor, the word limit prevented me from telling how council member Jerry Jackson bullied another citizen when he spoke up. So again I ask, "Why do some council members and our mayor act like they are our bosses?" Aren't they supposed to serve us? Instead they are silencing us!
How is democracy supposed to work if our city gets away with shutting people down when they're shedding light on important issues?
Now I know there must be something to Lamb's reports with DEQ if he's stopped in exercising his free speech on that point! A lawyer advised us to call DEQ — we did — never heard back. So I really wanted to hear what he found out.
Jeff Lamb usually has essential information. I wanted to hear him because I'm afraid. My health has already been compromised due to the chemicals that are in some foods. If simple foods can harm me enough to have caused several operations, then I'm sure the toxins at Millpond Crossing will harm not only me but many of us, because the very nature of toxins is that they are toxic to us all!
I have to work on my health practically 24-7, yet this small town's government would trade all our health away for $3.8 million. The evil is with the city, not the developers. Apparently, they don't care if they cause mass cancer, deformed babies or asthma; just to name a few atrocities that could happen.
Still, despite Mayor Rocky Sloan's unsavory efforts, Eric Niemann voted "no." He's the only member of the council that proved he cares about how toxins could affect the people who live here. Eric Niemann and Jeff Lamb are true heroes! So are all of those who spoke out against the toxins over these last few months. You are all heroes to me! Thank you for your integrity and courage.
If you care about the livability of Philomath, then I encourage Philomath citizens to come to meetings. Let's take our city back!
Catch the latest in Opinion
Get opinion pieces, letters and editorials sent directly to your inbox weekly!