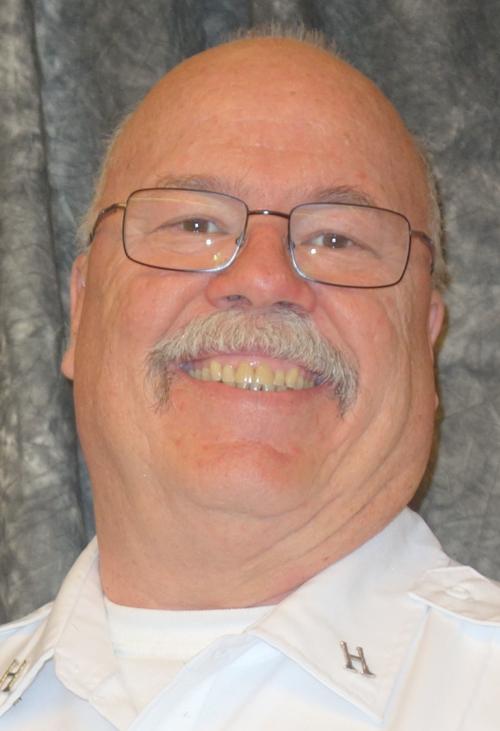 I get to wake up each morning to go to work to keep 10,000 people safe — give or take a hundred or so extra people passing through or stopping over for a visit or a bite to eat.
That's just about how many people there are in our 58 square miles of fire district. Fortunately, I'm not alone in this — I work with an extraordinary team of people at Philomath Fire & Rescue. I live a block and a half behind the fire station on Main Street and I started as a volunteer the week after I arrived in Philomath to "retire."
I grew up and lived in larger cities all my life: Sacramento, Salt Lake City. There has never been less than 500,000-plus other people. I've lived in the burbs in Sacramento (South Sac, Folsom) and downtown (in Salt Lake City Centre). I've even been in a city that hosted the Olympics in 2002 (Salt Lake City).
I started in the fire service nearly 45 years ago, stayed in for 15 years and then took a detour for 23 years to travel the world setting up systems in 911 centers. I've been to every continent except Antarctica as there wasn't much call for 911 there (my running joke is that they just put people on ice and sort it out later …). Then I retired. To Philomath. Here.
My wife had a house here, you see, for almost 15 years by the time we relocated here. Those 23 years in Salt Lake City? I had divorced my wife in 1990, and we just celebrated our second sixth anniversary in August having gotten remarried. Full circle.
You have free articles remaining.
So, I had to learn to pronounce Phil-O-math. Then I had to look it up (friends had always said: 'just say you're from Corvallis, people know where that is'). Here's the thing: I explain to people exactly where Philomath is. We are not Corvallis — we have a very rich history here and I love our community. I am proud to live here — even with the growing pains (we had them in Sacramento and Salt Lake, too — different scale, but the very same issues).
Coming back to the fire service was a no-brainer for me. The staff and volunteers that keep watch over this community are some of the finest men and women you will ever meet. We get called for everything. Why? Because people trust us and we get the job done. As a team. Whether it is to pick up someone that has fallen or get an animal un-stuck from a fence — we just say yes (or at the very least, do what we can to make sure people get help).
In my position with the department, I teach first aid and CPR classes, fire extinguisher classes, fire education to kids in school, community outreach, disaster planning, EMS training, planning and development for fire and life safety in building construction, inspections (which is a point of education too, at the end of the day; keeping people safe).
And I get to do all that and more right here. In a community where the mayor is in my phone directory, where Linda and Sandy serve great meals, where the kids will say "Hi Captain!" when I walk around the school. Where I can respond with paramedics, EMTs and EMRs to make a difference every day.
Shameless plug: We are always looking for people to be on our team — come see me at the station. We will even train you!
There are things I know that I won't have or won't ever do at this stage of my life. I won't be climbing Mt. Kilimanjaro, I won't grow a mustache like Sam Elliott, I won't be on the silver screen and it's unlikely that I will touch foot on Antarctica.
What I do have, though, is more precious that all of that: I get to call Philomath my home, my community, living with the woman of my dreams, making a difference for people every day until I'm "boots out." I wouldn't trade that for anything.
Rich Saalsaa is a captain with Philomath Fire & Rescue and serves as the fire and life safety officer. He can be reached at rich.saalsaa@philomathfire.com.