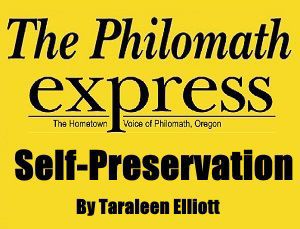 Well, another garden season is in the books. Every year, I pour over the seed catalogs, haunt the local nurseries, love the smell of freshly tilled soil, nurture my little plants along, and sit in my garden with my helpers (the cat and dog) and enjoy summer.
By the time October rolls around, I'm over it — tired of canning, tired of putting the garden to bed and I'm looking forward to the rainy season and being able to focus on all my other hobbies. But I know it will start all over again in a few months when the first seed catalog arrives.
I thought I'd share a few of this year's successes and failures. On the failure side of my garden, my squash underperformed and the cucumbers were nonexistent. This gives me something to work on for next year, was it something I did or just the fickleness of the weather? I won't go into details about my tomato crop and the disaster of the September rains; it's too depressing to think about.
A new growing experiment for me this year was ground cherries and it was a big success. I had two plants this year and they were very prolific but I think I'll plant even more next year. These little gems are in the nightshade family, along with tomatoes and tomatillos, and oh my goodness they are special!
They have husks like tomatillos and have a flavor that is hard to describe — sweet, tart, tropical, almost citrusy tasting. They were a big hit in salads and for snacking but they also made a terrific salsa. I used the recipe for tomatillo green salsa from OSU Extension's "Laws of Salsa" publication (http://bit.ly/osu-laws-of-salsa-pdf) and it definitely goes into my "keeper" file.
One failure this year was a very loud and exciting lesson learned. My sister was looking for a pressure canner and an acquaintance had one they were giving away. I decided to give it a trial run before I gave it to my sister. I got a new gasket for it and set about testing the canner. Note for future reference, always, always, check to make sure the air vent is not clogged!! I thought I had checked but it was soon obvious that my inspection was either imagined or incorrect.
You have free articles remaining.
The canner was coming up to pressure when BOOM, WHOOSH!!!! The overpressure plug blew out (it's probably still embedded in my kitchen ceiling because I never did find it) and steam was whistling out like a runaway locomotive. The dog flew out of the kitchen, my husband came running up from the basement, I was plastered against the kitchen counter with my heart racing, and the canner was doing just what it was designed to do.
An inspection later revealed the air vent was clogged with rust so the steam just keeps building and building until the overpressure plug blew out, which is exactly what it is supposed to do. This prevents the canner from exploding and even though it sounded horrible it was really not a big deal.
A success this season is what I am calling my "Year of the Dehydrator." Since I planted more kale than we could eat fresh I decided I needed to maximize what I grew. I picked up a coffee grinder at a thrift store, dug out my dehydrator and I started dehydrating and powdering the kale.
That experiment prompted me to try all sorts of greens from my garden. I never replant radishes in my garden because they've gone feral on me and pop up all over. I always let some go to seed because I really like to eat the seed pods when they are young and tender. The seed pods taste like a radish and are good in salads and stir fry.
It turns out I have been wasting another tasty part, the leaves! I dehydrated them, along with kale and broccoli leaves for a powder of mixed greens. The powder gives a boost of flavor along with more nutrition to soups and stews and is also a good way to add veggies to the diet of a picky eater.
I also powdered the tomato skins I had removed when I was prepping tomatoes to can. This adds a nice dimension of flavor to tomato sauces, soups and stews. Then I decided what the heck, why not try drying apple skins, too, since I had plenty and they would otherwise go in the compost. I now have apple skin powder to add to oatmeal and baked goods.
Despite claiming I'm so glad to be done gardening for the year, I've already started thinking about what to do differently next year. High on the list is trying out mustard greens, amending my soil (I really miss having horses around to make their daily deposits for my compost) and either moving my tomatoes to a sunnier location or cutting down some trees, or maybe both, who knows!
Taraleen Elliott, who has been involved with the Master Food Preserver training program through Oregon State University Extension Service, is writing a series of columns on food preservation.