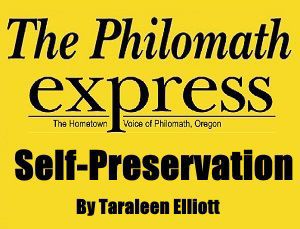 It's the tail end of harvest season at my place but I still have pears waiting to be preserved. There were two mature pear trees on our property when we bought it years ago and they can produce a lot of pears.
I admit I am not a huge fan of pears to munch on, I really prefer apples, but I also hate letting food go to waste. After a lot of trial and error I have found ways to enjoy our pears. Here are three of my favorites.
This first one is really good in a PBJ sandwich or on biscuits.
4 lbs. pears, peeled, cored and coarsely chopped
2-1/2 cups dark brown sugar
2 tsp. sea salt or kosher salt
Put chopped pears, apple cider and lemon juice in a 4-6 quart crock pot. Set the temperature to high, put the lid on and let it simmer for about 40 minutes or until the pears are soft, then turn the heat off. Puree the pear mixture with an immersion blender until it is smooth or put it in batches in a food processor to puree.
Combine the puree with brown sugar and salt in the crock pot, turn the heat to high, and put the lid on diagonally so the steam will escape. Simmer for about 3-4 hours, stirring every 30 minutes so it doesn't stick or burn. When the puree is thick enough to hold its shape on a spoon, it is done cooking.
Prepare the boiling water canner, have the jars simmering in the water until you're ready to use them. Wash the lids in soapy water and set aside with the bands. Take jars out of the canner one at a time to fill them. Ladle the hot pear butter into the jars, leaving one-fourth inch headspace. Remove any air bubbles, wipe the rim of the jar, and put the lids and bands on, returning the jars to the canner as soon as you fill them.
Bring the canner to a boil and process for 15 minutes. Turn off the heat, remove the canner lid and let the jars stand for 5 minutes. Remove the jars and let them cool, checking the lids after 12 hours to make sure they sealed.
I wasn't sure how this next recipe would turn out, which is always the risk in trying a new recipe. With this one, if no one liked it, I'd be stuck with a lot of relish. I mentioned it in passing last month but it deserves to be in the spotlight. I use pear relish interchangeably with pickle relish. It tastes a bit sweeter than pickle relish but it's good in potato salad or on a grilled bratwurst.
Yield: About 10 pint jars
2 gallons pears (8 quarts)
You have free articles remaining.
Wash the pears, onions, peppers and celery in cold water. Peel and core the pears. Remove stems and seeds from the peppers. Clean the celery; peel the onions. Put pears and vegetables through a food chopper. Stir the sugar, allspice, salt and vinegar into the chopped mixture and let stand, covered, overnight in the refrigerator.
Heat the relish mixture to boiling; simmer 5 minutes. Pack hot relish into hot pint jars, leaving one-half inch headspace. Remove air bubbles and adjust headspace if needed. Wipe rims of jars with a dampened clean paper towel; adjust two-piece metal canning lids. Bring canner to a boil and process 20 minutes.
This last recipe is so tasty! I like it on bagels with cream cheese but it's also good on biscuits, crackers or in a PBJ.
Yield: about 5 half pint jars
5-1/2 cups finely chopped, cored and peeled pears (about 8 medium)
2-1/3 cups granulated sugar
1 tbsp. freshly grated ginger
Prepare boiling water canner. Heat jars in simmering water until ready for use. Do not boil. Wash lids in warm soapy water and set bands aside.
Combine pears, lime zest and juice, sugar and ginger in a large stainless steel saucepan. Bring to a boil over medium heat, stirring to dissolve sugar. Boil, stirring frequently, until mixture thickens, about 15 minutes. Remove from heat and test gel.
If preserves break from spoon in a sheet or flake, it is at the gel stage. Skim off foam. If your mixture has not reached the gel stage, return the pan to medium heat and cook, stirring constantly, for an additional 5 minutes. Repeat gel stage test and cooking as needed.
Ladle hot jam into a hot jar leaving one-fourth inch headspace. Remove air bubbles. Wipe rim. Center lid on jar. Apply band, adjust to fingertip tight. Place jar in boiling water canner. Repeat until all jars are filled.
Process jars 10 minutes, adjusting for altitude. Turn off heat, remove lid, let jars stand 5 minutes. Remove jars and cool 12-24 hours. Check lids for seal, they should not flex when center is pressed.
Taraleen Elliott, who has been involved with the Master Food Preserver training program through Oregon State University Extension Service, is writing a series of columns on food preservation.