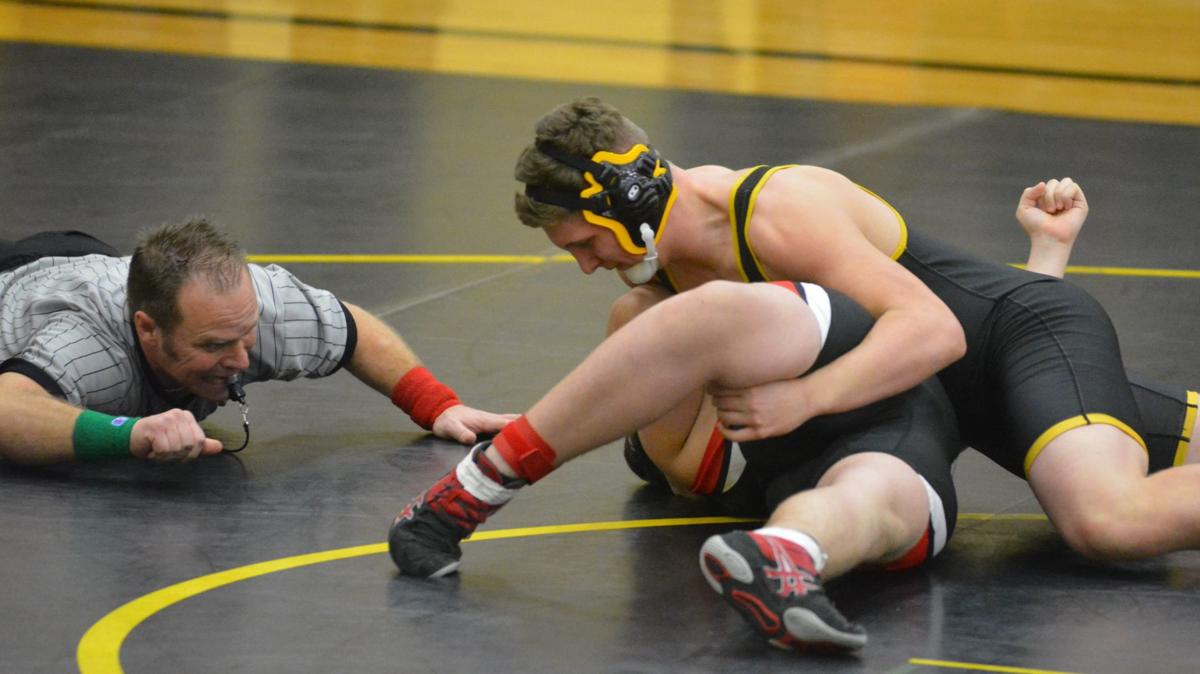 Philomath High's wrestling squad headed down to Elmira Wednesday evening and in a close dual, lost by a 42-33 count.
When it comes to matches contested on the mat, Philomath held a 33-30 advantage. But Elmira benefited from two forfeit wins for 12 points.
In one of the most interesting bouts of the dual, PHS senior Brooks Stearns worked a 7-5 victory over Elmira's Nat Brown at 182 pounds. Both wrestlers came into the match with 30 victories this season. Stearns won the match with a late scramble takedown.
The win by Stearns was among five straight victories by PHS grapplers during the dual. Cooper Latz started the run at 152 with a pin in 1:44. Matthew Hamlet at 160 and Issiah Blackburn at 170 followed with pins of their own.
After the Stearns victory, Matt Workman took care of his opponent with a pin late in the first period.
Philomath's one other victory came at 126 with Blaise Pindell's pin over his opponent in 1:55.
Among the losses, Blake Niemann dropped a very close 8-7 decision at 106. Connar Kohn wrestled up at 220 to face Mikey Montgomery, another Elmira wrestler with 30-plus wins. Montgomery had the upper hand with a 20-10 major decision.
Rio Jensen and Emma Lalande each wrestled two opponents in girls' exhibition matches. Jensen had two pins in less than a minute and Lalande won her bouts on a technical fall and a first-period pin.
Philomath will wrestle at home this weekend by hosting the annual Oregon West Conference Duals. The tournament is scheduled to begin at 9 a.m.
---
---
106 — Liberty Barklow, ELM, dec. Blake Niemann, 8-7
113 — Elva Zhao, ELM, won by forfeit
120 — Logan Cave, ELM, won by forfeit
126 — Blaise Pindell, PHS, pinned Koby Warren, 1:55
You have free articles remaining.
132 — Hunter Davis, ELM, tech. fall Hunter Kaumanns, 15-0 (4:22)
138 — Ayden Wolgamott, ELM, pinned Hunter McCaskill, 1:56
145 — Ruben Fox, ELM, pinned Morgan French, 3:30
152 — Cooper Latz, PHS, pinned Mark Richardson, 1:44
160 — Matthew Hamlet, PHS, pinned Darius Gbaa, 1:51
170 — Issiah Blackburn, PHS, pinned Blake Wigham, 3:19
182 — Brooks Stearns, PHS, dec. Nat Brown, 7-5
195 — Matt Workman, PHS, pinned Kenyon Baldree, 1:53
220 — Mikey Montgomery, ELM, maj. dec. Connar Kohn, 20-10
285 — Caleb Hunter, ELM, pinned Noah Estes, 1:15
---
---
120 — Rio Jensen, PHS, pinned Linda Cline, 0:53
125 — Rio Jensen, PHS, pinned Liyta Lane, 0:44
145 — Emma Lalande, PHS, tech. fall Anna McDougal, 26-11 (5:37)
155 — Emma Lalande, PHS, pinned Carissa Cervantez, 1:01