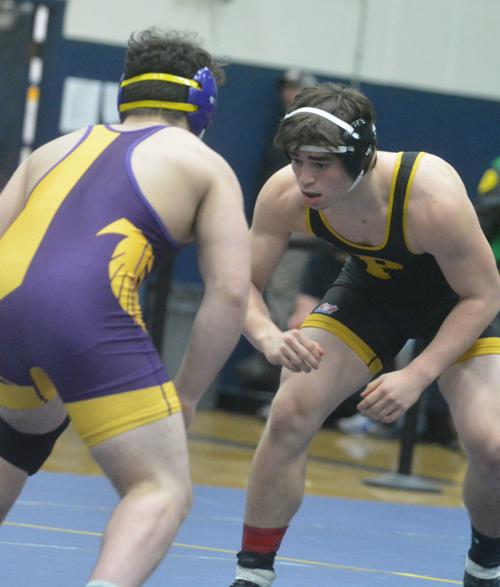 Philomath High juniors Issiah Blackburn and Connar Kohn are both one win away from reaching the state championship bout in the Class 4A State Wrestling Championships' 195-pound weight division.
In fact, if they can both win their semifinals matches, they would have to wrestle each other for the title.
Sophomore Blaise Pindell gives Philomath a third wrestler that continues competing into Day 2 of the event at Veterans Memorial Coliseum in Portland. Pindell lost a heartbreaker in his first-round match but battled back for two straight wins in the consolation bracket.
Five other PHS wrestlers were eliminated but four of them won at least one match — not exactly an easy feat at the championship tournament level.
Meanwhile, in the girls tournament later Saturday, sophomore Reynece Ryan remains alive for a medal in the 190-pound division.
Blackburn (37-10 record) and Kohn (38-6) are both guaranteed to medal among the top six with advancement to the semifinals.
Blackburn, who came into the tournament seeded sixth, worked hard for a pair of wins on decisions — 9-5 over Sisters' Ethan Martin and 5-1 over Tillamook's Tieson O'Hagen. He'll face an familiar foe in the semis in Elmira's Nat Brown, the same wrestler that he lost to just last week in the district tournament's 195 finale and entered state as a No. 2 seed.
Kohn, meanwhile, opened with a pin in 2:53 over Seaside's Luke Nelson — an upset if you're going by the seedings. Nelson came into state as the No. 5 seed. In the quarterfinals, Kohn pinned McLoughlin's Rafael Pereyda in 1:35. Pereyda was coming off a first-period pin over the fourth seed. In the semis, Kohn will go up against No. 1-seeded Christopher Woodworth of La Grande.
Pindell was razor-thin close to being in the semifinals himself at 145 pounds, but also barely stayed alive with a sudden victory in his second consolation match. Pindell opened with a 1-0 loss to fourth-seeded Braxton Bisenius of La Grande but he regained his composure in his first consolation match by pinning Woodburn's Misael Ramos in 4:56. In his second consolation match, Pindell took a 9-7 sudden victory decision over another Woodburn opponent in eighth-seeded Kaden Christiansen. Pindell will face Estacada's Cody Hovda, who came into the tournament seeded third, on Saturday.
Sophomore Blake Niemann (106), freshman Ben Hernandez (120), freshman Caleb Blackburn (126) and sophomore Joseph Choi (285) each went 1-2 in the tournament.
Niemann won a consolation match over La Grande's Rogan Willins in a quick 24-second pin. He lost in the first round to second-seeded Hunter Smith of Banks and after his victory, dropped a match against a familiar opponent in Sweet Home's Jake Sieminski.
Hernandez earned a consolation bracket victory over Hidden Valley's Gabe Chavez with a pin in 2:08. Hernandez lost to second-seeded Wesley Vasquez of Woodburn in the first round and after his win, was eliminated in the consolation bracket by Siuslaw's Mason Buss, the No. 6 seed.
Caleb Blackburn opened with a 7-5 decision over eighth-seeded Michael Graeber of Hidden Valley to reach the quarterfinals. But he then faced the No. 1 seed, La Grande's Braden Carson, and lost on a pin. He dropped into the consolation bracket and lost to North Marion's Ronaldo Hernandez.
Choi had to endure a tough loss in the first round on an 11-10 decision to eighth-seeded Isaac Pena of Mazama. But he bounced back to pin Tillamook's Perry Reeder in 2:21. In his second consolation match, Choi was eliminated by Estacada's Devin Gotchall.
Freshman David Griffith had a tough draw in the first round at 138 with a loss to No. 1-seeded Jesse Jones of McLoughlin, although he took the match well into the second period. Griffith lost to Estacada's Caleb McDonald in his consolation match.
As a team, Philomath sits in 12th place with 33 points. Sweet Home leads with 149 and La Grande is second with 117.5.
In the girls tournament, Ryan lost her first-round 190-pound match to Ontario's Abigail Osei on an 8-3 decision but rebounded nicely to pin Warrenton's Jade Vollner in just 50 seconds. She could still finish as high as third with two more victories.
---
Class 4A State Championships
---
Team scoring: Sweet Home 149, La Grande 117.5, Tillamook 79, Banks 44.5, Cascade 44, Woodburn 44, Hidden Valley 43.5, Baker 43, Estacada 43, Mazama 37, Junction City 35.5, Philomath 33, Ontario 31, Siuslaw 24, Cottage Grove 23, Stayton 22.5, North Valley 22, Marshfield 21.5, Elmira 21, Henley 19, Gladstone 17.5, Seaside 17, Madras 16.5, McLoughlin 15, Klamath Union 11, Phoenix 11, Molalla 10.5, Sisters 8, Newport 7, Corbett 3, North Marion 3, Astoria 0.
106 — Blake Niemann (1-2): Lost tech. fall Hunter Smith, Banks, 15-0 (2:20); pinned Rogan Willins, La Grande, 0:24; pinned by Jake Sieminski, Sweet Home, 2:34.
120 — Ben Hernandez (1-2): Pinned by Wesley Vasquez, Woodburn, 1:05; pinned Gabe Chavez, Hidden Valley, 2:08; pinned by Mason Buss, Siuslaw, 2:24.
126 — Caleb Blackburn (1-2): Dec. Michael Graeber, Hidden Valley, 7-5; pinned by Braden Carson, La Grande, 1:20; lost maj. dec. Ronaldo Hernandez, North Marion, 15-5.
138 — David Griffith (0-2): Pinned by Jesse Jones, McLoughlin, 3:41; pinned by Caleb McDonald, Estacada, 2:08.
145 — Blaise Pindell (2-1): Lost dec. Braxton Bisenius, La Grande, 1-0; pinned Misael Ramos, Woodburn, 4:56; dec. Kaden Christiansen, Woodburn, 9-7 (SV).
195 — Issiah Blackburn (2-0): Dec. Ethan Martin, Sisters, 9-5; dec. Tieson O'Hagen, Tillamook, 5-1.
195 — Connar Kohn (2-0): Pinned Luke Nelson, Seaside, 2:53; pinned Rafael Pereyda, McLoughlin, 1:35.
285 — Joseph Choi (1-2): Lost dec. Isaac Pena, Mazama, 11-10; pinned Perry Reeder, Tillamook, 2:21; pinned by Devin Gotchall, Estacada, 4:30.
Team scoring: Thurston 25, Bend 16, Century 11, Elmira 11, North Medford 11, North Salem 9, Glencoe 8, Sweet Home 8, Grants Pass 7, La Pine 7, Madras 7, Milwaukie 7, Scappoose 6, Centennial 5, Forest Grove 5, Nyssa 5, Oregon City 5, Siuslaw 5, Baker 4, Bonanza 4, Cottage Grove 4, Douglas 4, Eagle Point 4, Franklin 4, Lincoln 4, McKay 4, Mountain View 4, Newport 4, North Douglas 4, Ontario 4, Phoenix 4, Pleasant Hill 4, Vale 4, West Albany 4, Aloha 3.5, Dallas 3.5, West Linn 3.5, Banks 3, Cleveland 3, Creswell 3, Hillsboro 3, Mazama 3, North Lake 3, Philomath 3, Springfield 3, Sunset 3, Hood River Valley 2, La Grande 2, Sandy 2, Summit 2, Estacada 1, North Eugene 1, Central 0, David Douglas 0, Echo 0, Hidden Valley 0, Jefferson (Portland) 0, Lake Oswego 0, McNary 0, Newberg 0, Putnam 0, Reedsport 0, Ridgeview 0, Warrenton 0, Willamina 0.
190 — Reynece Ryan (1-1): Lost dec. Abigail Osei, Ontario, 8-3; pinned Jade Vollner, Warrenton, 0:50.
Be the first to know
Get local news delivered to your inbox!