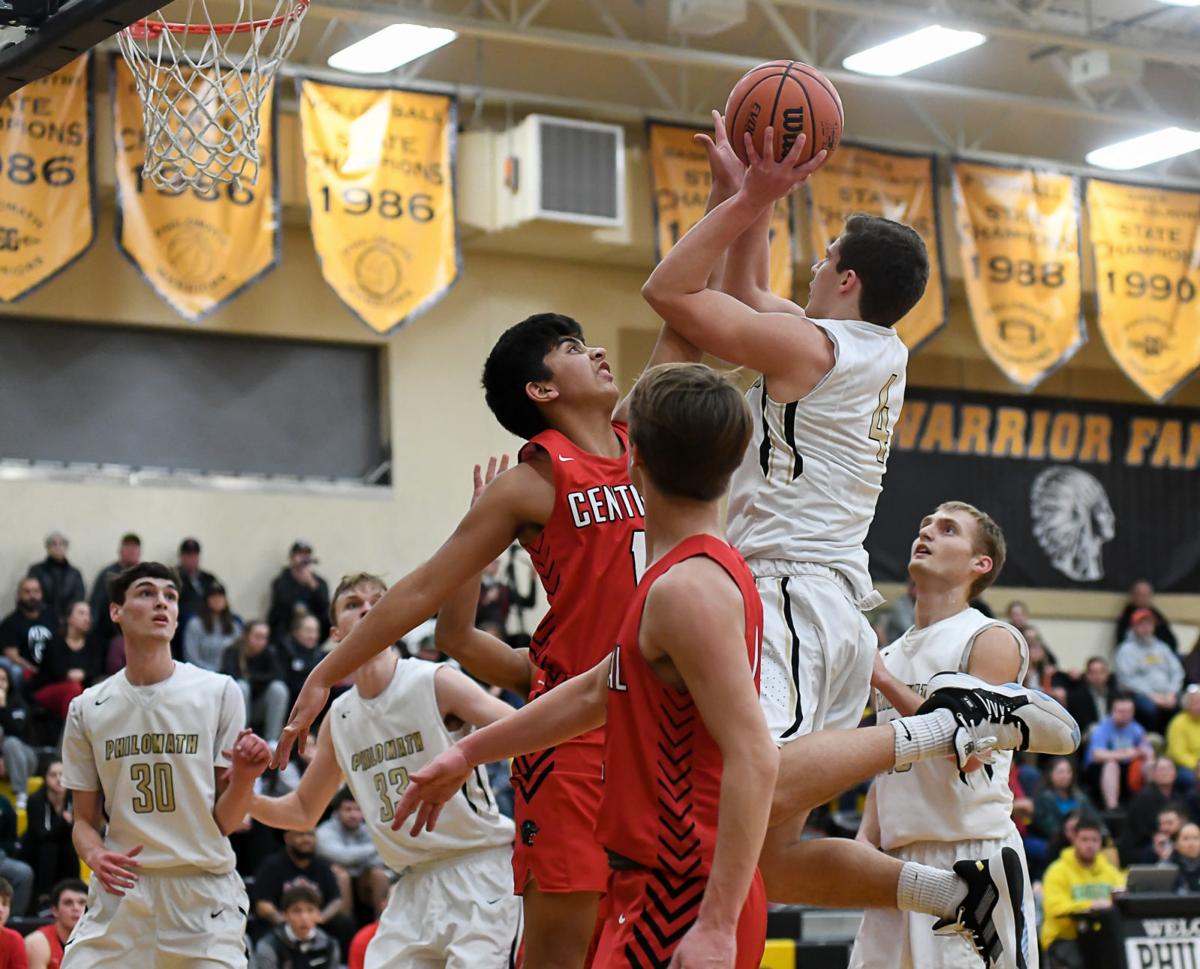 Following Philomath High's loss on Dec. 16 to Banks, veteran boys basketball coach Blake Ecker stressed three areas of the game in the following practices — rebounding, taking care of the basketball and free throws.
In Saturday evening's 46-35 victory over host Marshfield in the Les Schwab and First Community South Coast Holiday Basketball Tournament's championship showdown, the Warriors put on an impressive display in each of those facets of the game.
"We saw things we needed to address," Ecker said in a phone interview after the victory. "The free throws were OK, the rebounding was much more consistent and taking care of the ball was better."
Philomath improved to 6-1 on the season and will next take the court Dec. 27 against Crescent Valley in a two-day, four-team tournament at the PHS gym. Gladstone and Willamette will also participate.
"Overall, I thought we did pretty good," Ecker said about Saturday's win. "We're starting to develop an identity. We did a great job defensively and with rebounding. That really carried us when we couldn't score at times — we had great stops and allowed them one shot. I was really, really happy in that regard."
Philomath trailed 2-0 early on but once the Warriors took the lead, they never relinquished it. Junior Michael Lundy, who would be named the tournament's most valuable player, and senior Toby Stueve sparked the offense during the first eight minutes — each scoring eight points. Stueve had the hot hand from long range with a pair of 3-pointers in the first.
Philomath slowed down a bit in the second quarter but took a 25-16 lead in at the break. Marshfield did threaten, however, and pulled to within a few points at times only to see the Warriors regain their composure.
"We had the resiliency to stick with it and not give up," Ecker said.
Leading 33-26 going into the fourth quarter, the Warriors finished with 13 points over the final eight minutes for the 11-point win.
Lundy scored 20 points on seven field goals and 6 of 8 on free throws. Stueve ended up with 11.
You have free articles remaining.
Besides Lundy, others from PHS receiving all-tournament recognition included Stueve and freshman Ty May.
Philomath will now break for the holiday before facing the 5A Raiders in the home tournament. The game is scheduled for a 7:30 p.m. tip-off.
"Now we've got a little bit of a break until the 27th," Ecker said. "We'll come back and get ready for Crescent Valley at our place. It's starting to come together a little bit."
---
Philomath 46, Marshfield 35
---
PHILOMATH (6-1)     18    7    8  13 — 46
MARSHFIELD (3-3)     9    7  10    9 — 35
Philomath: Michael Lundy 7 6-8 20, Toby Stueve 4 1-2 11, Ty May 2 1-2 6, Ben Reams 2 0-0 4, Dillon Olsen 1 0-0 3, Cole Matthews 0 2-2 2, Dylan Edwards 0 0-0 0, Dylan Bennett 0 0-0 0. Totals 16 10-14 46.
Marshfield: Mason Ainsworth 2 7-7 12, Pierce Davidson 3 2-2 8, Noah Niblett 2 0-0 4, Dominic Montiel 1 2-2 4, Monty Swinson 1 0-0 3, Kaden Weatherston 1 0-0 2, Landon Ginn-Frosberg 1 0-0 2, Erasto Jimenez 0 0-0 0, DJ Daugherty 0 0-0 0. Totals 11 11-11 35.