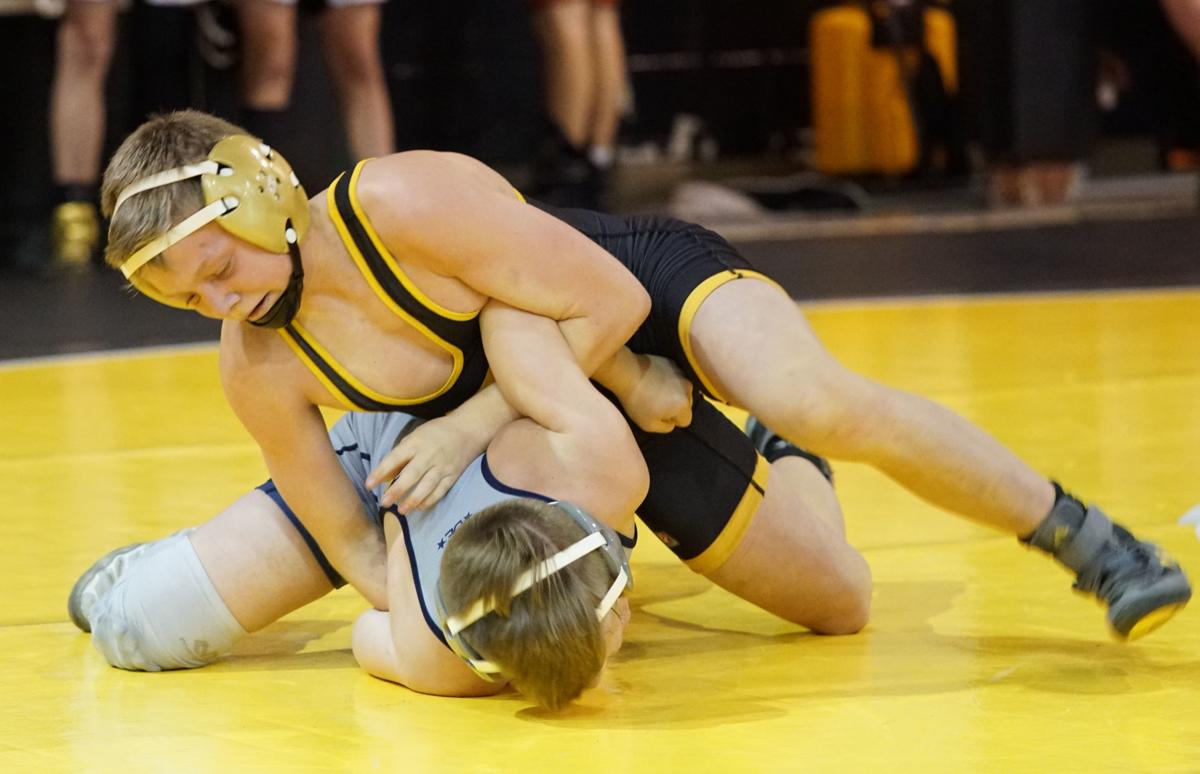 In a very tight race for the team title, Philomath had to settle for third place at Saturday's Santiam Christian Screamin' Eagle wrestling tournament. Along the way, three Warriors won individual titles in Blake Niemann, Issiah Blackburn and Connar Kohn.
Sprague won the team title with 162.5 points with Willamina second at 158.5 and Philomath a close third at 157. Twelve schools participated in the meet.
Niemann, a sophomore, took first place at 106 pounds with a 14-7 decision over freshman teammate Chase Ringwald. Niemann had to battle hard for a win in the semifinals, defeating Sprague's Quincy Palomo on a slim 7-6 decision. Ringwald pinned his semifinals opponent, Sprague's Tanner Short, late in the third period.
Blackburn, a junior, defeated three opponents to win at 182 pounds. Blackburn pinned his first opponent and then outdueled Dayton's David Bowlin on a 7-4 decision. In the championship match, he pinned Rainier's Korbin Howell in 2:42.
Kohn, a junior, had just two opponents to beat in the 220 weight division. Kohn wrestled for a total of 53 seconds on the day with pins over Sprague's Avery Hunsaker in 23 seconds and Riverside's Zachary McDonough in 30 seconds.
Sophomore Blaise Pindell settled for runner-up at 152 pounds with a 6-2 loss in the finals to Rainier's Brandon Isaacson. Pindell won his earlier matches on a pin in 2:36 and on a 4-1 decision.
At 113 pounds, freshman Isaac Harris placed fourth by splitting four matches. In the third-place match, he lost to Corvallis' Aziz Alshuwaiee, 12-5. His two wins came on a 12-3 major decision and on a pin in 5:11.
Freshman Caleb Blackburn also split four matches and finished fifth at 126. Blackburn's wins came over Sprague's Tyson Sprague and Dayton's Bryan Zuniga. Blackburn had opened the tournament with a loss to Zuniga on a pin in 1:33 but he rebounded to beat him in the fifth-place match on a pin in 2:32.
Three wrestlers placed sixth for Philomath with freshman Ben Hernandez, freshman David Griffith and sophomore Joseph Choi.
Hernandez had two pins on the day and lost a tough one in the fifth-place match to a Sprague wrestler on a 14-12 decision in overtime.
Griffith advanced to the fifth-place match but it went down as a double forfeit because he had wrestled the maximum number of bouts for the day. Griffith's opponent in the fifth-place match was to be an opponent he had pinned earlier in the day.
Choi didn't win any matches and lost his final two on medical forfeits but still placed sixth with a low number of entrants at heavyweight.
The team will see its next action on Wednesday at home for a 6 p.m. dual against Junction City. The team heads to the Oregon Classic at Redmond on Friday and Saturday.
Girls
Philomath freshman Taylor Mussatti won two of three matches and placed second at 110 pounds at the Toledo/Siletz Women's Invitational on Saturday. Mussatti pinned her first two opponents in 55 seconds and 3:53, respectively, before falling on a pin in the championship bout.
The schedule shows the next competition for the girls as Jan. 24 at the Mid-Valley Classic, an event to be hosted by Philomath with a start time of 10 a.m.
---
Santiam Christian Screamin' Eagle
---
You have free articles remaining.
Saturday at Adair Village
Team scoring: Sprague 162.5, Willamina 158.5, Philomath 157, Scio 143, Dayton 125, Rainier 112, Santiam Christian 105.5, Riverside 103, Corvallis 92.5, Amity 47.5, Monroe 35, Colton 25.5.
106 — Blake Niemann (2-0, 1st): Dec. Quincy Palomo, Sprague, 7-6; dec. Chase Ringwald, Philomath, 14-7.
106 — Chase Ringwald (1-1, 2nd): Pinned Tanner Short, Sprague, 5:41; lost dec. Blake Niemann, Philomath, 14-7.
113 — Isaac Harris (2-2, 4th): Maj. dec. Lawson Setzer, Santiam Christian, 12-3; pinned by Ryan Penrose, Dayton, 2:00; pinned Braeden Barkes, Sprague, 5:11; lost dec. Aziz Alshuwaiee, Corvallis, 12-5.
120 — Ben Hernandez (2-3, 6th): Pinned Roger Moore, Colton, 0:25; pinned by Kaden Haugen, Santiam Christian, 4:49; pinned Jaden Dart, Corvallis, 2:36; lost dec. Caleb Perez, Santiam Christian, 9-2; lost dec. Shawn Parker, Sprague, 14-12 (OT).
126 — Caleb Blackburn (2-2, 5th): Pinned by Bryan Zuniga, Dayton, 1:33; pinned Tyson Perez, Sprague, 4:25; lost dec. Logan Chapman, Rainier, 6-3; pinned Bryan Zuniga, Dayton, 2:32.
138 — Jacob Williams (0-2): Pinned by Bryce Mode, Willamina, 1:50; pinned by Caleb Ness, Santiam Christian, 1:30.
145 — David Griffith (3-2, 6th): Pinned Devin Jeanes, Sprague, 3:14; pinned by Gavin Fortelney, Rainier, 2:52; pinned Hilal Zaman, Corvallis, 4:03; dec. David Estrada, Dayton, 10-6; pinned by Elijah Byers, Sprague, 4:16.
152 — Blaise Pindell (2-1, 2nd): Pinned Jake Trissel, Scio, 2:36; dec. Jacob Harris, Riverside, 4-1; lost dec. Brandon Isaacson, Rainier, 6-2.
160 — Cooper Latz (1-2): Pinned Joseph Castillo, Santiam Christian, 3:06; pinned by David Katon, Rainier, 1:36; pinned by Kayleb Saddler, Sprague, 2:53.
182 — Issiah Blackburn (3-0, 1st): Pinned Gary McDaniel, Scio, 3:10; dec. David Bowlin, Dayton, 7-4; pinned Korbin Howell, Rainier, 2:42.
220 — Connar Kohn (2-0, 1st): Pinned Avery Hunsaker, Sprague, 0:23; pinned Zachary McDonough, Riverside, 0:30.
285 — Joseph Choi (0-3, 6th): Pinned by Blake Larsen, Dayton, 1:26; lost med. forfeit to Jordy Mendoza, Riverside; lost med. forfeit to Antonio Reyes, Willamina.
---
Toledo/Siletz Women's Invitational
---
Team scoring: Grants Pass 78, Taft 27, Reedsport Charter 22, Philomath 14, Toledo 7.
110 — Taylor Mussatti (2-1, 2nd): Pinned Cocao Barrett, Toledo, 0:55; pinned Sabrina Campos, Taft, 3:53; pinned by Samantha Dara, Grants Pass, 0:38.