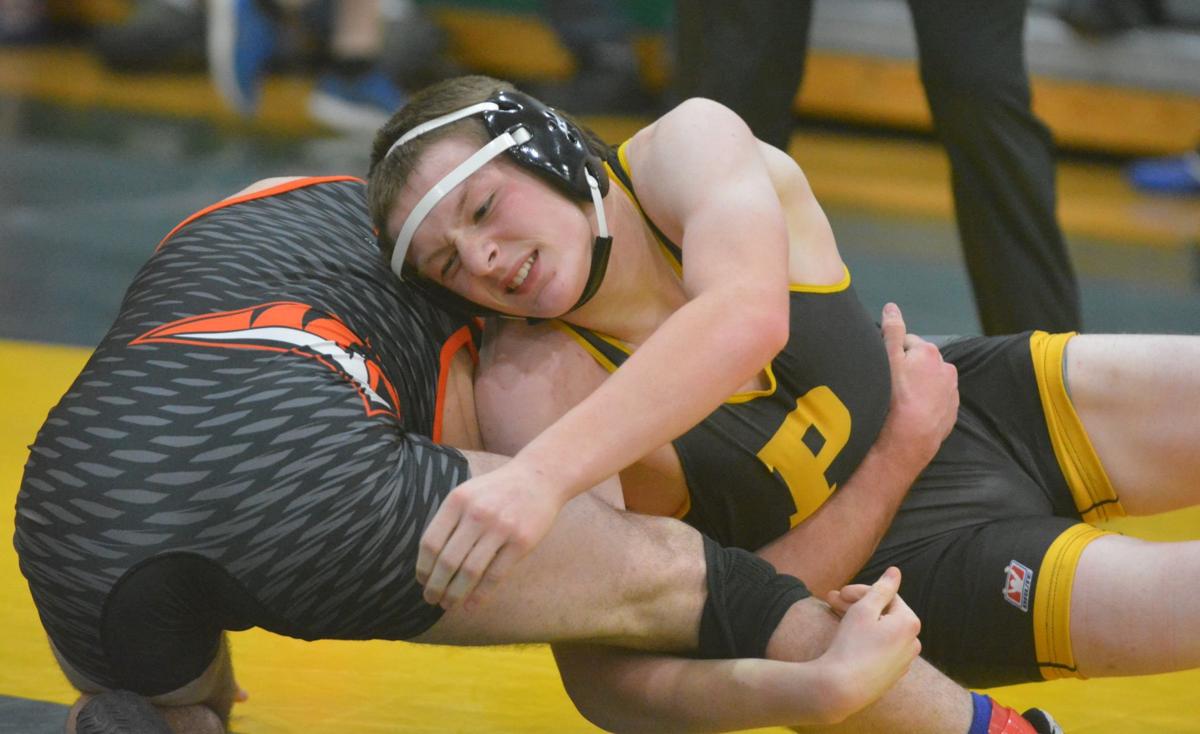 Although the Philomath High School wrestling team returns a few wrestlers with an opportunity to make a little noise statewide on Class 4A mats this season, Warriors coach Troy Woosley overall enters this winter with a fairly young roster.
Sophomore Connar Kohn is Philomath's only wrestler bringing back state tournament experience from a year ago. Three of the four Warriors that qualified for Portland in 2017-18 were seniors in Joey Howell, Tony Rath and Keltin Benson.
"It's a really young team but a lot of them have wrestled before," Woosley said last week during practice. "Right now, we've got 21 guys and three gals and out of that, I think 13 of them are underclassmen. So there's youth there. Of those, about half of them have wrestled and half of them haven't. We have a lot of freshmen that haven't wrestled before."
Kohn ended up with a 24-20 record with a strong finish at districts and a victory in an elimination match at state.
"He gained quite a bit of weight but he's already dropping," Woosley said. "He's going to be good."
Senior Brooks Stearns, who had a 22-9 record last season, also returns for the Warriors. Stearns saw his season end early last year when he got slammed and injured his shoulder in a late January tournament at Cottage Grove.
"He was probably headed to state as well and then he got put out for the season. They're about the same weight so they're going to be really good workout partners," Woosley said about Kohn and Stearns.
Looking over the rest of the lineup, the Warriors will have a wrestler in the 106-pound weight class this season in freshman Blake Niemann.
"He's just ferocious," Woosley said. "He's going to give up 13, 14 pounds but that's unusual for him to be giving up only that instead of 40, 50, 60. He started last year as an eighth-grader and did really well."
Woosley said he doesn't have a lot up until the upper 120s. Another freshman who has middle-school experience, Blaise Pindell, has talent that will be developed with varsity-level competition.
Hunter McCaskill, now a senior, returns and is slated to wrestle in the 130s, a couple of weight divisions heavier than last year when he went 14-11.
The team then jumps into the 150s where the team has some experience in sophomore Matt Hamlet and senior Jayden Jensen.
Issiah Blackburn, back for his sophomore season, turned a few heads as a freshman while going 10-7. Blackburn's campaign was derailed by illness.
After Stearns and Kohn, Philomath will then look for points from senior Noah Estes, an Alsea student who also competed on the football team. Estes won less than a third of his matches in 2017-18 but got a lot of good experience with 32 bouts.
Philomath's roster is a bit on the heavy side overall with few options in the lighter divisions.
"From 150 (pounds) on up, we're at least two deep," Woosley said. "We have a lot of freshmen who are bigger kids, heavies and 220s, and a couple of new sophomores who are right around 180 to 190."
Breaking it down by class, the Warriors have six seniors and two juniors with the rest either sophomores or freshmen. Woosley looks forward to bringing along his younger wrestlers, a smart group that he believes will put in the work.
"It's a team that's going to work hard," Woosley said. "They will gain a lot of information and knowledge and they're very coachable and so I'm really pleased with that. Most of them are good scholars."
Woosley also believes the Warriors have a good schedule for his team's experience level.
"I've got some really tough ones and some medium ones so I think it's going to be a good blend," Woosley said. "As you know, there's no such thing as sitting on a bench — everybody's wrestling."
Philomath opens the season Saturday at the Perry Burlison Wrestling Classic at Cascade High School. Among the new dates on the schedule this year are trips to Molalla and Pleasant Hill.
This season's Benton County Championships will be Dec. 27 at Monroe. The Oregon West Duals — although technically the Oregon West doesn't exist any longer in wrestling — will also be staged in Philomath on Feb. 2.
The Class 4A Special District 2 meet will be Feb. 8-9 at Junction City. Joining Philomath and the host school in the district are Cascade, Elmira, Newport, Siuslaw, Stayton and Sweet Home.
There are four special districts in 4A with eight teams in each. The top four wrestlers in each weight class will advance to state, which this year will be Feb. 22-23 at Veterans Memorial Coliseum in Portland.
The OSAA sanctioned girls wrestling among its offseason decisions. Philomath has three on the roster in Rio Jensen, Reneyce Ryan and Emma Lalande.
Jensen returns some experience as a senior, although she's coming off knee surgery. Ryan is a freshman and Lalande joins the program as a foreign-exchange student from Norway.
"We have like four tournaments just for females that we're going to separately," Woosley said. "Our gals will not wrestle guys. There are enough girls now wherever we go and we're just staying with that."
Senior Jaime Chambers will not be able to wrestle this season following surgery on her ankle.
In girls wrestling, there are two special districts with two individuals advancing out of each of the 10 weight divisions to state, which will be staged the same weekend as the boys.
Be the first to know
Get local news delivered to your inbox!