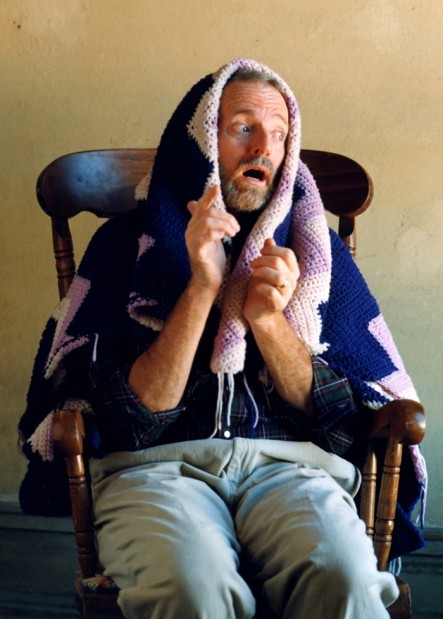 LEBANON — Tim Behrens laughs with an easy chuckle — and he laughs often — as he recalls his 19 years entertaining audiences with the words of celebrated Field & Stream and Outdoor Life columnist-turned-bestselling-author Patrick F. McManus.
It's apparent why Behrens is a natural interpreter of the writer's style. He's quite a storyteller himself, an engaging conversationalist who delivers in such rich, amusing detail that you, the lucky reporter, are never certain whether to follow him assiduously or just surrender to the music.
The Spokane, Wash.-based performer brings the author's humorous and family-friendly repertoire to the mid-valley in two one-man shows next weekend, "Scrambled McManus" and "Poor Again ... Dagnabbit!" The former begins at 7:30 p.m. Friday, April 1, followed by the latter at 4:30 p.m. Saturday, April 2. Both take place in the Lebanon High School auditorium. Tickets are $20 in advance, $25 at the door.
Sponsored by Pheasants Forever's Owen Denny Chapter No. 266, the performance supports local habitat youth and adult conservation/education events, as well as Lebanon High School's senior class party.
"Scrambled McManus" culls material from three showcases, "A Fine and Pleasant Misery," "McManus in Love" and "Potluck." "Poor Again ... Dagnabbit!" is a near-brand-new humorous examination of growing up destitute, becoming prosperous, then returning to poverty — an all-too-familiar trajectory in this economy. In McManus' hands, it's funny and moving, a salve for tumultuous times.
"We wrap up the evening with Old Ed," Behrens said, describing "Dagnabbit" and effectively setting the final scene. "Ed's a recent character; he's in 'Scrambled' too. But he's 100 years old and he can't hear or see too well. Pat's missing an old man now that he's an old man himself. So he has lots of things to say about the time he grew up, which was before Pat. When Pat says that dirt was his favorite toy because that's all he could afford, Old Ed says, 'You had dirt?'
"He closes with some wonderful advice as to how to live through this bizarre, horrible time. The answer is no secret: with laughter. For people down in the dumps, this is a respite."
Behrens' voice serves well a timeless menagerie of voices and stories as captured in 20 classic books and collections (among them "A Fine and Pleasant Misery," "Rubber Legs and White Tail-Hairs" and "The Night the Bear Ate Goombaw"), many of which recall McManus' years in rural Idaho, particularly his fictional hometown of Blight, located "three miles south of Famine."
Although now retired and living in Spokane, McManus remains prolific at the age of 77. His latest title, 2010's "The Huckleberry Murders," continues the comedy-mystery genre he began exploring in 2006's "The Blight Way."
"He sold all of his Idaho land about 10 years ago," Behrens said. "He got tired of being isolated. He likes where he is now: it's got nice, rolling hills, but it's only 10 minutes away from the mall."
The two men met in the mid-1980s, when Behrens, a writer for Spokane's Spokesman-Review as well as a budding performer (parents Frank Behrens and Amzie Strickland were radio and television staples), was pursuing a Master of Fine Arts in Eastern Washington University's Creative Writing program. McManus was then his adviser. "Before I got my diploma," Behrens recalled, "Pat grabbed my shoulders and said, 'Tim, I've read your stuff for two years. You should probably stick to acting.' "
That piece of advice turned out to be fortuitous for both. When they crossed paths again, they embarked on a collaboration that's yielded five successful one-man shows since 1992. For the most part, Behrens uses only McManus' words as a means to spark an audience's imagination.
"Actors will tell you that sometimes the material fits the actor, like Mark Twain fits Hal Holbrook in a nice way," he said, referring to the latter's successful run as the legendary author and humorist, a McManus hero. "My style of acting fits with (McManus') style of writing. His style is sparse. He never describes the characters fully. Rancid Crabtree, for instance, never takes baths. He's never worked a day in his life. That's all you know about him — the rest is up to you. We have all known people like that, or we have a grandfather or another family member who might fit the bill. You try to give the same openness to the imagination in the theater."
As an example, the actor cited an excited reaction from a young spectator in Twin Falls, Idaho, to "The Deer on a Bicycle" (featured in "Scrambled McManus"), in which the 14-year-old McManus goes hunting on his own via bicycle and somehow manages to fasten his ostensibly bagged kill to his two-wheeler — only to have it regain consciousness on the ride home. The young man's adventure, it seems, is just beginning. Behrens conveyed the action and excitement through gestures and movement, with nary a visual aid in sight.
"I don't use props," Behrens said. "I don't have a steering wheel. I just move around a little bit. But this kid comes running up to me at the end of the show. He's yelling at me, grabbing my pant leg, 'Mr. Behrens, Mr. Behrens!' I think I've done something horrible. 'What's the problem?' I ask. 'Yeah, yeah,' he says, 'I've got to tell you: I have a bike just like that.' "
It's this constant stirring and feeding of the imagination that continues to thrill Behrens. His affection for the material remains unabated even after nearly two decades and more than 1,000 performances in 23 states. It may be a one-man show, but it draws so much from life that it's universal to all. And the laughter still sounds sweet.
"When people ask if I ever get lonely," he said, describing the long miles he logs traveling to shows, "I say, 'Not really.' I always go over the lines when I'm driving, so sometimes I think there's 15 people in the van with me. There's a lot of different voices.
"At first, the one-man show thing is interesting. You have to interact with the audience, because to not do that is crazy. People are always crying out things in theaters and I have to be able to respond to that. The first 50 shows I thought were about getting my lines, getting it straight, to honor McManus. The second 20-30 shows were about making sure that the characters were picture-perfect, that I was honoring them. Then, at about show 77 I realized that the show is about the audience and their imagination and reactions. Sometimes I surf on the waves of laughter. I say a few words, then the energy goes out back to them, and I ride that wave."