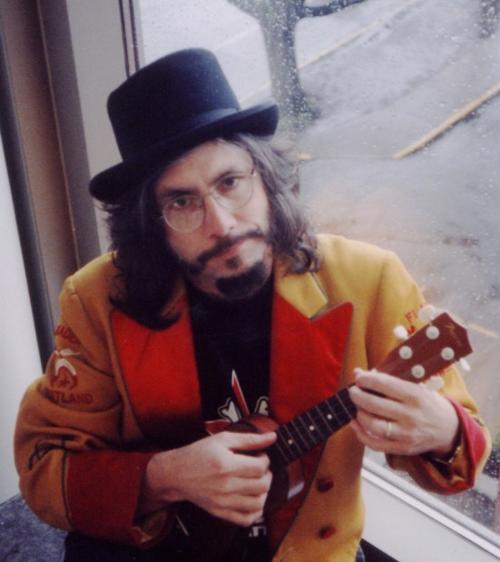 CORVALLIS —  Lifelong guitar player Brook Adams was introduced to the ukulele while working with the Oregon Festival of American Music (OFAM) at The Shedd Institute  in Eugene around 2002.
"I didn't really like mine until I got it home and started playing with it ... and I really took to it," he said.
That proved to be quite the understatement.
"At first I just started learning some simple songs ... and then I realized you could play a Beatles song or a Led Zeppelin song or even a Black Sabbath song," he said.
"Every different style, you could make something work on the ukulele, and because they are tiny sounding, you could play all the parts that you could fit in and nobody would seem to mind that instead of being an orchestra or an electric guitar it was just a plink, plink, plink ..."
In that spirit, Adams will perform The Beatles' "Abbey Road" album in its entirety at 7:30 p.m. Thursday, Jan. 7, at Bombs Away Cafe in Corvallis.
Adapting "Abbey Road" to ukulele started out as an  intellectual exercise and turned into an obssession.
Although he was only 12 when the album was released, the album became a soundtrack for a generation. "It sort of persisted, you know, because I remember going to college parties and just going on road trips with people and everybody had the album or had heard it. And it really has this kind of epic flow."
"It's the last one they actually recorded, although 'Let It Be' was released later. It was kind of their last hurrah," Adams said.
Adams' love affair with the ukulele doesn't end with the Beatles project. Over the years he has created a Web site with dozens of similarly surprising  recordings and fingering charts, last fall he organized a UKEtoberFest in Eugene, and he has taught numerous students how to play in lessons and workshops.
His contagious passion for adapting mainstream music to the humble ukulele has brought him fan mail from as far away as Europe, Australia and China.
In 2004, his recording of Jimmy Hendrix's "Purple Haze" was played on the BBC.
"That was my five minutes of fame," he laughed."I discovered that there is a whole world of ukulele people out there."
Adams is aware that there are many books of Beatles sheet music out there, but instead of consulting any of it, he just dove in and worked out "Abbey Road" by experimentation.
"I just played the CD over and over and over again and just stopped and worked on parts. It took about four months to learn the whole thing," he said. "I wanted to really get down into it and reproduce the parts that I liked."
He's been performing the album for about two years now up and down the West Coast and in Arizona. So far, he's never played it in the same place twice.
"When I played it, my goal was to make sure that I could find a way to fit in at least a suggestion of every part that people remembered," he said. "Like if I played the little orchestral sounding bit from 'Maxwell's Silver Hammer,' if I could play the right notes then people would remember how it sounded on the album."
"So when I play 'Sun King' even though it sounds pretty different, you know I am hearing The Beatles in my head. When I play 'Come Together,' you know, I am hearing that big swampy bass, even though I am just playing ukulele, you know I am hearing that in my mind."
"I wanted to wake up those memories for people. Kind of let them relive the record in their minds," he said.
Adams is working on getting together booklets with lyrics for the audience, but not having them hasn't stopped anyone from singing along at past shows.
"It's funny. It depends on where you play, but a lot of times you get the right crowd and they start singing along," he said. "Ukulele is the ultimate sing-along instrument."
Adams is already working on adapting another album, not the Beatles this time but Marvin Gaye's "What's Going On," with the help of some guest ukulele players, various backup musicians and vocalists.
"It keeps me separated from the herd," he said.