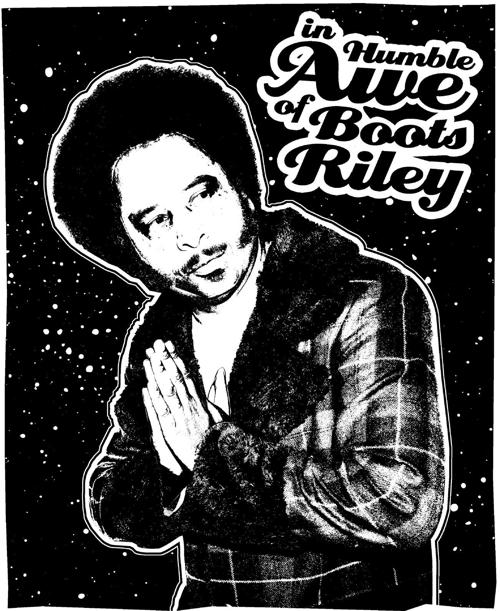 "Art can end up answering questions or asking questions. But when it's not connected to actual movements, it doesn't ask the right questions."
— Boots Riley to Time magazine, July 20, 2018
It was the triple shot that got me in 1994. That was the year of "Genocide & Juice," the second album by The Coup.
I admit I bought it 'cause I thought the title was clever, an open dig at Snoop Dogg's then-recent "Gin and Juice" and the Left Coast's gangsta rise. I was all about clever at 21. But clever has a limited shelf life. Having missed "Kill My Landlord," their 1993 debut, I knew nothing about the pull The Coup's rhymes and ideas would have on my conscience over the next quarter-century.
"Genocide & Juice" begins as many hip-hop albums did at the time. Over a mellow curl of G-Funk guitar and a piano line stabbing westward, "Intro (G-Nut Talks S**t from the Gut)" welcomes listeners to the headroom, establishes the main players — then, Boots Riley, E-Roc and DJ Pam the Funkstress — and prepares the ride proper. The disc then veers from its kin, transforming into a miniature film that plays out over the next three songs.
"Fat Cats, Bigga Fish" tracks a hustler's routine, his slippery patter traveling at the same speed he maneuvers through scenarios ("I got game like I read the directions"). He uses his doubletalk charm to scam lovestruck Burger King cashiers for free so-called value meals and then ducks into a parking garage to eat in peace among, to his slow realization, fleets of luxury cars. There's a party behind some door upstairs, not the kind that would welcome his kind. But when his cousin materializes, dressed to serve at this soiree, he gets an idea: bringing the streets to where the true hustlers hid, shielded from the riffraff by their wealth and influence.
He zips into a tuxedo and enters the fete, a harrumph of glassware and a drippy strings section. But he checks out for a while. The central characters in "Pimps (Free Stylin' at the Fortune 500)" are, instead, figures you seldom see in hip-hop: tycoon scions David Rockefeller and John Paul Getty, here revealed as closet rappers, addressing their equals in highfalutin blueblood tones before donning menacing verbal gaits when it finally comes time to spit. Their boasts match the average MC's, albeit with a more alarming overcurrent, as they suffer no penalties for their loudly committed crimes.
You have free articles remaining.
An unwelcome interloper appears, and his subsequent rise to importance seems terrifying in retrospect: Donald Trump, who interrupts the party with a reggae growl throbbing with cretinism. Most rappers of the era compared themselves to Donald Trump. The Coup, on the other hand, expose him as a braggadocious dope even rich people can't stand.
All hell breaks loose in Shot No. 3: "Takin' These," when the covert party-crashers bust out weapons and snatch everything in sight. But this is less about the thrill of the steal and more about seizing power for the powerless, forcing the ruling classes to pay attention at last after generations of shattered promises: "It's been too damn long, these profits ain't mutual / That's why today it won't be business as usual."
I listened to Public Enemy. I listened to Del tha Funkee Homosapien and the Disposable Heroes of Hiphoprisy. I'd read Tom Wolfe's "Mau-Mauing the Flak Catchers." For a white dope raised near Farm Country, I thought myself pretty hip. Intellectual, maybe, in the pseudo sense. But I'd never heard anything like this. These guys were beyond me, culturally and socio-politically, and I'd never catch up. I feel stupid even now for writing about them.
Like many of the decade's most prominent acts, The Coup were Left Coast, too. But they were from Oakland, further north. When "Genocide & Juice" came out, Boots Riley was only 23. He'd grown up an activist surrounded by activists, though, accruing membership in both the International Committee Against Racism and the Progressive Labor Party in his early teens. A group he'd cofounded, the Mau Mau Rhythm Collective, worked on programs with community organizations. He used his growing influence as a hip-hop artist in the early '90s to upend a closed Oakland City Council meeting, effectively opening it with a large group of energized, empowered youth.
Back in the '90s, my generation talked up revolution. But it was jabber to us, an Arrested Development track from Spike Lee's "Malcolm X," fashionable clothes for others to admire. What passion. What steely dedication. Yet it seldom passed the bitch-session stage. We'd finish our coffee, swallow that last tug of amber, or toke off on our lax whathaveyous and return to our whitebread lives. Yeah, we cared, but it mattered more that we were seen. We were not riots, Boots Riley would say. He effected change, already a man of achievement.
Even better, in my estimation: he could write. Lord, his flow fired bullets. And the albums got even better. If you thought "Fat Cats, Bigga Fish" taught a textbook class in character development, then "Me and Jesus the Pimp in a '79 Granada Last Night" (from 1998's "Steal This Double Album") is the dexterous graduation thesis, the chilling tale of two men on a ride that turns deadly when one, the aforementioned Jesus the Pimp, learns the other hasn't forgiven him for accidentally killing his mother in a violent fit years earlier ("I said, 'This trip is over, we ain't finna ride on / This is for my mental and my momma that I cried on / Microsoft mother****ers let bygones be bygones / But since I'm Macintosh, I'mma double-click your icons'"). I was still in awe of his words on 2012's "Sorry to Bother You," from the quick-clever hit of "We got hella people / They got helicopters" (the sun-funk-laden "The Guillotine")  to the tragic poetry of "Violet" ("Skyscrapers crowded around to watch / As we laughed at the faulty perception of clocks / Every 43 bus stop on Foothill could testify / Your middle finger in the air was like blessing the sky").
In 2018, Boots finally made his own movie. He'd been writing them for years in rhymes, so it seemed a natural step. Not that he was a novice; he'd studied film at San Francisco State, helmed videos for The Coup, and had crafted the screenplay for "Sorry to Bother You" over a period of years.
It took a while, but it was a triumph upon arrival. Had it been the simple story of a telemarketer (Lakeith Stanfield) rising to sellout glory on the strength of his ability to mimic a nonthreatening white voice (David Cross), that may have been enough for the average filmmaker. However, it also fearlessly incorporates elements of bioengineering, street activism, corporate villainy and identity politics, all while succeeding as an absurdist bust-gut satire.
Which, despite the messages prevalent in his work, has always been Boots Riley's way: slipping knowledge into entertainment. You can't change minds with a heavy hand. Preachy movies or lousy beats don't move hearts or feet. Because if you truly want revolution, you've got to move to get it.