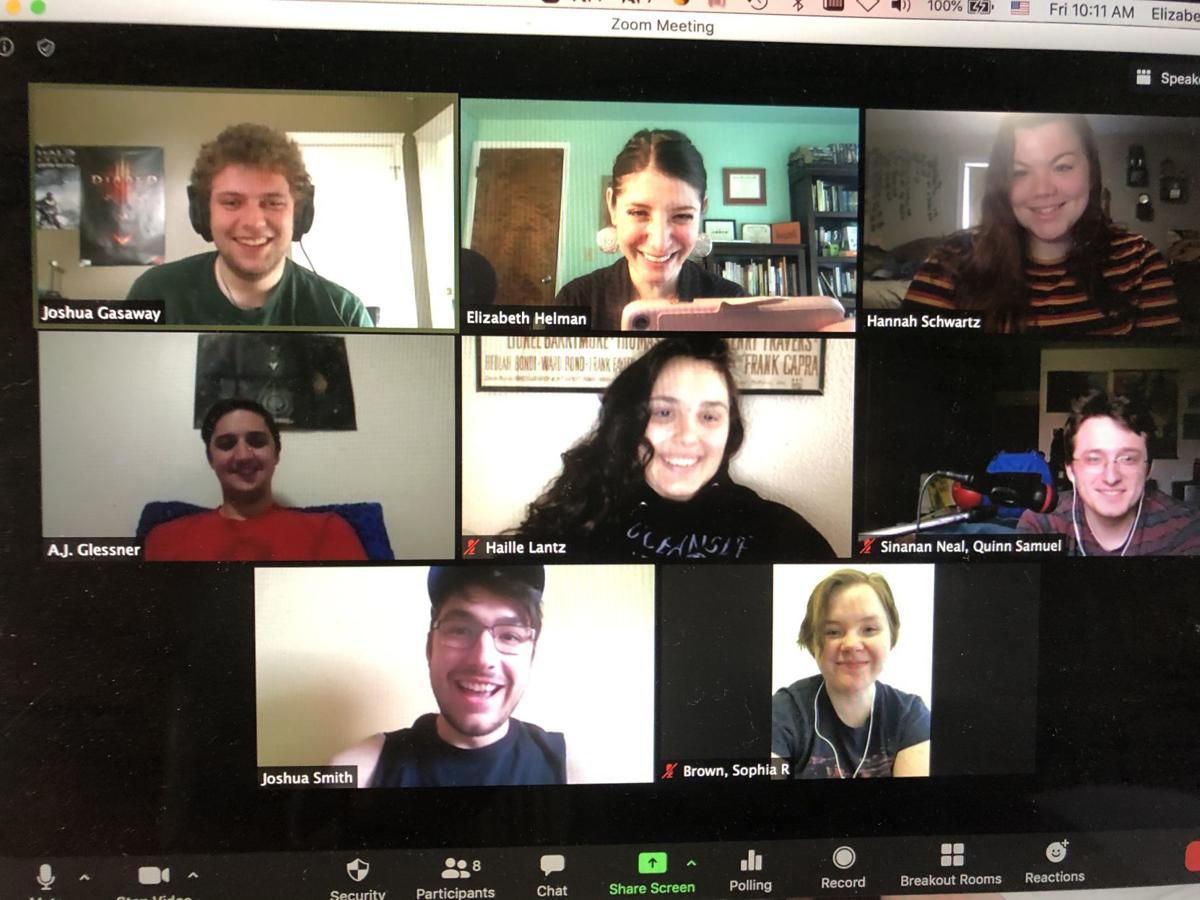 All hopes Elizabeth Helman and her Oregon State University Theatre students had of performing plays during spring term were dashed early by the COVID-19 pandemic.
Nobody wanted to cancel the season entirely, so Helman introduced students to a medium that would not only spark their imaginations, but still allow them to perform the same productions: audio.
The university's artistic director says radio plays and audio dramas have a long tradition, from "The War of the Worlds" and "The Shadow" to the hundreds of podcasts she and many others listen to today.
"I wanted to find a method that would still give our students a valuable learning experience and the ability to explore creating drama in a way that can be meaningful and interesting," Helman said.
Beginning Thursday, OSU Theatre will present its Spring One-Act Festival. Titled "Isolation Station," the festival features nine original audio dramas written, directed and recorded by students. The festival will be available to download from OSU Theatre's "Dam the Distance" podcast.
The podcast, run by Helman, also includes the theater's recent audio drama performance of Oscar Wilde's satire "The Importance of Being Earnest," directed by Craig Willis, producing artistic director of Oregon Contemporary Theatre.
The audio dramas and related content, including Helman's interviews with performing arts industry professionals and students, is free to download. Patrons also have the option of purchasing "virtual tickets" to the one-act festival and "The Importance of Being Earnest" at different price points to support current and future work by the OSU Theatre program (see content box for details).
So, what goes into the process of making an audio drama?
"A lot," Helman said and laughed. "There were a lot of steps and learning involved."
For "The Importance of Being Earnest," guest director Craig Willis had to schedule Zoom rehearsals, which the cast did for about three weeks, Helman said.
Each act was recorded like a final rehearsal. Actors had to individually record their own lines and send those sound files to the production's sound designer and engineer, OSU student Olivia Cheser, who would edit everything together.
"We also had some original music composed, and they had sound effects layered into it to make it feel like a show," Helman said.
The one-act festival required even more effort from students, because they filled the roles of actors, directors, playwrights and sound designers in the productions. Most students wrote their own plays and directed another student's work, in addition to being voice actors.
For many, like Hannah Schwartz, a junior theater major from West Linn, this was their introduction to radio plays. Recording their voices and not having a physical space to perform were the biggest differences.
Schwartz, who voices Gwendolyn in "The Importance of Being Earnest," said, "It was a big change for me, especially as a director. Obviously, you don't have the stage to focus on for this show."
The audio dramas were the OSU Theatre debut for Sophia Brown, a junior who portrayed Miss Prisim in "The Importance of Being Earnest." Brown, a theater major from Sweet Home, wasn't involved in post-production tasks, like sound design, when she performed in commedia dell' arte plays and the annual children's shows at Linn-Benton Community College.
It was more of a challenge than she anticipated.
"I originally had over 60 sound cues, and I had to put that into a sound cue sheet, which was really stressful," Brown said. "It gave me a newfound appreciation for what sound people do."
Senior Josh Gasaway, a new media communications major from Eagle, Idaho, called the experience "a ton of fun," especially since he has an interest in sound design.
Gasaway, who voiced Reverend Chausible in "The Importance of Being Earnest," runs his own podcast about film called "Fixitinpost." He is the only student who did all the sound editing for the one-act play he directed.
"It was nice to take these skills and transfer them to audio dramas," Gasaway said.
For this year's one-act festival, Helman paired directors from her Advanced Directing class with playwrights from her Adaptation for the Stage class. Each original audio drama runs about 10 minutes and features a cast of four to five actors.
The festival title, "Isolation Station," fits the moment. The playwrights chose a theme of isolation and paranoia, because it was how many students felt during early March and April.
"There's this idea that you as a listener have been taken aboard some strange isolation station, and you will be entertained on your journey to an unknown destination," Helman said.
The original audio dramas are based on history, people, news stories, biographies and material inspired by true events.
Topics include the Donner Party and the marriages of King Henry VIII. One play is even set in hell.
"There's a play called '(Your) Tupperware Lady' that's about multilevel marketing scams," Gasaway said. "All the plays have unique ideas."
Brown wrote "Idiot Hill," a one-act directed by Schwartz. Her play focuses on the history of the Enchanted Forest theme park, a place she went to during summers when she was growing up.
"It's funny, wholesome and inspirational. It encourages people to go for their dreams regardless of what other people think," Brown said.
Schwartz penned "Virus 626," a chaotic story its director Gasaway likened to a "'Tiger King' situation."
"(It is) comedy played kind of straight. It's so ridiculous, you can't help but laugh at it," Gasaway said.
In the play, Joey Longmire is accused of attempting bioterrorism. Listeners find out about the crimes in question through interviews with Longmire and others.
"It is in response to the COVID-19 pandemic, and the extent people will go to in attempt to push back at the new reforms," Schwartz said.
Schwartz is also part of the cast in a war drama her sister, Stephanie, wrote called "Air Raids."
The one-act, directed by AJ Glessner, is set in the winter of 1941. In it, two English families struggle to find a new normal, while fleeing to the London Underground during the 57 consecutive nights of bombing by Nazi Germany.
The remaining one-act audio dramas are: "Scheduled," written by Genesis Hansen and directed by Brown; "Forlorn Hope," written by Quinn Sinanan Neal and directed by Brittany Greener; "In the Taps," written by Xavier La Flame and directed by Joshua Smith; "Becoming Exmo," written by Alex Sturgeon and directed by Hansen; "Don't Go, Get Eggs," written by Smith and directed by Neal; and "Your Tupperware Lady," written by Hana Foshay and directed by Haillie Lantz.
There is a convenience with audio dramas that stage productions just can't offer.
"It's a tangible thing we've created that people can listen to tomorrow, next week or next year, and it will still exist," Helman said. "You can take them wherever you want."
Helman and her students seem eager to gain more experience with the "fun medium."
"If I do this again, I will lean into the sounds more and just add more ambience and cool effects that help tell the story," Gasaway said.
"We're fairly ambitious about what we're going to do this summer. I'm pretty excited," Helman said.
In August, the Bard in the Quad production of William Shakespeare's "Macbeth" will be presented as an audio drama. This year's event is being dubbed the "Bard in Your Backyard," since it cannot be hosted in OSU's Memorial Union Quad.
Brown and Schwartz plan to audition for roles in "Macbeth," while Gasaway will work on sound design and editing.
Brown said her favorite part about the audio dramas was still having an outlet for theater to collaborate with classmates, despite the circumstances.
"It really made me see that theater and art can persist regardless of the things that are going on. We always find a way to make it work," she said.
Stay up-to-date on what's happening
Receive the latest in local entertainment news in your inbox weekly!