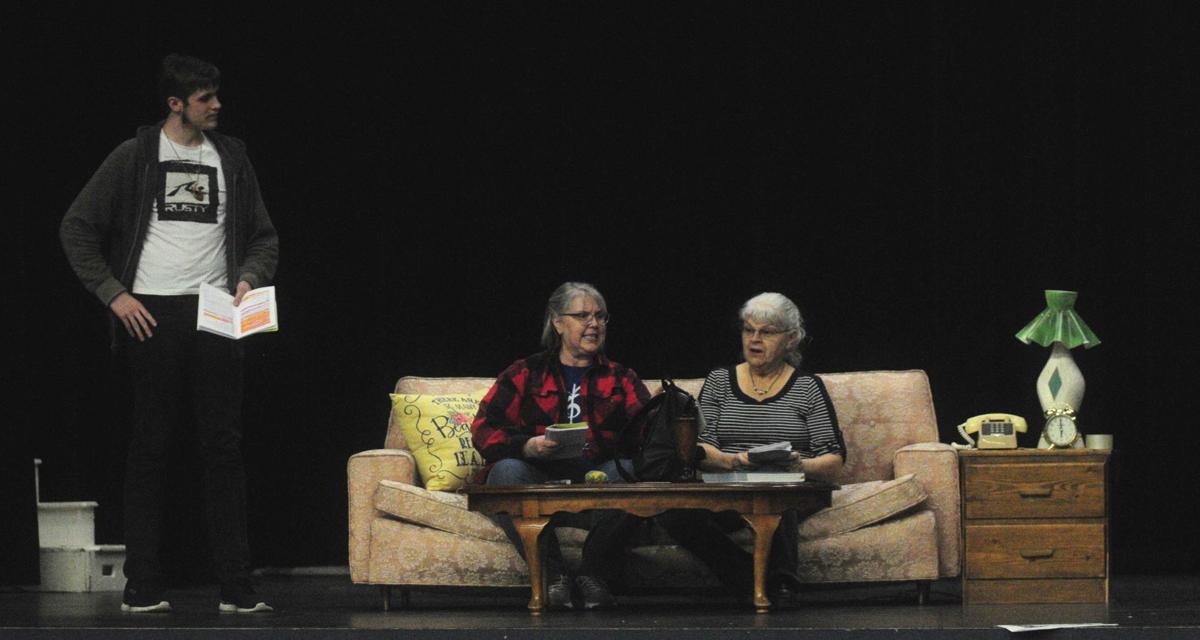 Director Terri Krebs knew who she wanted to play the male lead in "Larceny and Old Lace."
Unfortunately, South Albany senior Nate Corneliusen was out of town during the auditions for the production by the Lebanon Association for Theatre Arts. Krebs decided to go with her plan anyway and gave the theater veteran the role of Harold Peabody.
"Almost every rehearsal he's ready to go. He moves naturally on the stage, a real good kid, a sweetheart and a real good actor," Krebs said.
It is Peabody who discovers the crime which powers the plot of this comic spinoff of the classic "Arsenic and Old Lace." This is the first time LAFTA has performed "Larceny and Old Lace," which opens on Friday, March 1.
"When you go to look for a show, this is one of them I thought would be fun. It's a smaller cast, which is good when you are in the offseason," Krebs said.
The 16-person cast includes a mix of veteran performers as well as two brand-new thespians, Ruth McWayne and Kathy Robertson.
"We get newcomers every year, to every show that we have," Krebs said.
Terry Wadlow and Anna Creel play key roles as Peabody's aunts who are not exactly the sweet matrons he thinks he knows.
Corneliusen, 17, started acting several years ago and has played leading roles in several South Albany High School productions, including "Back to the 80s," "Legally Blonde," and "White Christmas."
You have free articles remaining.
"I enjoy bringing smiles and laughter to people's faces. With everything going on the world it's nice to know there's someplace you can go to have a good time," he said.
A senior, Corneliusen plans to enroll at Linn-Benton Community College and complete his degree at Portland State. He will major in either choir or theater.
He has learned to balance the demands of school and the stage. For this play, rehearsals began in late December and are held four days a week.
"We've been working on our comedic timing to make sure the jokes land. I'm really excited for people to see this show," Corneliusen said.
He is already working on his next South Albany show. Instead of a single play, they are presenting a series of student-directed one-act plays. Corneliusen has been cast in two of these, which will be presented in late April.
This leaves him with a lot of lines to memorize in a fairly short time and he has developed his own method of memorization.
"I typically tie a specific action to the line so when I'm on the stage I do the action and the line pops into my head," Corneliusen said. "I picked up that tactic by doing theater for years. Nobody told me to do that, I just figured that out."
As an added feature, LAFTA will present a musical performance before each presentation of "Larceny and Old Lace."
LAFTA's a cappella group Voices In Your Head will perform "Seize the Day" from the musical "Newsies," "Fix You" by Coldplay, "Sometimes" by the Carpenters, with an arrangement by Krebs and "Defying Gravity" from the hit musical "Wicked."
As always, all profits from the show will benefit Lebanan Community Schools' band, choir, theater and K-12 classroom music programs, was well as Lebanon High School theater update and maintenance.