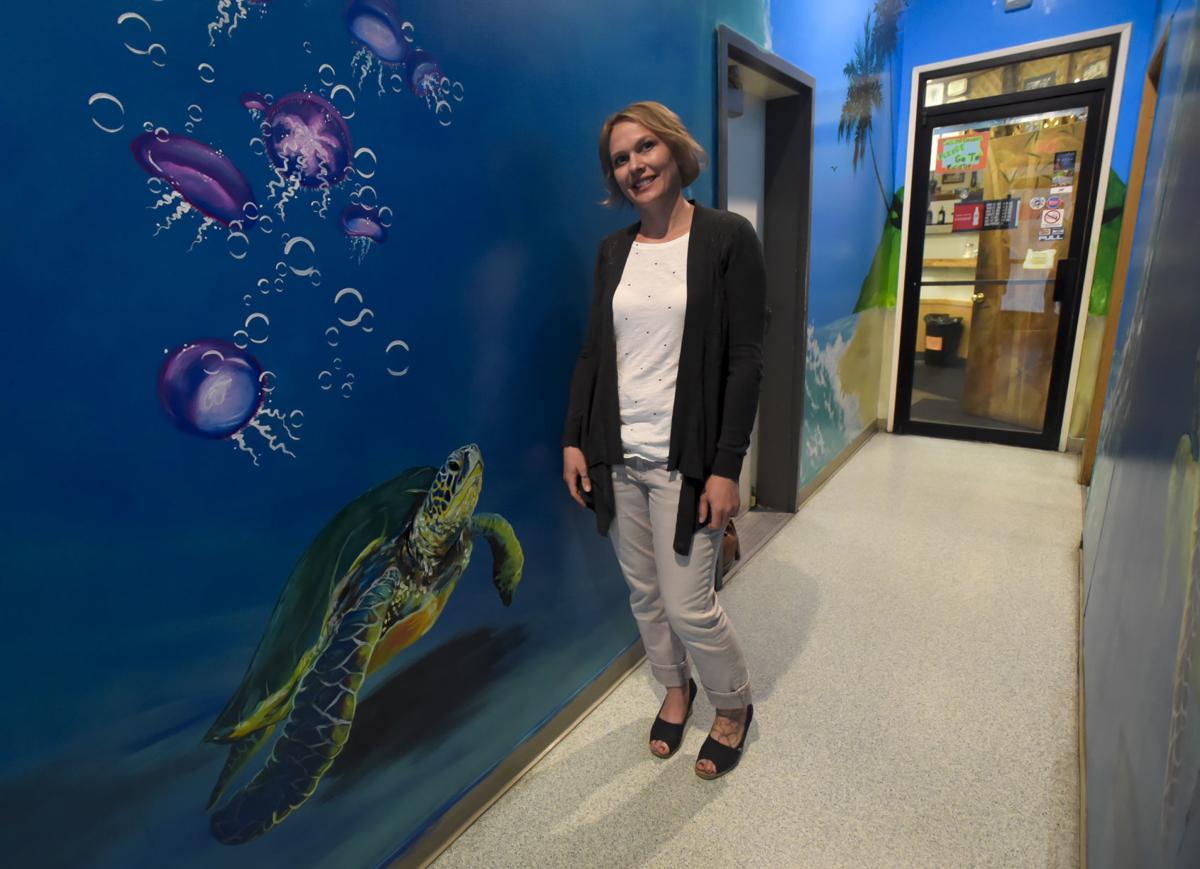 Occupation: "Thanks to the support of my amazing husband, I get to be a full-time artist, working out of my home. Literally living the dream! I also work part-time as a veterinary technician at West Hills Animal Hospital and as needed fill-in at Local Boyz Hawaiian Cafe."
Artwork: Sea Turtle mural
Location: Local Boyz Hawaiian Café Upstairs Cobblestone Square, 1425 NW Monroe St.
About the exhibit: "It's kind of a 3D mural. It spans the hallway entrance to the restaurant and covers both walls and the ceiling. It was an idea in my head that was tough to translate onto paper. I really just had to put paint on my brush and run with it. I've never really done any large scale mural work on my own, so this was a huge learning experience for me. One thing that I took from it is that I really love doing mural work and hope that this is only the first of many to come."
Inspiration: "I have an affinity for the ocean. I've always felt like it called to me. The delicate yet fierce nature of it commands respect. There is so much beauty. I'm doing my best to try to capture some of it."
Impact on viewer: "Most of my artwork reflects the beautiful life teeming below the waves. I want the viewer to get up close and personal with the turtles, the fish, the whales, etc; to really get a good look at these amazing creatures that depend on us so much to keep their waters clean."
Previous Exhibits: "Locally, my art is exhibited at Voices Gallery where I participate in the Corvallis Art Walk along with several other talented artists. My art can also be found at Ozone Fine Art in Newport's bayfront. This past year, I had a feature show at Oakshire Brewing in Eugene and more recently at Imagine Coffee in Corvallis along with my fellow Voices Gallery artists."
What people should know: "Aside from the mural piece, I mostly paint on reclaimed wood. It is my preferred canvas. A few years ago, I participated in a beach clean-up where I came across an old, weathered sheet of plywood that had clearly spent a lot of time out there. It was waterlogged and full of sand. I took it home, dried it out, painted some jellyfish on it and the rest is history. I absolutely love the way the paint works on the wood surfaces and the story behind some of the pieces is pretty cool.
"That jellyfish painting was sold last year out of Ozone Fine Art. I bet you could still get sand out of it if you smacked it hard enough. Ha!"
Stay up-to-date on what's happening
Receive the latest in local entertainment news in your inbox weekly!