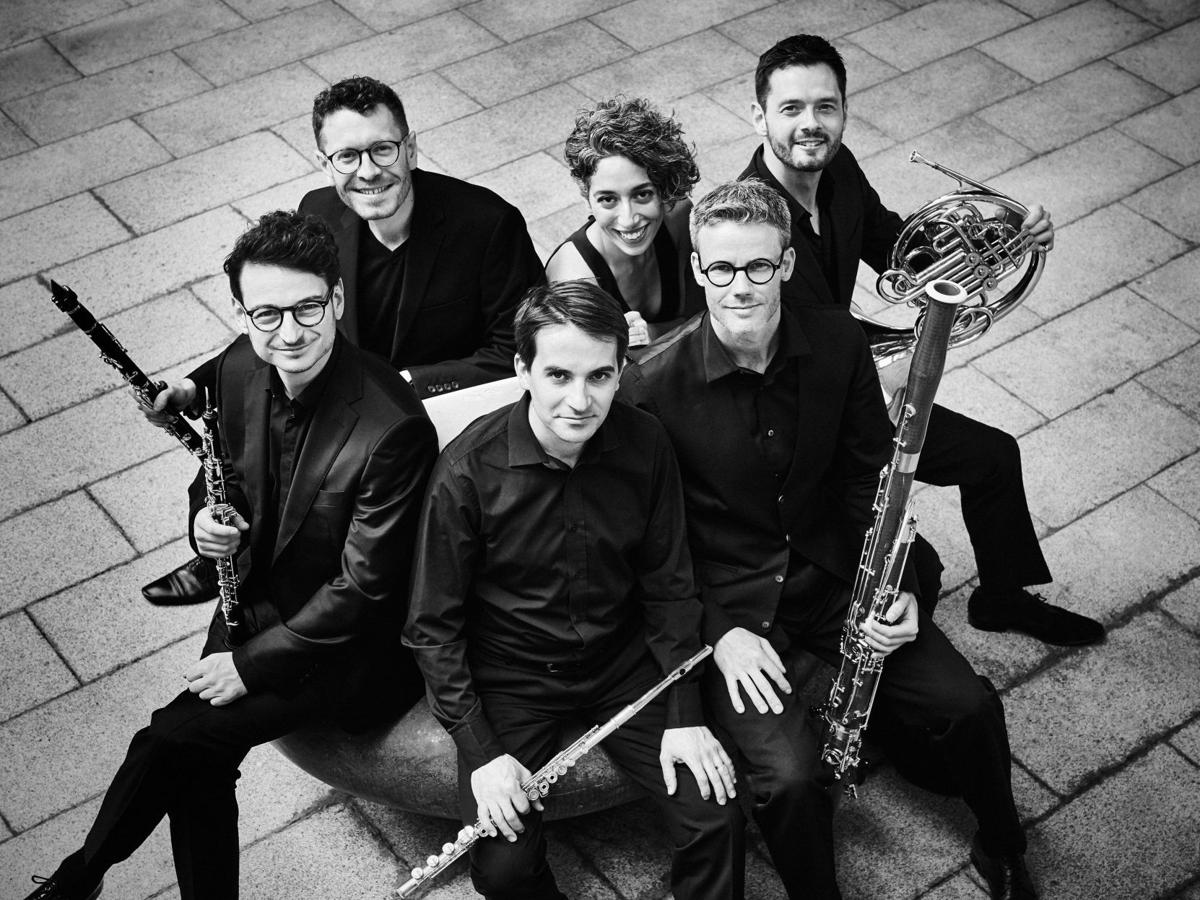 The piano-wind sextet Berlin Counterpoint kicks off the 2019-20 season for Chamber Music Corvallis with a Friday concert at the First Presbyterian Church, 114 SW Eighth St. in Corvallis.
The concert begins at 7:30 p.m.
The six musicians in Berlin Counterpoint hold passports from Romania, Germany, Slovenia, England, the United States and Turkey. Since forming in Berlin in 2007, the ensemble has won critical acclaim and has performed at venues such as the Sociedad Filarmónica de Bilbao, the Schleswig-Holstein Music Festival, Palau de la Música Valencia, and the Kammermusiksaal of the Berlin Philharmonic.
The Friday concert in Corvallis is the beginning of a four-city U.S. tour for the group, which also plans to perform in New Orleans, Gettysburg, Pennsylvania and New York City. 
Ensemble members include Aaron Dan, flute; Viola Wilmsen, oboe; Sacha Rattle, clarinet; Heidi Mockert, bassoon; Andrej Zust, horn; and Zeynap Özsuca on piano. 
The ensemble bills the program for Friday's concert as "Fun, Mockery, and Schadenfreude," and it includes works by Johann Strauss, György Ligeti, Francis Poulenc, Ludwig van Beethoven and Richard Strauss.
Individual tickets cost $26 and are available in advance at Grass Roots Books and Music and Troubadour Music in Corvallis. Will-call tickets are available for $26 by calling 240-601-8992. Tickets at the door cost $29. Information about buying tickets online is available at the website chambermusiccorvallis.org.
The next concert in the Chamber Music Corvallis series is scheduled for Friday, Nov. 1 and features the early-music group Ensemble Lucidarium.
We emailed some questions to Berlin Counterpoint, but didn't get them in time for Thursday's print edition. Here are the questions, and answers from pianist Özsuca.
1. Tell me a little bit about the ensemble's origin story: How did you meet? When was it apparent that the ensemble had chemistry, both in performance and in traveling (I've had a number of musicians tell me that the chemistry between a group is just as important on the road as it is on stage.)
Answer: So, we started because our members Zeynep Özsuca, Sacha Rattle and our first ever horn player Jennifer Kessler and went to a concert of the Berlin Philharmonic wind quintet who were doing a program with piano that included a sextet by Ludwig Thuille that none of us had ever heard. The three of us were blown away by it and decided to try our hand at it. We immediately called Aaron Dan to join and another oboe and bassoonist and put on a concert, that was the conception.
We think (and hope) our chemistry on and off stage is excellent. On stage, we definitely value communication incredibly highly, since everything in chamber music hinges on that flexibility, and joining of different ideas and impulses from everyone on stage.
On the road, we find that we all laugh together a lot. We do tend to have a great time together and we haven't killed each other yet, which is a good sign for any long term ensemble.
2. Walk me through the program you're planning to play in Corvallis: Some ensembles build programs around themes. Others put together programs of pieces they think will sound nice together. Both are valid approaches. What are the threads that connect the pieces on this program?
Answer: Here is our blurb about the program:
Fun, Mockery and Schadenfreude
If one were to piece together the strongest 70 minutes of the literature for piano and wind quintet into a program, you would be hard pressed to find a better group of works. What Berlin Counterpoint placed here between the giant compositions of Johann Strauss and Richard Strauss are not only milestones in their respective genre, but also extravagant, cheeky and throughly idiosyncratic pieces.
Berlin Counterpoint is happy to identify itself with any one of these titles, in which a pinch of melancholy and a sprinkle of mockery are mixed with a whole lot of humor to merge into masterpieces that celebrate the joy of life.
Ligeti's six entertaining bagatelles (one of the shining stars of the wind quintet literature), Poulenc's Sextuor, and of course Beethoven's Piano Quintet are core elements of our program. These three pieces have accompanied us from our first day together and yet continue to challenge us again and again in every performance. They are sandwiched by two characterful arrangements that transform the great orchestral sound into a transparent, versatile and yet powerful sextet sound. Despite the lack of the 80 strong orchestra, Till Eulenspiegel still manages to celebrate his cheeky pranks perfectly amongst these 6 musicians.
3. You have successful solo careers as well: How many dates does the ensemble play in a typical year.
Answer: We do find it important that we are all individually active in the music business outside of the ensemble, but we try to work together as much as possible. Every year is a little different, but our aim is to have a couple of nice, substantial tours and then a handful of satellite performances.
4. When commissioning new works, what does the ensemble look for in a composer? Are there composers that the ensemble is hoping to work with in the future?
Answer: For new works, that is a rather tricky question, because of course you never know quite what you will get (which is also the beauty of a commission). I guess finding composers that understand the strengths and weaknesses of a wind ensemble, as well as how to make the piano sing as an equal member rather than an accompaniment role is important to us. We also love being able to have an open dialogue with them which is always a plus.
For composers, someone like Thomas Adès would of course be a dream to work with, and we love Peter Eötvös' work, who would surely write something interesting if we ever managed to find the circumstance to have a piece written. At the moment we are more focused on given young, up and coming composers where we could all benefit from a commission and push forward the repertoire of this slightly underrepresented instrumentation.
5. What sorts of goals does the ensemble have set for itself in the next 10 years
Answer: Very specific goals are always hard to pin down, but we have some ideas about what we would like to achieve.
Definitely having some more commission that we could make staples of our repertoire would a wonderful to have. We would love to record another album or two. We would really enjoy doing some more collaborations with other musicians. Basically though, our goal is to continue playing more and more exciting and fulfilling concerts.